Rheumatoid-Associated Peripheral Ulcerative Keratitis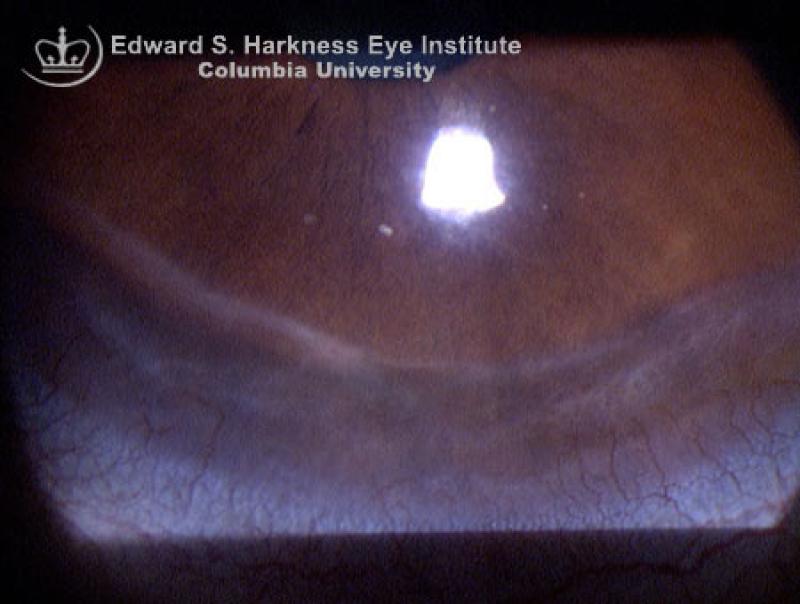 Occasionally develops in patients who have systemic autoimmune disease such as rheumatoid arthritis, polyarthritis nodosa, ulcerative colitis, systemic lupus erithematosus, systemic vasculitis, and Wegener's granulomatosis.
Clinical Features
History of connective tissue disease.
Corneal finding may precede other systemic signs.
Symptoms are not specific, including:

Foreign body sensation
Pain

Signs:

Maybe bilateral, but most commonly unilateral
Peripheral corneal furrowing or melting
Stromal thinning
Sterile infiltrate may be present
May be associated with mildly inflamed conjunctiva
Descemetocele in progressive keratolysis
May be complicated with corneal perforation
Treatment Goals
Arresting the melting or keratolysis process
Maintaining the integrity of the eye
Management
Consult the rheumatologist to ensure adequate systemic immunosuppressant treatment for systemic disease.
Promote re-epithelialization by ocular surface lubrication, patching or bandage soft contact lens.
Topical or systemic collagenase inhibitor.
Cautious use of topical corticosteroid.
Cyanoacrylate glue protected with bandage soft contact lens for impending perforation case.
Conjunctival recession.
Conjunctival flap should be avoided as first line surgery.