Our History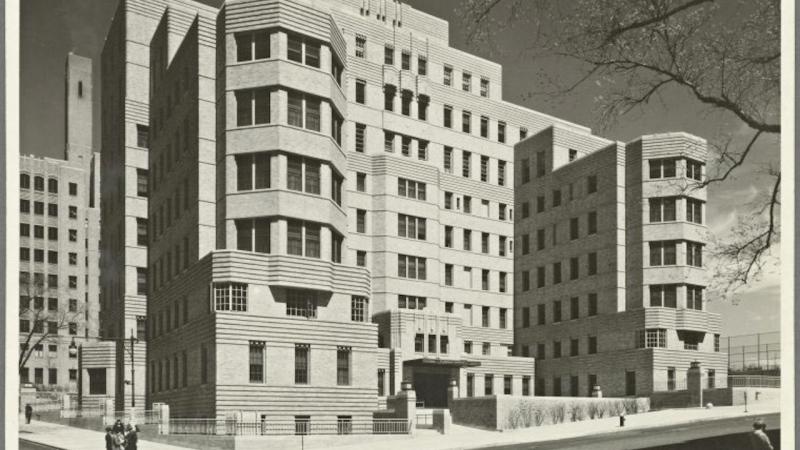 In 1866, Cornelius Agnew established an ophthalmology clinic at the College of Physicians and Surgeons and three years later became Clinical Professor of Diseases of the Eye and Ear at P&S. In 1869, Herman Knapp established the New York Ophthalmic and Aural Institute and was appointed Professor of Ophthalmology at P&S in 1889. His son Arnold succeeded him in that position in 1903 and by 1911 had built the Herman Knapp Memorial Eye Hospital at 10th Avenue and 57th Street, two blocks from P&S. The Eye staff at P&S held appointments at the new hospital.
In 1928, Presbyterian Hospital moved into new quarters on 168th Street and the Vanderbilt Clinic was moved uptown. In 1931, Edward S. Harkness, a wealthy philanthropist, pledged moneys to build a separate Eye Institute and to endow its operation and the salaries of the director and two ophthalmologists. By 1933, Dr. John Wheeler, who had assumed the professorship vacated by Arnold Knapp in 1928, moved into the recently completed Eye Institute on 165th Street and Fort Washington Avenue. The President of Columbia University, Nicholas Murray Butler, became the first patient. By 1940, the Knapp hospital closed and merged its endowed beds into the Eye Institute. These moneys were used to establish an ophthalmological research and educational fund in memory of Herman Knapp and to support the Knapp Memorial Laboratory of Physiological Optics. Arnold's son Phillip joined the house staff in 1951.
When constructed, the Eye Institute was unique in its appointments and furnishings. Dramatic innovations included an operating room with observation dome overhead, elegant furnishings, staff living quarters, various libraries, a dining room, a conference room, and an extensive network of private offices and treatment rooms. Outpatient and specialty clinics were also established. A museum was created to house the Institute's extensive collection of ophthalmological history, instruments and rare books as well as its portrait collection. On the eighth floor, space was set aside for the Institute's large ophthalmology library and rare book collection. Currently, these volumes represent the accumulated collections of numerous benefactors, including Drs. Henry Noyes, Dwight Hunter, John Wheeler, Arnold and Phillip Knapp, Raymond Pfeiffer, Charles Perera, Anthony Donn and many others associated with Eye Institute over the years. One area of depth is the Franz Cornelius Donders collection of historical memorabilia belonging to the famous 18th century Dutch ophthalmologist and brought to Eye Institute in the 1930's by Pfeiffer. Another unique feature is the collection of original drawings and case illustrations prepared by Hans Bethke, the resident medical illustrator from 1932-1973. Currently, the library's holdings include more than 15,000 ophthalmology related texts, over 160 different ophthalmology journals and more than 2,500 medical illustrations.
From its inception, the Institute has always been renowned for its research staff. Dr. Wheeler was instrumental in establishing laboratories and bringing together talented individuals from around the country. In the ensuing years, two faculty members, Zacharias Dische and Karl Meyer, were appointed to the National Academy of Sciences. A Director of Research position was established, first held by Ludwig von Sallman, MD and then by George Smelser, PhD.
Due to space limitations, ophthalmology laboratories were in various buildings around the Medical Center. From 1933-1963, with the principal exception of the Knapp Memorial Laboratory of Physiological Optics, laboratories were primarily located in the 7th floor extension of P&S. From 1965-1969, the 15th floor of the Black building was heavily utilized. In the early sixties, a large gift from the Commonwealth Fund, which was entrusted with the bulk of the Harkness charitable trusts, provided for the construction of a separate research building adjoining the Eye Institute. Additional financial and administrative assistance was provided by Research to Prevent Blindness.
Over the years, a number of individuals passed through these laboratories to pursue residencies and research fellowships, including Ramon Castroviejo, MD, D. Jackson Coleman, MD, Clifford Harding, PhD, Joe Hollyfield, PhD, Fred Jakobiec, MD and Bradley Straatsma, MD. Notable achievements of the clinical and research staff include the establishment of a renowned pediatric and adult ocular tumor clinic (1947), the first ophthalmological use of the laser (1961), the first development of an artificial vitreal substitute (Healon™), excimer laser corneal surgery (1983), the development and clinical use of the wide field specular microscope (1980), and the first human retinal cell transplants (1994).