Columbia RunLab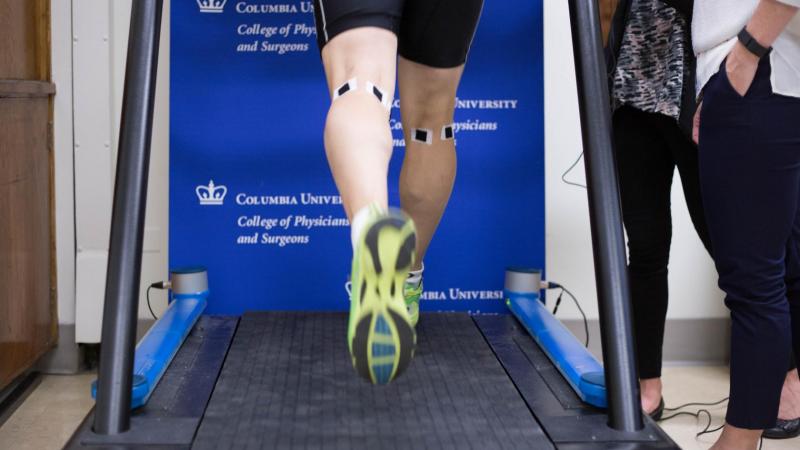 Welcome to the Columbia RunLab. As part of the Graduate Programs in Physical Therapy, Columbia RunLab is a unique collaboration of experts and developing practitioners and provides an engaging, intimate, and personal experience for its participants. We are the premier running performance lab of the Ivy League.
As a faculty practice of the Graduate Programs in Physical Therapy in the Department of Rehabilitation and Regenerative Medicine at CUIMC, Columbia RunLab offers high-level, in-depth evaluation and education for those runners who want to optimize their performance, help prevent or manage injury, or both. Our team of expert clinicians and doctoral students offers an engaging and personalized analysis, using cutting edge technology to provide you with a world-class running analysis experience.
Columbia RunLab prides itself on student development and community outreach as part of its program. Students from the Columbia University Irving Medical Center Doctor of Physical Therapy Program are rigorously selected as part of an elective class for the opportunity to support Columbia RunLab. Meet this year's students. We work with organizations that support restricted access, underserved and special-needs running groups throughout the community to provide this clinic experience free of charge. For more information or to book an appointment: email runlab@cumc.columbia.edu, or call 212-342-3287.
Dr. Colleen Brough, PT, DPT, MS, OCS is an Assistant Professor of Rehabilitation and Regenerative Medicine at CUIMC in Columbia University's Programs in Physical Therapy. She is the director and founder of the Columbia RunLab, a comprehensive running analysis experience for Olympic, elite, competitive and recreational runners.
She is a board-certified specialist in orthopedic physical therapy and is a Diplomate of the American Board of Physical Therapy Specialties with over 15 years of patient-care and teaching experience.
An accomplished speaker, Dr. Brough has lectured internationally on running medicine, orthopedics, spine and post-surgical rehabilitation at the Olympic Training Center in Qing Dao, China and frequently presents at national conferences and post-professional, continuing medical education courses in orthopedics and sports medicine.
Valuing service, inclusion, and diversity, she has partnered Columbia RunLab with local and national programs such as the Wounded Warrior Project, Girls on the Run, Back on my Feet, Circa '95 Athletics, and the NYRR Young Runners group in underserved and other areas.
An avid runner, Dr. Brough is an active member of the LGBT running team, Front Runners New York, and New York Road Runners.
Learn what happens at a RunLab session, our fees, upcoming sessions, location, request more information or book an appointment.
RunLab in the News
Dr. Colleen Brough, RunLab's founder and director, was featured in this CNN segment on running analysis.
How fast can a human run? Dr. Colleen Brough, RunLab's founder and director, discusses the question in this article in Women's Health.
In this article in Runner's World, Dr. Colleen Brough discusses why runners should stop trying to achieve perfect form. Read the story.