Meet P. Roy Vagelos, MD '54 and Diana Vagelos
In their remarkable philanthropy and in their lives together, Roy and Diana Vagelos share a commitment to the highest ideals: integrity, leadership, service, and generosity. These values have never wavered—and they continue to lead by example.
The Vageloses met on Columbia's campus in 1951, when Roy Vagelos was in medical school at Columbia and Diana Touliatou was a student at Barnard College. Both were the children of Greek immigrants and recipients of scholarship awards that made their education possible. Married in 1955, they have been giving back to Columbia and Barnard for more than 50 years.
Roy Vagelos' accomplishments as a physician, scientist, and executive in the pharmaceutical industry are widely celebrated. After completing his medical degree at Columbia in 1954, Dr. Vagelos worked first at the National Institutes of Health and then at Washington University in St. Louis, where he served as chair of the Department of Biochemistry and Molecular Biophysics. He spent 19 years at Merck & Co., Inc., where, under his leadership as board chair and CEO, the company was recognized by Fortune as the most admired corporation in America for seven years in a row.
An active alumna of Barnard College, Diana currently serves as vice chair of the school's Board of Trustees. The Diana Center, a hub of student life completed in 2010 and beloved by the Barnard community, is named in her honor. A tireless champion of women's causes, Diana also serves as a member of Columbia's Women's Health Care Council.
About Their Philanthropy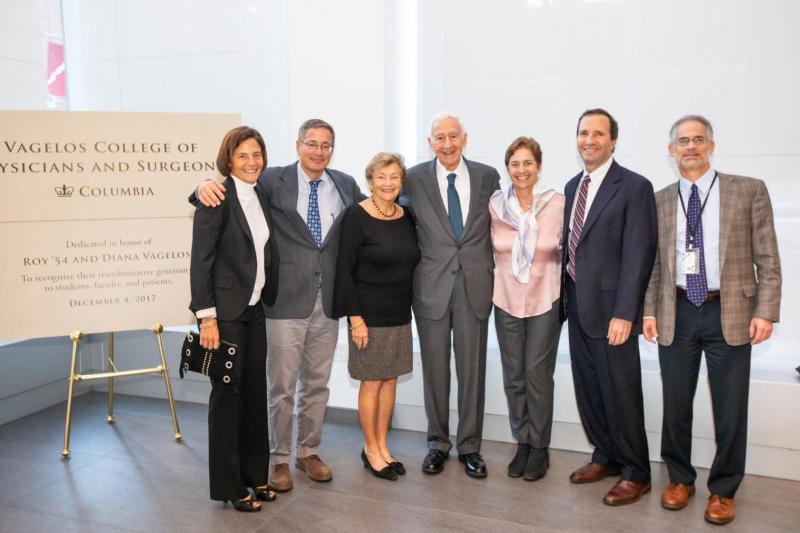 The Vageloses' current philanthropic activities span a variety of priority areas.
Vagelos Institute for Biomedical Research Education
With the 2023 gift of $175 million from the Vageloses, Columbia will launch the Vagelos Institute for Biomedical Research Education. The Institute created with this gift will be home to PhD students pursuing the most creative, potentially disruptive ideas in biomedical science, and will spur the training of more physician-scientists able to translate the latest paradigm-shifting discoveries into revolutionary new methods in patient care. The gift will enable Columbia to create a new academic model that encourages and accelerates the intellectual risk-taking needed to make historic advances in health science research. This new model includes the development of supportive career pathways that offer enhanced academic freedom and financial stability to attract more students and junior faculty to the essential endeavor of biomedical research.
Historic Scholarship Initiative
In 2017, the Vageloses made an extraordinary gift of $250 million to the medical college, as part of its 250th anniversary celebration. In tribute, the medical college was named for Roy and Diana.
Through this gift, along with gifts from other alumni, friends, and faculty, Roy and Diana helped fund a transformative scholarship endowment program to provide financial aid to those Columbia medical students with the most financial need. The initiative allowed Columbia University Vagelos College of Physicians and Surgeons to replace educational loans with scholarships, helping to directly address the onerous burden of medical school debt on our graduates.
The scholarship endowment program has helped shape the future of medicine, enabling aspiring doctors to choose medical specialties based on their passions rather than on income potential to pay back loans. The brightest, most ambitious young doctors can pursue vital fields such as primary care and research, though they may be less lucrative. Through this revolutionary program, Columbia University Vagelos College of Physicians and Surgeons sparked a debt-relief movement in medical education.
Philanthropic Investment in Precision Medicine
The Vageloses' 2017 gift also included $100 million for efforts in basic science and precision medicine at VP&S. Columbia continues to pioneer new discoveries across the fields shaping the future of personalized patient care, including genetics and development, biochemistry and molecular biophysics, systems biology, data science, artificial intelligence, and more.
Vagelos Education Center
In 2010, Dr. and Mrs. Vagelos made a $53 million gift and led the capital campaign for the Roy and Diana Vagelos Education Center. With state-of-the-art learning and social spaces including innovative simulation facilities, the building supports VP&S medical and graduate students in their training to become future leaders of medicine and science. The building with its singular design has become an acclaimed part of the upper Manhattan skyline, and it has been recognized with LEED Gold certification, aligning with Columbia's commitment to sustainability.