Community Programs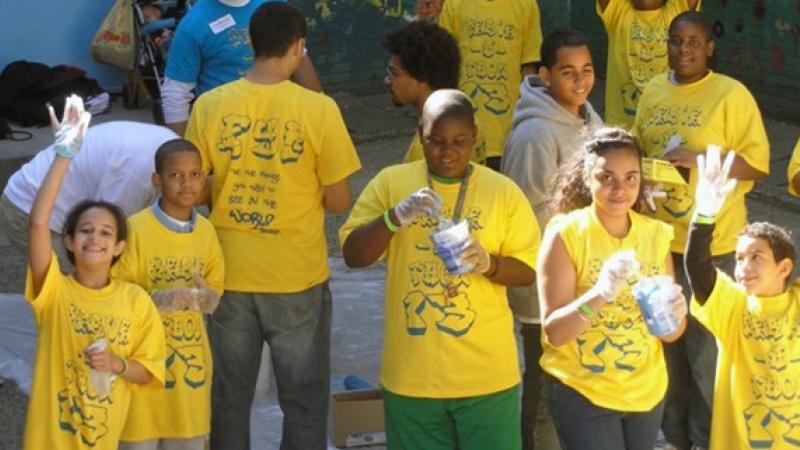 VP&S has been a fixture of the Washington Heights-Inwood community for more than 70 years.
We seek to be a part of our neighborhood—not simply providing care, but integrating our faculty
and our students into the life of the community.
This vibrant neighborhood offers students the opportunity to work with a patient population that
is underserved, thereby helping to alleviate the healthcare disparities that confront minority,
immigrant, and poor populations. There are many opportunities to participate in the various
community education and community-building programs established by organizations within
the Washington Heights and Harlem community, as well as VP&S' own community programs,
such as the Washington Heights Initiative, Columbia Student Medical Outreach (CoSMO),
and community-based research sponsored by the Irving Institute for Clinical and Translational Research.
The Washington Heights Health Initiative of Columbia University Medical Center and NewYork-Presbyterian Hospital is a coordinated effort to measurably improve the health of the communities of Washington Heights and Inwood.
Over the past ten years, the Department of Pediatrics has created a Community Pediatrics Program working in partnership with the Washington Heights community. Pediatricians are working side by side with community agencies to develop important initiatives that impact clinical practice and bring about institutional change. The nature of the relationship between the community and the Hospital has changed from one of wary co-existence to a truly collaborative model of health care. Pediatricians are now consistent and effective advocates for improving disparities in children's health outcomes in the local community, and the community and its leaders are now active partners in service delivery, the training of future physicians and community based participatory research. This program fulfills the Hospital and University's mission of service, teaching and research through community engaged scholarship.
The mission of Columbia University Medical Center's Clinical and Translational Science Award (CTSA) Program Hub is to transform the culture of research to hasten the discovery and implementation of new treatments and prevention strategies. Our core objective is to move the CUIMC (Columbia University Irving Medical Center) research community to a more multi and interdisciplinary scientific mindset by removing barriers and creating incentives for interactions among investigators from different disciplines.
CUIMC's first step toward reaching this goal was the establishment of the Irving Institute for Clinical and Translational Research—the academic home for clinical and translational research at Columbia. Irving Institute faculty include some of CUIMC's most accomplished, senior researchers who provide leadership and serve as mentors for junior faculty, fellows, and trainees. The Irving Institute provides outstanding support and key resources to Columbia University researchers including biomedical informatics services, biostatistics and research design, data management, community engagement, regulatory and bioethics support, clinical research facilities, pilot funding programs, access to the CTSA Trial Innovation Network, and core laboratory resources. As part of the CTSA program, the Irving Institute houses an integrated educational program that includes short-term training, a patient-oriented master's degree, a novel KL2 mentored research program in multi- and interdisciplinary research, and a TL1 training program with three distinct tracks for doctoral students, postdoctoral fellows, and a 12-week summer program. In addition, the Irving Institute hosts several ongoing seminar series, research events and special symposia. In its current CTSA grant funding cycle and in synergy with a major Columbia University initiative in precision medicine, the Irving Institute initiated multiple new programs in precision medicine including education, training, and fellowships, an institutional biorepository, biomedical informatics, translational therapeutics, and community precision health.
The Irving Institute aids in training and educating research teams to improve the translation of basic science findings to bring more treatments faster to our patients and neighbors in Northern Manhattan.
CoSMO was created to provide free, high-quality primary healthcare to the uninsured population of Washington Heights; promote community empowerment through outreach and educational efforts; and instill in students a lifelong commitment to the service of all who are in need.
Columbia Student Medical Outreach (CoSMO) began in 2000 when a group of first year medical students started to work on establishing a primary care center in their community devoted to serving the uninsured of Washington Heights. Through researching student run clinics in New York, soliciting the involvement of attending physicians and administration, and garnering the support of New York-Presbyterian Hospital administration we opened four years later on March 6th, 2004 at 21 Audubon Avenue.
Thanks to the involvement of over 120 medical, public health, social work, and nursing students, attending physicians at Columbia University Medical Center, NewYork-Presbyterian Hospital senior administration, and community-based organizations we are able to maintain and expand our Saturday morning healthcare center to include not only medical care, but also the services of social workers, health educators, Spanish-language interpreters, and nurses.
VP&S sponsors several global health programs and provides funding for selected students during the summer after first year, particularly in resource poor countries. The programs are described below. Modest funding through VP&S is also available to selected VP&S students participating in research or for service projects they have initiated in developing countries.
The Columbia-Harlem Homeless Medical Partnership (CHHMP) is a student-run clinic providing free and quality health services to the homeless or uninsured community in West Harlem. This program was established in May 2007 by Columbia University medical students in partnership with the Center for Family and Community Medicine (CFCM).
In 2008, three first year medical students at the Columbia University College of Physicians and Surgeons started volunteering on outreach shifts with the Washington Heights Corner Project (WHCP). These individuals went on to establish a student group, originally called the Columbia University Harm Reduction Outreach Network (CUHRON), to organize students around harm reduction. In 2010, these students began working with WHCP staff and colleagues at Columbia University affiliated clinics to coordinate an onsite medical student-run clinic at WHCP which opened in August 2010. Now renamed the Columbia University Harm Reduction Clinic (CUHR), in Spring 2017, operates every other Thursday from 6:00pm-8:00pm with the assistance of Dr. Silvia Amesty.
The VP&S Asylum Clinic provides pro bono medical evaluations to those seeking asylum in the United States. Founded in 2010, the clinic is composed of psychiatric, medical, and gynecological physicians, clinical social workers, and psychologists who have received training in identifying the physical and mental sequelae of abuse and torture. After an evaluation, the physician will compose an affidavit outlining any symptoms and signs that are relevant to the client's narrative. By providing independent medical examinations, the clinic provides valuable evidence as part of an asylum applicant's legal case.
Q Clinic provides free primary care for members of the LGBTQI community, especially those who are under-served, under-insured, or resource and housing-insecure. The student-run free clinic was established in October 2015 by medical students and faculty at Columbia University. Q Clinic offers tools for health management, and provides free STI/HIV lab screenings, subsidized medications, PrEP, and flu shots. Q Clinic is concerned about the lack of comprehensive primary care that can fulfill the unique and diverse needs of people who identify as LGBTQI. They are committed to respectfully serving lesbian, gay, bisexual, transgender, intersex, and gender non-conforming communities in New York City.