Resident Well-being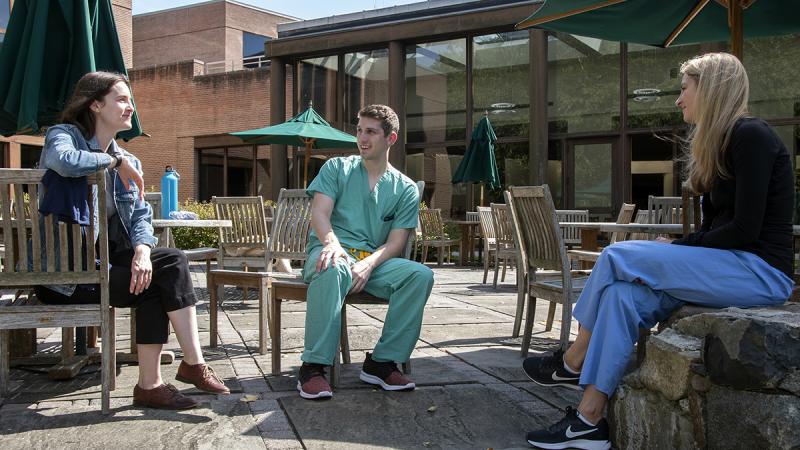 My favorite thing about being in the program is the camaraderie between residents. You always have someone to help you in times of need.
Cameron Kemal (2020 graduate)
Residency can be challenging for a number of reasons, ranging from its time-intensive nature to the emotional burden of caring for incredibly ill patients. While resident-to-resident support and a strong intra-program camaraderie are arguably the best means of promoting wellness at work, there also need to be formal mechanisms to help residents process and cope with stressful and difficult parts of our job.
Over the years, we have developed a robust catalog of programs aimed at ensuring resident well-being:
Our coaching program links residents with a faculty member or fellow (often a program graduate within the last several years) who is not part of the program leadership, to provide stress-free guidance and help residents identify ways to promote professional development.
In addition to their formal mentors, residents also have easy access to near-peer mentorship through the big sib/little sib program which pairs interns with more senior residents.
Completely peer-led, our Gold Lunch program provides a true safe space to reflect and discuss your experiences during residency, where residents can share with each other the successes and challenges of training. The Gold Lunch program brings innovation and education together to optimize residents' professional well-being and satisfaction.
The Meaning in Medicine program was established in 2018 to promote residents' sense of fulfillment in their work. Held in a small group format with Sara Nash, MD, a psychiatrist with the Consult Liaison Service, Meaning in Medicine offers residents protected time to reflect on the joys and challenges of training. Sessions are scheduled every other week during Learning Lab, with separate groups organized for PGY-1 and PGY-2s/PGY-3s. Through these guided discussions, residents have the opportunity to process the personal and professional transformation that occurs throughout training, connect with the reasons they chose a career in medicine, and support each other in this endeavor.
Prompted by the extraordinary challenges posed by training during a pandemic, the Internal Medicine Residency Program has worked with Columbia's psychiatry faculty to offer program-wide, individual, one-on-one, opt-out check-ins with psychiatrists. Residents are scheduled for a confidential session with a psychiatrist and may use this time however they wish. Based on their needs, residents may use their check-in as an opportunity to link to longer term mental health care through the House Staff Mental Health Service.
The House Staff Mental Health Service (HSMHS) is a referral service offering confidential access to mental health care. Overseen and administered by two faculty psychiatrists, HSMHS is available to all residents and provides individualized referrals to experienced psychiatrists who are part of the program's network. Residents are eligible for up to eight sessions at no cost with their psychiatrist and have the option to continue longer term therapy.
Our program is proud to support residents through anticipated and unanticipated life experiences through our progressive residency leave policy. Our comprehensive leave policy covers bereavement leave, caregiver leave, medical leave, and parental leave to both birth and non-birth parents. We also recognize that no two situations or residents are the same, and therefore work with each resident to individualize their leave plan, including attention to additional support for their transition to return to clinical duties.
Cornerstones of our residents' experience include time-honored traditions, including our annual Intern Retreat. Held every year in the Fall, interns are covered to leave the hospital for a weekend of reflection, bonding, and relaxation. The annual Holiday Party takes place around the new year, allowing the entire program to gather together for a night of fine food, fancy dress, and dancing. In Spring, our annual Junior-Senior Dinner provides a night of gentle roasting of our incoming and outgoing Chief Residents, along with parodies and videos created by our talented residents. Our residents also arrange weekly "Geri Pod" happy hours, and post-nights brunches, all of which allow our residents an opportunity to bond with each other outside of the hospital. In addition, the program provides afternoon snacks, ice cream Tuesdays during the summer, and hot chocolate/apple cider Wednesdays during the winter.
Our residents enjoy daily breakfasts and lunches from some of our favorite neighborhood restaurants including classic New York bagels, hot oatmeal, and a varied selection of eclectic cuisine. In addition, all residents are provided monthly stipends of $100 to spend at our hospital cafeteria or lobby Starbucks cafe. Our residents also are often able to take advantage of specials for local gym memberships including our hospital gym, Equinox, and heavily discounted social outings including New York Yankees baseball games, art museums, and Broadway shows.