Resident Well-being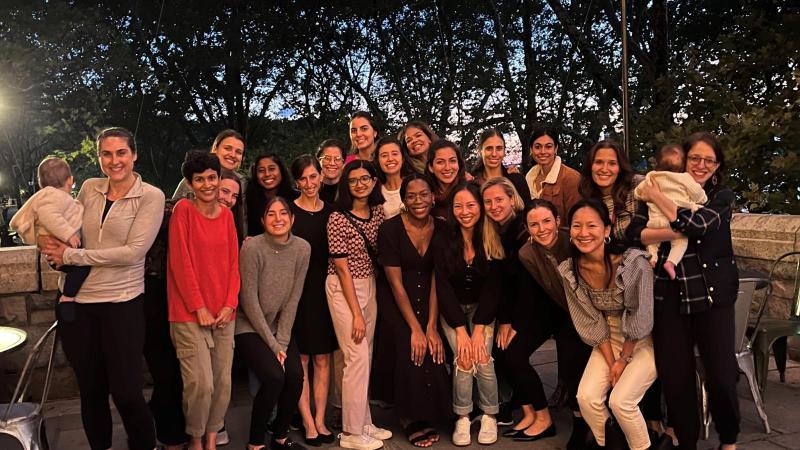 The heart of resident wellness at Columbia is found in community. From the pod system to weekly happy hours, the program is designed to bring wonderful people together organically. As a result, a helping hand or ready ear is always close. This is cemented by leadership who understands the value of our culture and invests in it by protecting time for us to come together.
Josh Earl, 2023 Graduate
Residency can be challenging for a number of reasons, ranging from its time-intensive nature to the emotional burden of caring for patients. Additionally, while resident-to-resident support and a strong intra-program camaraderie are a fantastic means of promoting wellness at work, there also need to be formal mechanisms for supporting residents' wellbeing. We have developed a robust catalog of programs aimed at ensuring resident well-being throughout training.
The Gold Lunch program is a peer-led, faculty-supported initiative that creates a space to reflect on experiences during residency. The program includes regularly scheduled lunches to discuss challenges and celebrate wins, in addition to interest-based activities outside the hospital that support wellness. These conversations extend beyond this dedicated space and onto the wards, clinic, and outside of work to support a culture of self-care and personal growth.
The Meaning in Medicine program was established in 2018 to promote residents' sense of fulfillment in their work. Held in a small group format with Dr. Sara Nash, one of our beloved psychiatrists, Meaning in Medicine offers residents protected time to reflect on the joys and challenges of training. Sessions occur on a bi-monthly basis with separate groups organized for PGY-1s, PGY-2s, and PGY-3s. Through these guided discussions, residents have the opportunity to process the personal and professional transformation that occurs throughout training, connect with the reasons they chose a career in medicine, and support each other in this endeavor.
Prompted by the extraordinary challenges posed by training during a pandemic, the Internal Medicine Residency Program has established a structure to offer confidential one-on-one check-in sessions with a psychiatrist for each resident. An appointment is scheduled for every resident as a default, and residents have the option of opting out by emailing the psychiatrist directly, preserving confidentiality from the program about their choice to participate or not.
The House Staff Mental Health Service (HSMHS) is a referral service offering confidential access to mental health care. Overseen and administered by two faculty psychiatrists, HSMHS is available to all residents and provides confidential, individualized referrals to experienced psychiatrists who are part of the program's network. Residents are eligible for up to eight sessions per year at no cost and have the option to continue longer term therapy.
Our program psychiatrist, Dr. Sara Nash, also schedules office hours for walk-in support for our residents. Additionally, she is available and readily accessible as and when needed for individual or group support.
Based on their needs, residents may link to longer term mental health care through the House Staff Mental Health Service.
Our program is proud to support residents through anticipated and unanticipated life experiences via our progressive residency leave policy and family planning benefits. Our comprehensive leave policy covers all types of leave ( bereavement leave, caregiver leave, medical leave, and parental leave) and provides equal time at home to birthing, non-birthing, and adoptive parents, in addition to vacation time. We also recognize that no two situations or residents are the same, and therefore work with each resident to individualize their leave plan, including attention to additional support for their transition to return to clinical duties. In a recent expansion of insurance benefits, residents now have insurance coverage for elective fertility preservation, including egg and embryo cryopreservation, as well as surrogacy and adoptive assistance.
Cornerstones of our residents' experience include time-honored traditions, including our annual Intern Retreat. Held every year in the fall, interns are covered to leave the hospital for a weekend of reflection, bonding, and relaxation outside of the city. We also host Rising Junior Retreat and Rising Senior Retreat for our residents, which allows professional development and provides a space to reflect as they transition to their new role.
The annual Holiday Party takes place around the new year, allowing the entire program to gather together for a night of fine food, music, and dance. In the Spring, our annual Junior-Senior Dinner provides a night of gentle roasting of our incoming and outgoing Chief Residents, along with parodies and videos created by our talented residents. For these special events, our fellows often cover the house to allow for bonding outside of the hospital. The final event of the year is a graduation ceremony for our graduating PGY-3s as they embark on the next stage of their career.
Our residents enjoy daily breakfasts and fresh, hot lunches from some of our favorite neighborhood restaurants including classic New York bagels and a varied selection of eclectic cuisines (some favorites are Taco Tuesday and Indian food). In addition to breakfast and lunch everyday, all residents are provided monthly stipends of $180 to spend at our hospital cafeteria or lobby Starbucks cafe.
Our interns on elective are responsible for organizing a weekly Happy Hour on Wednesday evenings for the entire residency program. These are held throughout the city -- some favorite spots include Harlem Tavern, Pier i, and Bodega 88!
After finishing a night rotation, our residents organize a "post-nights brunch," which allows the team to bond outside of the hospital and enjoy some sunshine!
As NYP is the official hospital of the New York Yankees and the New York City Football Club, Columbia residents enjoy free tickets to baseball and soccer games throughout the summer and fall. Our residents are also often able to take advantage of specials for local gym memberships including our hospital gym, Equinox, and heavily discounted art museums and Broadway shows.