Being a Resident at Columbia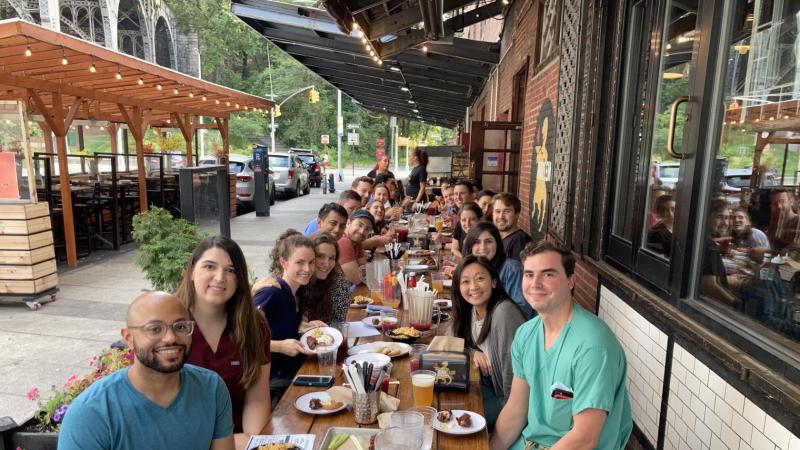 Going to work each day knowing that I will be surrounded by an incredible group of co-residents who will support me during difficult times, challenge me to be my best, and teach me every day is one of the many privileges of being a member of the Columbia internal medicine residency program.
Matt Carey, PGY-2
Columbia residents are a diverse but close-knit group of physicians who are brought together by (1) a shared pride in providing exceptional patient care, (2) a passion for life-long learning and (3) devotion to caring for our community. Our residents are known for going above and beyond for each other and their patients, and for engaging in clinical training that rapidly equips them to care for some of the most medically complex patients in the country.
Our program and hospital dedicate tremendous resources to facilitate this training experience, notably including our two-attending system (which exposes residents to a greater breadth and depth of knowledge), and our 1:1 intern-to-resident ratio (which enables supervised independence and optimizes resident-to-intern teaching). Most importantly, the hospital entrusts its residents with a legendary degree of autonomy, set against a background of fellows and attending physicians who provide support at all times. In this way, residents assume real responsibility for their patients and become comfortable making high-stakes decisions.
Our beloved Pod System provides an unparalleled level of support that ensures a comfortable, collegial, and familiar work environment throughout residency, often forming lifelong bonds among colleagues.
Years after graduation, Columbia alumni continue to pride themselves on their backbone of exceptional clinical training, ongoing bonds they have formed with fellow trainees, and continued opportunities for excellence in their chosen careers.