Educational Innovation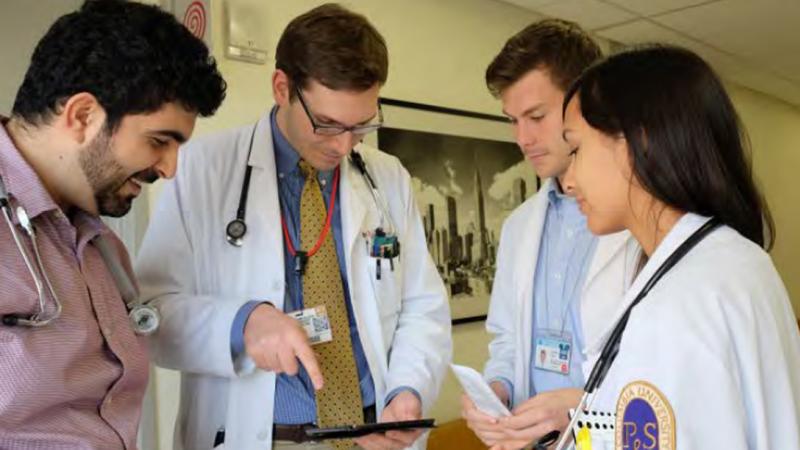 I have personally grown exponentially from the education at Columbia. The medicine program consistently innovates to optimize our educational experiences, instituting schedule changes to protect our didactic time, recording lectures for later viewing, and creating the weekly learning labs that mix journal club with board review, basic science reports, and updates from expert faculty.
 Nicholas Varunok, PGY-3
Medicine Report
Medicine Report is the residency program's flagship case-based conference that occurs from 12-1 p.m. Monday through Thursday. Chief Residents prepare an interactive presentation based on a patient cared for on one of the resident services, and guide a discussion about the differential diagnosis, work up, and management of complex cases. Each conference is attended by at least one faculty expert discussant, who adds clinical pearls to enrich the discussion.
This conference is currently hosted with a hybrid in-person and virtual model, with the Chief Resident and up to 10 residents joining in person, and residents watching and participating virtually from the Allen, unit-based work rooms in Milstein, clinic sites, and from home.
Learning Lab
Learning Labs are protected educational half days that are built into interns' and residents' outpatient and elective schedules. These sessions teach high-yield topics using a variety of engaging pedagogical formats such as virtual interactive lectures with breakout room discussions and small group hands-on simulation training. During an average Learning Lab, you can expect to do everything from discussing a landmark trial, to practicing board review questions, to placing an ultrasound-guided IV in a mannequin, to resuscitating a patient during a simulated code.
Intern Core Lectures
The Intern Core Lectures are a series of talks given by the Teach Resident (read more about the Teach Rotation here) focused on high-yield topics for interns on the wards. PGY2s and 3s on the wards hold their interns' pagers so that each intern on ward rotations can attend Intern Core, learn, and enjoy the snacks provided.
Speciality Conferences
Our program has developed grant-award winning interdepartmental conferences, including our novel Medicine-Radiology Case Conference, and our Clinico-pathologic conferences. These conferences allow multidimensional learning across different specialties, and to get to know colleagues across the hospital. We also host case conferences in a "Morbidity and Mortality" style to review principles in quality assurance, as well as conference series, including "Medical Ethics Case Conference and Public Health" Lecture Series.  "Race, Diversity and Community in Medicine" is a new series that tackles the many intersections of race and diversity with health care delivery, health policy, the medical community  and our own program.
Teach Resident
Each PGY-3 resident participates in a "teach the teacher" rotation designed to improve teaching skills in various settings and across various platforms, with the objective of preparing senior residents to be outstanding clinician educators, regardless of subspecialty interest. 
Grand Rounds
Weekly Grand Rounds are organized by the Department of Medicine, featuring distinguished lecturers from around the world. Talks range from basic science to cutting-edge clinical updates.
OPD Report and Ambulatory Care Curriculum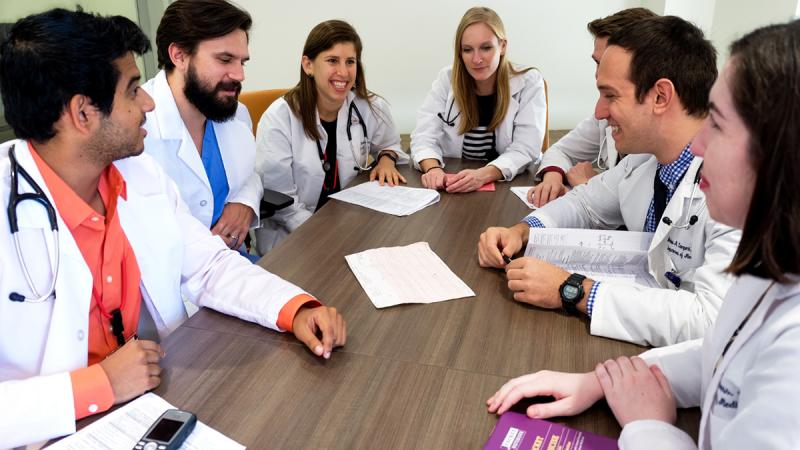 During ambulatory blocks, residents participate in small group teaching sessions on topics and skills in outpatient internal medicine. Interns have dedicated small group sessions on fundamental topics such as diabetes, motivational interviewing, hypertension, women's health, etc. All years participate together in OPD Report, a morning teaching session with faculty from the Division of General Medicine focused on applying evidence to common outpatient topics using case-based discussions. All years have dedicated time for learning behavioral health with psychiatry and clinical epidemiology with research faculty from the Division of General Medicine. Residents rotate through additional clinical settings such as rehabilitation medicine, gynecology, rheumatology, and endocrinology.