Frequently Asked Questions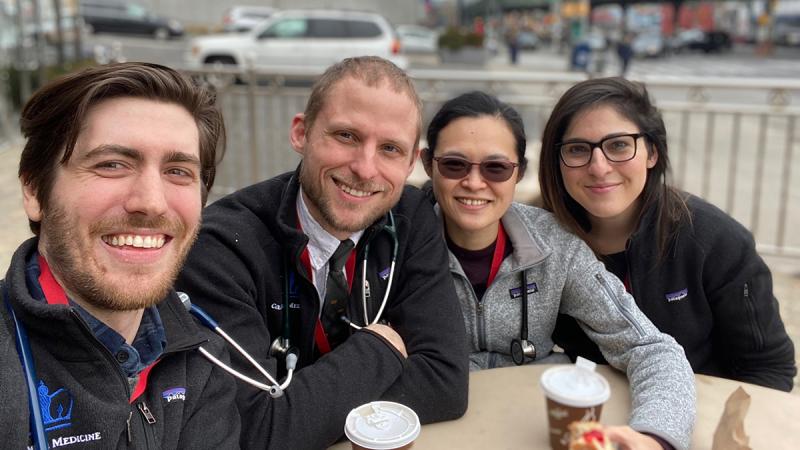 From the very beginning of residency, interns are empowered to make clinical decisions and encouraged to act as the primary contact person for all of their patients. The result is rapid growth and maturation. By the end of the first year, interns are comfortable dealing with almost any clinical scenario. Of course, residents and attendings always keep a close eye on interns to ensure they feel well-supported and confident in delivering the highest quality, evidence-based care. Supervision and autonomy are graded and adapt to each individual intern and resident to make sure everyone has what they need to grow and flourish.. The ability to transition care or get additional support is always available to any intern or resident who feels unsure or overwhelmed with work.
The two-attending system refers to the presence of two different attendings (usually one generalist and one specialist) on Gen Med and Cardiology teaching rounds. The purpose of this structure is to offer residents two unique perspectives on each patient, and to broaden the knowledge, skills, experience, and expertise brought to each case discussion. Raaka Kumbhakar '20 described it in this way: "With two attendings from different specialties and with a huge breadth of experience from various clinical settings, we get different perspectives that are often opposed, but equally important, and help us to understand the various complexities of a case. It's equally helpful to have the expertise of a leader in a specialty field and a hospitalist who can help emphasize broad and practical thinking."
Another major benefit of the two-attending system is that it doubles the exposure of residents to Columbia faculty, increasing opportunities for mentorship and collaboration.
Residents rotate through all three years of residency in groups, or "pods," of four. At the beginning of intern year, the pods are created largely on scheduling preferences but they become tight-knit and choose to stick together for the second and third years as well. The pods offer a fantastic support system, and the experiences pod-mates share often make them friends for life.
Many residents enter training with families or have children during their time here. We are proud to have a progressive leave policy to support our new and existing resident parents. NYC is also a great place to raise a family, as its many parks, museums, concerts, and festivals offer endless entertainment and fun. There is also a daycare center and a nursery school very close to the hospital, and they offer discounted rates to employees.
Yes, there are multiple moonlighting opportunities, the most popular of which is Gen Med moonlighting, which is available each evening to junior and senior residents on elective or outpatient rotations. Moonlighters provide cross-coverage of non-call teams for 3-4 hours, allowing the call teams to focus more of their energy on new admissions. Best of all, Gen Med moonlighting does not require completion of step 3 or a personal NY state medical license, eliminating the "start-up costs" typically associated with resident moonlighting.
The payscale is determined by the GME office, and is standardized by PGY year across residencies. Beginning 2023, PGY1s earn $81,000, PGY2s $89,700, and PGY3s $97,000. Residents also receive a $7,500 housing stipend annually, a $2,000 Lyft credit annually, and a $180 monthly meal card stipend.
Residents receive benefits in multiple aspects including a choice of medical, dental and vision plans, flexible spending accounts, life, accident and disability insurance for residents and their dependents, and retirement savings plan. Mental health services are covered under the medical plan. There are a host of family-friendly benefits including back-up child and adult/elder care, and special needs support. Other benefits include auto and home insurance options, identity theft protection, a 529 College Savings program, and other financial wellness benefits with dedicated financial planners that are ready and available to assist. We encourage our applicants to review the benefits package for details and other perks, emailed prior to each applicant's interview.
Residents are provided with basic and comprehensive infertility care under both available medical plans, and a $30,000 IVF benefit is also provided which can be used for elective egg extraction and fertility preservation. The Columbia Department of Obstetrics and Gynecology provides further discounted rates and waives fees for egg storage for Columbia residents if done at Columbia. Benefits also include adoption assistance and surrogacy assistance.