Commitment to Continuous Improvement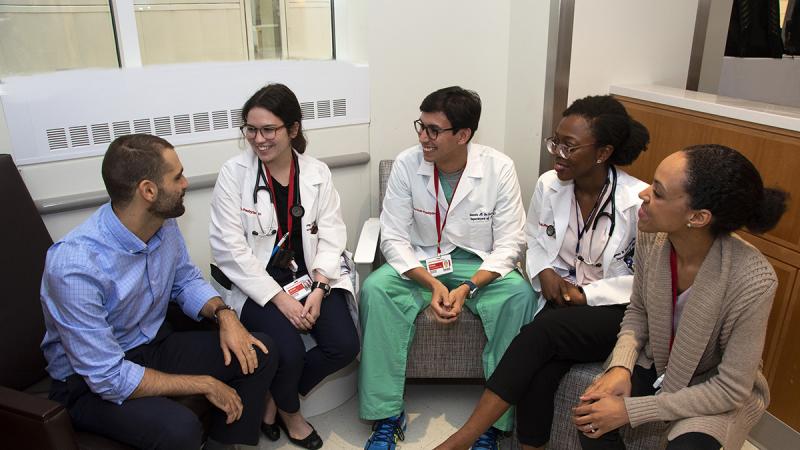 We are immensely proud of our training program and our commitment to continuously innovate, incorporate feedback and grow our program into the very best that our residents deserve. We have created many venues for our residents to actively participate in developing and implementing changes in the program and hospital.
Resident Forums
Residents have the opportunity to provide formalized feedback and contribute directly to program and hospital changes through participation in targeted forums. Each Forum focuses on a different facet of the residency experience and is led by a Chief Resident and an Associate Program Director. Forums meet on a monthly basis and are open to all residents in a hybrid small group and virtual format.
Current forums include:
Resident Life - facilitating events and initiatives to promote resident quality of life
Learning and Leadership - focused on education, innovation, and building leadership skills
Quality Improvement/Patient Safety - identifying areas to improve the quality of care we deliver as residents 
Clinical Operations - working with hospital administration to create new initiatives for improving efficiency throughout the hospital 
Recent resident-driven improvements that have emerged from the forums include:
Psychiatrist-led Meaning in Medicine groups
Morbidity and Mortality conferences 
Simulation lab sessions
Peer mentorship program
Joint medicine-radiology case conferences
Medical ethics discussion series
Start-of-block nursing/resident "meet and greet" sessions
Ultrasound curriculum
Peer Representatives
Peer representatives are selected for each PGY year, serving as liaisons between the program leadership and the resident class body. Peer reps meet on a monthly basis with the chiefs and program director in order to ensure that the interests of the residents are being attended to by our administration. Additionally, peer reps are encouraged to take on specific projects and to play more defined roles in the forums. The peer rep program is a long-standing and integral part of the program's success. Peer reps also attend the Graduate Medical Education Committee meetings with other residents across the entire hospital system.