Commitment to Continuous Improvement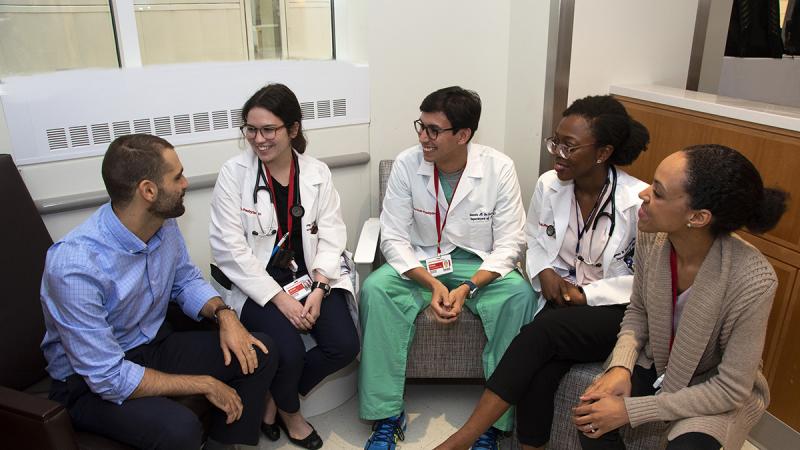 We are immensely proud of our training program and our commitment to continuously innovate, incorporate feedback and grow our program into the very best that our residents deserve. We have created many venues for our residents to actively participate in developing and implementing changes in the program and hospital.
Resident Forums
Residents have the opportunity to provide formalized feedback and contribute directly to program and hospital changes through participation in targeted forums. Each Forum focuses on a different facet of the residency experience and is led by a Chief Resident and an Associate Program Director. Forums meet on a monthly basis and are open to all residents in a hybrid small group and virtual format.
Current forums include:
Resident Life Forum: Focuses on resident wellbeing initiatives to promote resident wellness inside and outside the hospital. Residents involved in this forum create social events including group fitness classes, daytrips outside the city, museum tours and happy hours to create a social community among residents. Resident-driven improvements that have emerged from this forum include psychiatrist-led meaning in medicine groups, opt-out 1:1 check-ins with a psychiatrist and the peer mentorship program.
Learning and Leadership Forum: Focuses on resident education, innovation and building leadership skills. Residents involved in this forum have created new curricula including our ethics, medicine-radiology, simulation and POCUS curricula, for example. Our educational curriculum is dynamic, innovative and continuously involving with our residents participating in every aspect.
Quality Improvement/Patient Safety Forum: Focuses on resident participation in ongoing or new quality and safety improvement projects in the inpatient and outpatient setting. This may include participation with hospital-wide quality reviews and interventions, or presentation during our morbidity and mortality conferences. 
Clinical Operations Forum: Focuses on resident collaboration with hospital administration to create initiatives for improving efficiency and workflows in the hospital. The residency program is often involved in suggesting and piloting interventions by our hospital operations team and is key in delivering honest feedback that impacts hospital-wide operations programs.
Recent resident-driven improvements that have emerged from the forums include:
Psychiatrist-led Meaning in Medicine groups
Morbidity and Mortality conferences 
Simulation lab sessions
Peer mentorship program
Joint medicine-radiology case conferences
Medical ethics discussion series
Start-of-block nursing/resident "meet and greet" sessions
Ultrasound curriculum
Peer Representatives
Every summer, each PGY class nominates Peer Representatives to serve as liaisons between the program leadership and the resident class body. Given their primary responsibilities as residents, Peer Reps are uniquely positioned to relay the concerns and needs of the resident community to the Chiefs and Program Director in real-time and to advocate for ways to improve the residency in terms of operations, education, team building, and wellbeing. Via monthly (and ad hoc) meetings with program leadership, Peer Reps play an integral role in helping shape and enact the agenda for program development. Peer Reps also work with the forums, help with new intern recruitment, and attend the Graduate Medical Education Committee meetings with other residents across the hospital system.
Town Hall
Our program hosts a monthly lunch conference aimed to share program updates and solicit feedback from residents regarding all aspects of resident life. Our chair of medicine, program director and chief residents are in attendance to ensure resident concerns are shared, acknowledged and addressed at each level of program leadership.