Pathways of Professional Distinction
Clinician-Scientist Pathway (CSP)
The Clinician-Scientist Pathway (CSP) aims to shape residents into the next generation of clinician-scientists. The program emphasizes rigorous clinical training, while adding a range of scientific opportunities that allow for focused mentorship and career development.
Trainees in the Clinician-Scientist pathway complete 2-3 years of residency in anticipation of advanced clinical and research fellowship training. CSP residents participate in all aspects of clinical training, including rotations on the general medicine and specialty wards, in the intensive-care units, and on ambulatory blocks.
Each resident in the Clinician-Scientist pathway is assigned a scientific advisor, and connections to research mentors on the faculty with similar interests are actively promoted. The Department of Medicine encourages CSP residents to continue their advanced clinical and scientific training in one of its subspecialty fellowships, and it seeks to recruit future faculty investigators from among its research-oriented fellows.
For additional information, please contact Jonathan Barasch, MD, PhD, at jmb4@cumc.columbia.edu, or Barry Fine, MD, PhD, at barry.fine@columbia.edu.
Generalist-Primary Care (GPC)
The Generalist-Primary Care (GPC) Pathway is a program for residents interested in careers in general internal medicine (including academic medicine, public health, and global health). Building on the rigor of the Columbia residency, the pathway supplements the categorical rotations, while maintaining flexibility to adapt to the residents' interests.
Residents participate in regular journal club discussions, which are combined with career nights in which faculty and graduates of the pathway are invited to discuss their unique careers. Residents are also supported in planning elective experiences in either clinical or research areas in general medicine and related subspecialties, and have numerous opportunities to work with the prolific faculty in the Division of General Medicine.
The GPC pathway does not have a separate match number, and residents have the option to join after matching to the categorical program. GPC residents are grouped together in a Pod, allowing them to rotate together and plan events on lighter rotations.
If you would like to hear more about GPC, please contact Maria De Miguel, MD, MS, at mh2634@cumc.columbia.edu.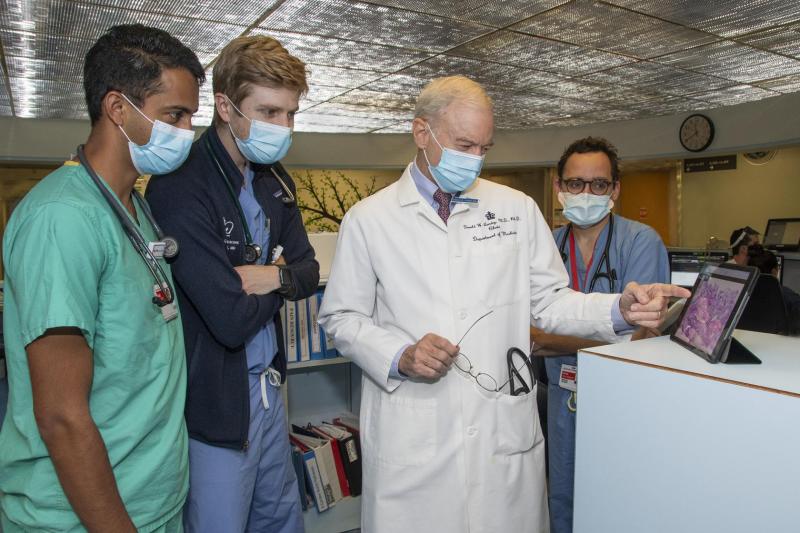 Advanced Clinician Educator (ACE) Program
We have a robust clinical educator curriculum within our residency program, and all of our residents participate in bedside teaching, lead conferences and didactic sessions, and moderate small group discussions. In addition, for those interested in a dedicated career in medical education, the Advanced Clinician Educator (ACE) program provides an opportunity to work with mentors in a tailored experience focused on developing teaching skills and building an educational portfolio.
Up to two residents per year are selected via an application process, which takes place at the end of the residents' intern year. ACE residents are afforded additional opportunities to hone their teaching abilities, and to produce scholarly work in the field of medical education, which they present at national conferences.
Prior residents include Saman Nematollahi (ID at Johns Hopkins), Benjamin Gallagher (primary care at Yale), Daniel Manson (pulm/crit at Columbia), and Jeffrey Larnard (ID at BIDMC). If you would like to hear more about ACE, please contact Subani Chandra, MD, at sc3328@cumc.columbia.edu.
Global Health
Perhaps no aspect of the Columbia training experience is more unique than the away elective at Edendale Hospital in KwaZulu-Natal, South Africa, where residents can spend one month during their PGY-3 year. Edendale Hospital opened its doors under apartheid in 1954. Today, it has roughly 900 beds, and is part of South Africa's national health system, serving about one million primarily Zulu patients in and around Petermartizburg, the capital of KwaZulu-Natal.
Edendale is a regional hospital, simultaneously providing primary care to the immediate population, and serving as a referral center for smaller, rural hospitals and clinics. It delivers integrated and comprehensive health services in partnership with local communities through programs designed to assist the population's most vulnerable individuals.
The hospital has an established internal medicine program, and visiting residents are integrated into the inpatient service. A predominantly impoverished population, Edendale's patients suffer from familiar ailments as well as advanced HIV, tuberculosis, and infectious diseases unique to rural Africa. Residents work with Zulu healers, make house calls in remote regions of South Africa, and work with local community groups to improve their health care infrastructure.
In addition to the hospital experience, the month in South Africa affords plenty of time to explore the rest of Southern Africa. From the Hluhlue/Umfulozi Game Reserve to the beaches of Durban, the region offers a wide range of once-in-a-lifetime experiences and adventures.
Past residents have also designed and participated in other global health rotations through other divisions and research groups including medical education in Ethiopia, conducting TB research in Africa, and clinical rotations in the Dominican Republic.
Healthcare Innovation Fellows
Through the NewYork-Presbyterian Innovation Center, our residents have the opportunity to apply for the Silverman Fellowship in Healthcare Innovation which provides careful mentorship in a startup like environment to take ideas from concept to practice-changing product. Fellows gain unprecedented access to Hospital operations, and connect with senior leadership.
Current resident fellows include Sneha Jain (PGY3).
Patient Safety Research Fellowship
The Division of General Medicine offers a two-year fellowship aiming to produce exceptional researchers in the field of patient safety. Fellows work clinically as hospitalists, but devote the majority of their time to developing research skills (including obtaining a Masters of Public Health) and undertaking scholarly work.
For more information, please visit the fellowship's website.
Clinical Informatics Fellowship
A two-year fellowship in Clinical Informatics is offered by the Columbia Department of Biomedical Informatics, which prepares fellows to take on roles in many aspects of health IT, including leadership roles in hospital and industry settings.
For more information, visit our fellowship website.
Post-Residency Careers
Our graduates are remarkably successful following completion of the training program. Residents applying to fellowship routinely match at top-tier programs (see our recent match lists here). We have robust support for fellowship planning, including program director panels, an annual How to Apply To Fellowship guide, and our faculty mentors are well-connected to provide residents with influential support.
Residents pursuing careers in General Medicine are also well-supported, with dedicated guidance provided in Hospitalist and Primary Care panel discussions, as well as many opportunities to obtain direct mentorship and career advice from faculty in the Division of General Medicine.