Pterygium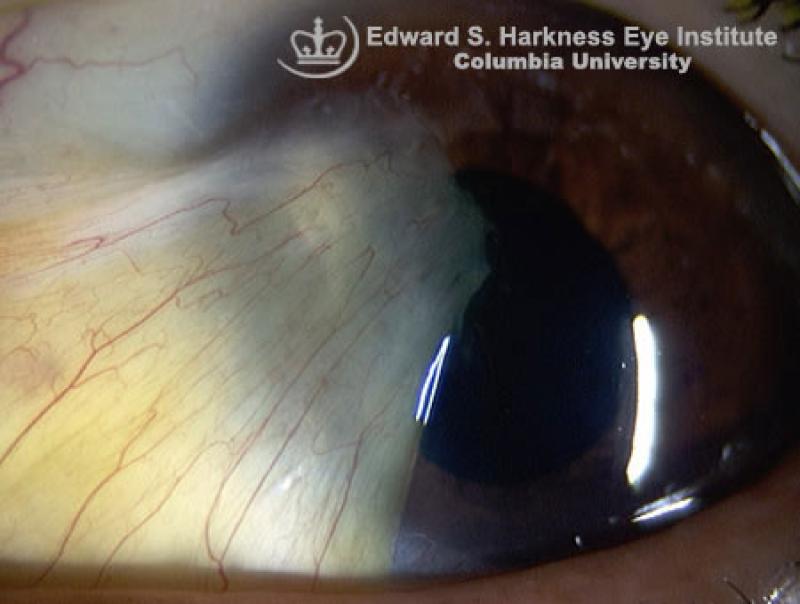 Excessive exposure to outdoor condition such as ultraviolet radiation, drying and trauma from wind and dust has been proposed as the etiology of this conjunctival change
Clinical Features
Symptoms:

Often asymptomatic or only cosmetic
Rarely cause visual impairment
May cause serious threat to vision if it progresses to visual axis

Signs:

Raised triangular growth of bulbar conjunctiva which invades the cornea, and like a pinguecula is predominantly located nasally
Progression of pterygium may be very slowly over many years.
Management
Routine ocular examination is suggested to determine whether the pterygium is active by the degree of the vascular injection in the bulk of tissue and growth of the leading edge encroaching on the visual axis.
Surgical removal is indicated if the lesion causes discomfort or local irritation, significant visual impairment, or restriction of lateral gaze.
Beta irradiation, mitomycin-C and free conjunctival autograft have all been used to reduce the recurrence rate.
Recurrence rate is high, especially in those countries with constant high exposure to ultraviolet radiation.