Orthopedic Residents Profile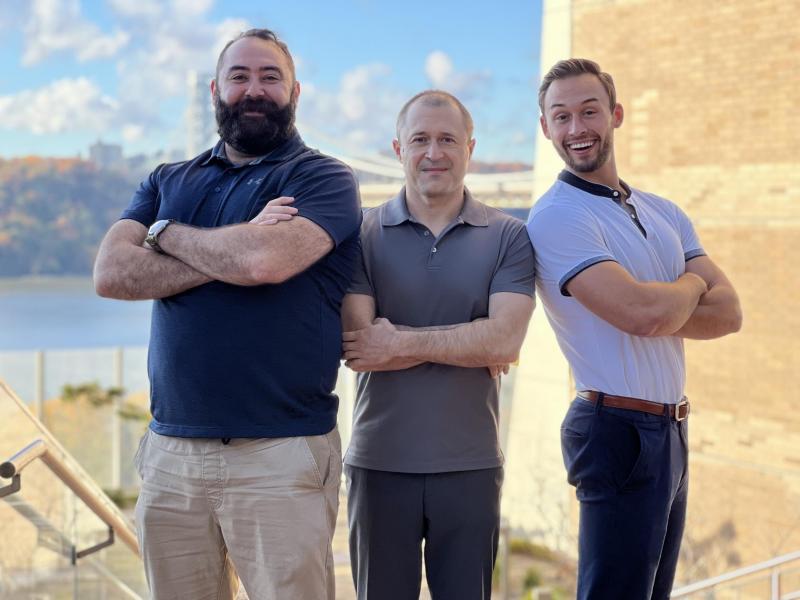 ---
Alex Neufeld
My name is Alex Neufeld, and I'm from Brooklyn, New York. I am a part of the Orthopedic Resident Program here at Columbia University.
What do you do for fun?
Working out and biking is at the top of my list for things that I do for fun. I like to lift weights and I bike all over NYC. Cooking has been at the top of my list as well. I like to try as well as cook unique foods. One of the most recent things I have mastered is the Mozzarepa, not bragging at all. I first tried this dish as a kid when I went to the San Gennaro festival. If I ever feel the need to escape the city or feel really bored, I like to take road trips wherever I've dropped a pin on my map before.
What are your hobbies?
I have always liked to work with my hands, so as of late, I've been interested in tinkering with computers/ general maker stuff. The current project that I have been working on is automating my apartment as a smart home. It also led me to building custom desks and a coffee table that turns into a dining room table. Soon, I am going to try and convert my dearly beloved Volvo station wagon into a plug-in EV to keep it on the road!
What makes this residency program appealing/ special to you?
New York is home for me, of course it's nice to visit other places and I've spent my fair share living elsewhere during and after college. However, I always come back to the city. Just before the pandemic, around the time I finished PT school, I was finally able to move back to the neighborhood I grew up in after being away for about twenty years. Doing this residency made me realize that I did not want to uproot myself all over again. Having the ability to stay home while doing the residency program was very high up on my list of wants. A bonus of this program was the affordability of the program in general.
How do you see this program enhancing you future as a physical therapists?
At the end of this program, I know I will be more efficient, in terms of interventions applied over a plan of care. I will have more of an understanding of other factors that led to an initial injury and thus be able to address those things, not just the chief complain. I feel as though if I do my job correctly, I will feel confident about sending my patients off into the world with a lower chance of seeing them again for the same thing. A few years down the line, I am hoping to contribute to evidence-based practice and research. Lastly I am hoping that when I am finally a clinical instructor, I can be better for my future students.
What should future residents learn about this program that you learned after you joined?
The most important thing that I have learned is that there are no wrong answers, just different ways of thinking. Being a part of this program will change the way you think drastically. You will have realizations that much of what you learned in entry level programs is only a small part of a much bigger picture of how the human body works.
---
Alex Vitrak
My name is Alex Vitrak, I was born in the former Soviet Union, in the city of Lviv. It is the very western edge of what is now Ukraine.
What do you do for fun?
For fun I prefer to be outdoors, mostly going on local hikes, but not so long ago I used to climb, hunt, spearfish, and freedive.
What are your hobbies?
I've had quite a few hobbies over the years, but most of them had fallen by the wayside. What remains is my passion for travel, great literature, and poetry.
What makes this residency program appealing/ special to you?
Given Columbia's high standards of excellence, I have a chance to interact with leaders and experts in the field of orthopedic physical therapy. I believe that nothing impels one to success more than being embedded in the environment of excellence that the Columbia PT residency provides.
The Columbia Ortho PT residency emphasizes evidence-based practice to a greater degree than other non-university-based residencies. If we want to advance our profession and thrive in this difficult environment of declining reimbursements and ever-increasing caseloads, our clinical practice must be in line with the best available evidence, producing better outcomes in a cost-effective manner.
University-based residency like Columbia's also provide greater opportunities for teaching. As the adage goes: "If you want to learn something, teach it." The process of teaching others helps me uncover gaps in my own understanding and forces me to re-organize information in my mind for better retrieval, which helps immensely in my own clinical practice.
How do you see this program enhancing your future as a physical therapist?
The habits and mental models one develops early in a career heavily influence the trajectory of one's growth as a clinician. Entering the residency will ensure that I develop the right habits and mental models leading to achieving my full potential as a clinician. I believe that growth of my clinical skills, especially given the quantum leap that the skills seem to take in the wake of great residency education, will directly lead to increased job satisfaction, which is not a small feat in our difficult healthcare environment. That in turn will continue to fuel passion for my work, allowing me to give more both to my patients and the profession.
What should future residents know about this program that you learned after you joined?
The resources that the program lavishes on my clinical development are truly extraordinary. While the didactic component delivered on Fridays is a big part of it, with residents receiving personalized instruction from Drs. Wong and Johnson, the one-on-one mentoring that I receive at the Tarrytown clinic is truly incomparable to anything that exists out there, both in quality and quantity.
---
Eldon V Graham III
My name is Eldon V Graham III, and I am from Hesperia, Michigan.
What do you do for fun?
I enjoy taking long bike rides or walks through Central Park, exploring the city and visiting the many tourist attractions. I also like going to comedy shows, and periodically getting lost in my explorations.
What are your hobbies?
Some of my hobbies are cooking and sharing food with others, reading, playing my guitar, hunting, fishing, camping, snowboarding and generally anything that involves the outdoors or movement!
What makes this residency program appealing/ special to you?
Columbia's program stood out to me because it isn't a typical "one-size-fits-all" methodology or approach. The program is flexible and is individualized to ensure that each resident not only receives the information required, but also receives it in a way that suits their learning style and needs accordingly. The content of the curriculum and how it is structured, the faculty with their diverse backgrounds and breadth of knowledge to glean from, and various affiliation sites with their incredible opportunities are all factors that set Columbia apart from other residencies.
How do you see this program enhancing your future as a physical therapist?
Not only will this residency give me the necessary knowledge to obtain my OCS, but it will allow me the opportunity to train under and learn from some of the best in the field. I believe that it will enhance my clinical skills in a way that shapes me into becoming the competent and efficacious clinician that I've always wanted to be. I see this program as a way for me to start the journey of becoming an expert in the field of PT that gives me the capacity to treat my patients with the best care that I am capable of giving.
What should future residents know about this program that you learned after you joined?
If you're contemplating pursuing a residency, do it. The actionable intelligence that you can gain from being in a residency is invaluable. Having the ability to be mentored by some of the top professionals in the realm of PT, work in amazing facilities with great patient populations, and having the ability to apply what you learn in the classroom to actual patients in the clinic is an experience that will change the way you approach treating patients for the rest of your career.
---