Dr. Lisa Yoon's Advanced Seminar in Pediatrics Pt.2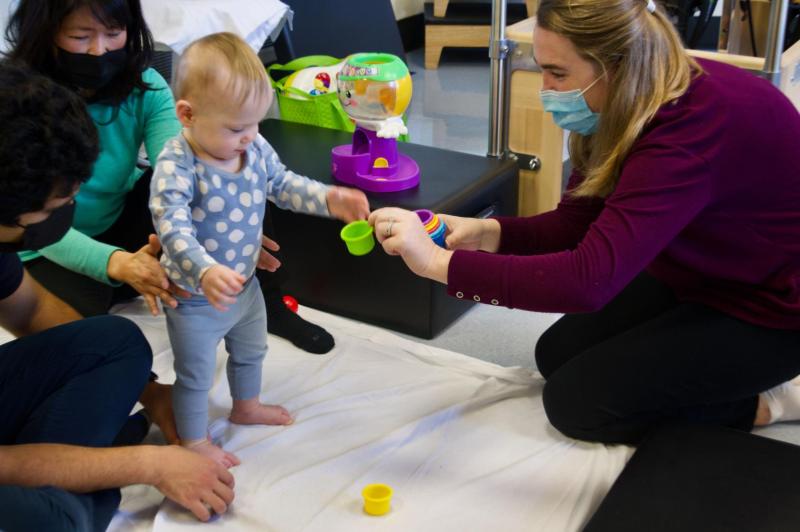 Dr. Lisa Yoon's Advanced Seminar in Pediatrics - Elizabeth K. Interview
Last month we took a look at Dr. Lisa Yoon's Advanced Seminar in Pediatrics course. We explored the course from the eyes of DPT student Zenas Singh. Zenas detailed his hands-on practical experience and what it meant for him to have this type of involvement in the field. This month we are speaking to Elizabeth K. who is the mother of our one of our favorite patients, Madeline. Elizabeth offers her insight on the Columbia system as well as her experience with Dr. Yoon and her students.
---
Elizabeth can you speak about the care that Madeline has received thus far, not only with Dr. Yoon but with Columbia?
Dr. Yoon explained that her care started with a referral from the neonatal clinic, but she also mentioned you have gone through the "Columbia circuit" and have seen many different doctors for Madeline.
Madeline was born three months early and spent her first 98 days in the NICU at Columbia/CHONY. During this stay, we learned that she had suffered a stroke in utero which formed a cyst in her brain, and this type of brain injury often leads to cerebral palsy diagnoses in children. Because the cyst is in her brain's left ventricle, we were particularly concerned about her right-sided function. One of the hospital physical therapists would stop by during her NICU stay and teach us different stretches and ways to hold Maddie to benefit her while she was non-mobile. The NICU team set us up with a variety of follow-up appointments in the Columbia system as we approached discharge, including in the neonatal neurodevelopmental clinic. This clinic visit was scheduled for 6 months after her NICU discharge, and we met with a neonatologist and fellow who observed Maddie's movements and development. It was clear to the doctors that Maddie was showing markers of cerebral palsy/right hemiplegia, and they referred us to Dr. Carmel in neurology, and Dr. Yoon in physical therapy. Having these immediate referrals was incredibly helpful – I didn't need to spend time researching different therapists and neurologists, Maddie's records carried right over, and there was minimal time spent waiting for appointments. Our neonatal clinic appointment was the last week in March, and we were set up with appointments with Dr. Carmel and Dr. Yoon by early April.
When we met with Dr. Carmel, he told us the best tool in Maddie's toolbelt was a great physical therapist, and that we had the best in Dr. Yoon – and we completely agree. Maddie had been receiving early intervention physical therapy services since she came home from the NICU, but due to the pandemic the services were all done over Zoom. The minute we set foot into the clinic, we saw immediate strides and improvements in Maddie's mobility and milestones that we hadn't seen in six months of Zoom therapy. When we started seeing Dr. Yoon in April 2021, Maddie was 10 months old and was not sitting independently, could not catch herself if she fell over, and her right hand was almost always in a fist.
Now, 8 months later, Maddie is walking, clapping with flat hands, and is catching up to her peers in terms of gross motor milestones. Not only is the care top-notch, but we truly feel like Dr. Yoon cares about Maddie and our family as people and not just as her patient, and it really makes a difference. When we were looking to switch Maddie's early intervention services to in-person from Zoom and were struggling to find someone to take our case, Dr. Yoon personally called two colleagues who she thought would be a good fit and Maddie has been seeing one of them ever since. She really goes above and beyond, and it's made all the difference in Maddie's progress.  
Elizabeth, Dr. Yoon has students that receive practical hands-on experience working with patients such as Madeline, can you tell us about how much you might have learned during these sessions with some of the things she might have been explaining to her students. What is your perspective on the role of PT in your families' lives?
Dr. Yoon asked us if we would be comfortable with student observers in our sessions and we didn't hesitate before saying yes. With a prognosis like Madeline's, we know that PT is going to be a regular part of her life for the foreseeable future. We know we have the best in Dr. Yoon, and we want future therapists to be trained to be just like her! Having students in the sessions with us has been very helpful for a lot of reasons – not only because with toddlers in PT, it takes a lot of distractions to keep them happy while you're working with them. Extra hands are always welcome! For some of the sessions, Dr. Yoon doesn't tell the students what Maddie's diagnosis is and it's interesting to see what they notice about her and what we need to work on. Maddie is our first child, so we don't have a baseline of what is considered "normal" other than what we see her do and what we're learning in each session. In other sessions, when Dr. Yoon tells the students ahead of time what we're working on and why, it's helpful to hear the clinical side of things – what causes it, what it might lead to down the line, and that sort of thing. It's helpful to hear the conversations between Dr. Yoon and her students, and they usually give us tips and tricks that we can use in between sessions to help Maddie improve further.
---