Columbia Alumni Katie Schmitt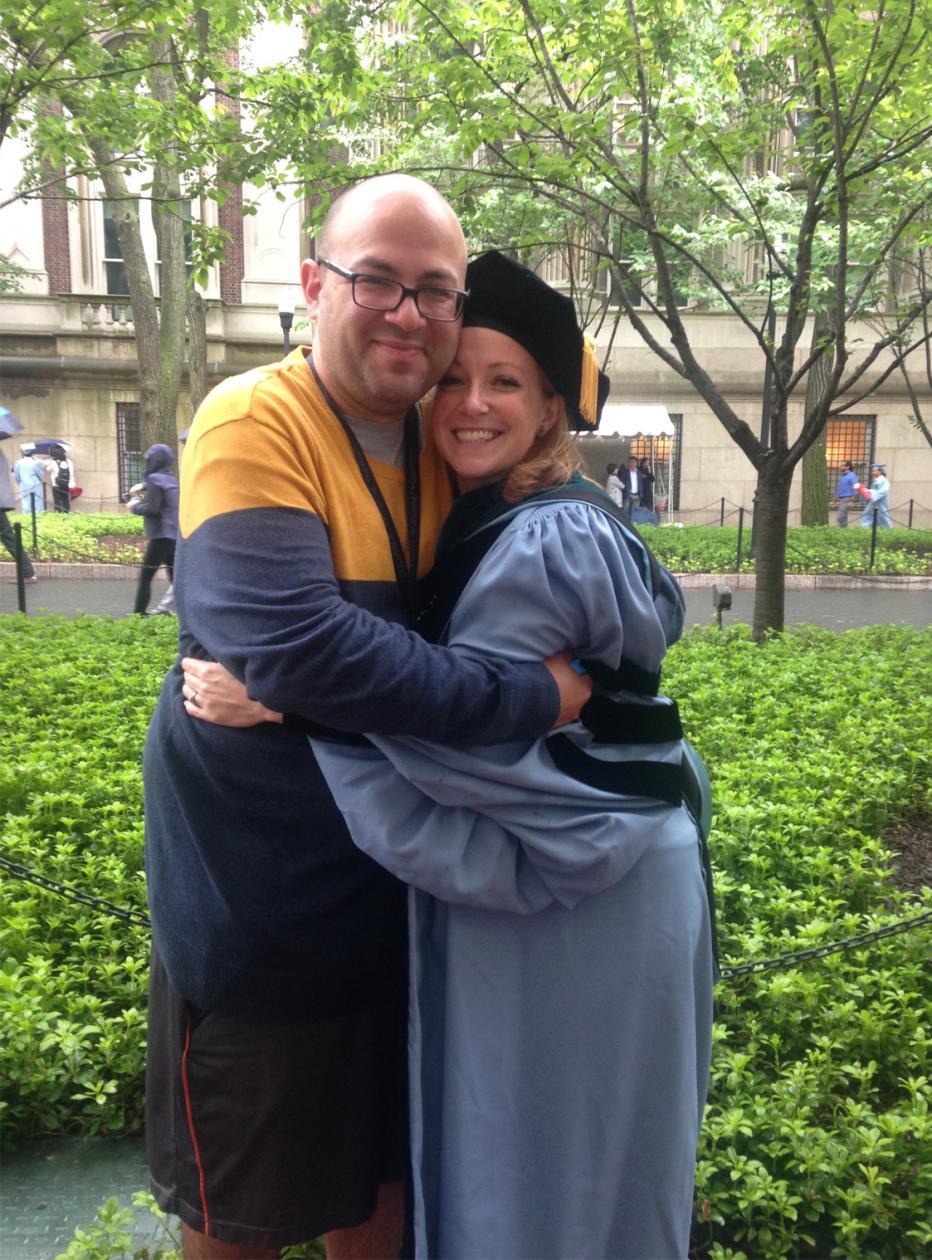 ---
A 2018 graduate of the CU DPT program, Katie Schmitt was recently featured on South Carolina public radio. Katie is another example of the many incredible contributions made by our program graduates, and her story illustrates the twists and turns of one's professional journey. Since graduating, Katie moved back to South Carolina, where most of her family resides. She's been working as a Physical Therapist at the Medical University of South Carolina- Hollings Cancer Center (MUSC HCC). Katie has spearheaded a PT program for cancer patients and cancer survivors. Our interview can be found below, along with her recent interview on South Carolina Public Radio.
How/ why did you come to Columbia?
I worked as a volunteer at the Harkness Center for Dance Injuries and heard amazing comments about the Columbia Physical Therapy program. I lived between South Carolina and New York and made a career change from being an actor and retail store manager to physical therapy. I had to go back to school for two years to take physics, chemistry, and all the prerequisite classes you do not take as an actor. After attending an open house, I fell in love with the school and the program.
What event in your life triggered your decision to pursue becoming a Physical Therapist?
I worked as an actor on a web series, "Sleep Here Now," with my husband. In the series, we reviewed bed and breakfasts across America. We lived in our car, slept in new places every night, and traveled to all forty-eight contiguous states. It was great. However, I wanted a house, a place to stay and do something more. I thought about PT because I received PT treatment as a dancer for my knees, and it was a great experience.
How do you think your Columbia Education prepared you for the work you're doing?
Columbia has given me the skills to make the connection between dance, cancer, balance, and breathing. I am working on creating a successful protocol for chemotherapy-induced peripheral neuropathy, which is a combination of manual therapy, stretching, balance, and therapeutic exercise. Columbia, and their outstanding PT professors, taught me how the body works, the pathology of disease, the positive and negative consequences of medical interventions (ex., nerve damage), and designing a PT plan of care that mediates impairments, improves function, and enhances the quality of life.
I am also starting a PT program for cancer patients and cancer survivors at MUSC HCC. Patients with cancer need and deserve physical therapy. The patients come, have blood work, wait, get scans, and wait. Ideally, patients should be able to get PT (and OT) for cancer-related fatigue, neuropathy, sciatic pain from sitting for an infusion, shoulder ROM post-surgery, and other cancer-related side effects within their 2-3 hours of waiting. My background in theater and co-founding Fairytale Physical Therapy with my classmate, Jenna Kantor, gave me the nerve to say yes. I can start a program, and here is how I can do it.
How was your experience after you graduated from the program?
It took me a little while to figure out what I wanted. I started working in NYC and quickly moved to South Carolina to be closer to family. I worked in outpatient home health, almost started a private practice pre-COVID, and then found my calling by starting the PT program for cancer patients and cancer survivors at MUSC HCC.
What are you doing currently? Where are you working? Have you pursued an advanced degree, residency/ fellowship, continuing education?
Thanks to supportive management, physicians, and nurses this past January, I was fortunate to open a PT rehabilitation location at MUSC HCC in Charleston. The clinic is dedicated to working with patients with cancer; the goal is that every patient with a cancer diagnosis will get a PT referral. We can provide PT throughout the process and into survivorship. It took three years, but the clinic is up and running, and it is impressive. 
 I am a co-author with a Neuro-Oncologist and a Hem-Oncologist, on a peer-reviewed and published case series about physical therapy treatment for patients with chemotherapy-induced peripheral neuropathy (CIPN). After 8-10 weeks of PT, there was 80% success in decreasing CIPN symptoms, reduction/elimination of Gabapentin, and a return to ambulation within the 20 patients involved in our study. I am currently studying to become a physical therapy board-certified oncology specialist and hope to sit for the exam next year. My next goal is to start a PT residency program in oncology at MUSC.
How has the DPT program helped you after you graduated?
Columbia taught me to think differently about the body, which has made me a better Doctor of Physical Therapy. Since graduation, I have been in contact with many of the professors. They have helped guide me in treating private patients, opening a private practice, and starting the rehab program at MUSC HCC. My clinical instructors and I are still in contact, and they inspire and encourage me to explore various continuing education opportunities. I started working as an editor for the Practice Section magazine when I was a student. This role was a great inspiration as it gave me additional ideas and knowledge as I work toward treating the oncology population across the lifespan.
What advice do you have for future students of our DPT program?
Learn everything you can. You will cry; it is hard. However, when it finally clicks, and you understand the integration of nerves, muscles, drawing connections between treatments, and how it all impacts patients, it is all worth it. When I was there, I realized that the people in the program are there because they have a story; each is interesting and unique and offers much to your learning. Figure out what you have to offer, go to the professors for help, find your classmate counterparts, and enjoy the process.
Please speak a little about yourself, what your hobbies are, anything that you would like us to know.
Now that I live in South Carolina, my husband and I have bought a house, and I love interior design. After building a table in four days for Thanksgiving and remodeling a kitchen, I realized that I love woodworking. Sorry West Elm, but I think I can make that chair now.
I am not the person I was when I decided to stop being an actor and return to PT school. I thought I would be working with children or dancers, and I found my place working in oncology. Be open to the change, trust the research, and have fun.
Dr. Katie Schmitt's interview with Bobbi Conner on South Carolina Public Radio -
https://www.southcarolinapublicradio.org/podcast/health-focus/2022-04-19/physical-therapy-for-cancer-patients-and-cancer-survivors?fbclid=IwAR2cUir-oi7hodHvH5yHSuW8-FFWlIqinXRxbwPkoSqrmZVMzcyjHoMtDzs