Dr. Wing Fu speaks about her recent Grant as well as attending the ELC this year
---
"2021 Provost's SOLER Seed Grants"
Covid-19 ushered in a new era of teaching with online education being an alternative to onsite education. As the end of the pandemic is expectantly approaching, it is imperative to compare the learning outcomes of onsite and online education. With the goal of doing the comparison, Dr. Wing Fu had applied for and was awarded the 2021 Provost's SOLER Seed Grant. The grant is offered by the Office of the Provost at Columbia University. It provides faculty members with funding and in-kind support to conduct research studies to better understand and improve teaching and learning in Columbia courses. Dr. Fu is making use of the grant to compare the effects of onsite and online simulation-based education (SBE) on the development of clinical reasoning in student physical therapists. One of Dr. Fu's courses is called "Complex Medical Conditions" and it features SBE. The SBE was carried out in an onsite format before COVID. Students either worked with simulated patients or watched the unfolding of simulations onsite with their clinical reasoning being challenged in real time by answering guiding questions in writing. In 2020, since no on-campus activities were allowed, the SBE was conducted in an online format. Students watched simulation videos (from previous years) asynchronously and answered guiding questions as the videos were unfolding. Dr. Fu is conducting a crossover study and offering both onsite and online SBE to the students taking the Complex Medical Conditions course this year. The learning outcomes will be assessed at multiple levels including students' clinical reasoning competency, self-perceived clinical reasoning gain and their satisfaction with the respective educational interventions. Dr. Fu is hoping that the research findings will help her, and other educators make informed decisions on selecting educational interventions appropriate for enhancing student physical therapists' clinical reasoning. The research may also help promote the implementation of evidence-based education, which is much needed, as we are about to enter the transformed post-pandemic educational era.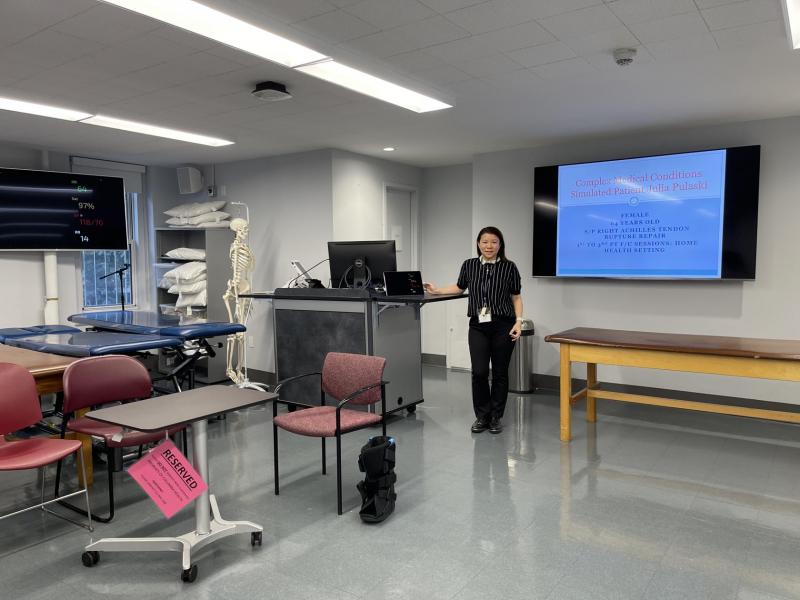 ---
"2021 – ELC Conference – Educational Leadership Conference"
Dr. Wing Fu recently attended the 2021 Educational Leadership Conference in Atlanta, Georgia. The conference was a collaborative effort between the American Physical Therapy Association Academy of Education and the American Council of Academic Physical Therapy (ACAPT). This year, the conference focused on "Excellence in Physical Therapy Education: Habits for the Development of an Impactful and Sustainable Future for All." Dr. Fu with two other speakers presented an educational session titled "How Do We Mastermind Master Minds? The Application of the Master Adaptive Learner Model to Prepare Physical Therapy Learners for an Unknown Future." The Master Adaptive Learner (MAL) is a relatively new model of learning. This model focuses on developing learners' adaptive expertise, with which they will not only be able to learn but also innovate in response to future challenges.1 The MAL model describes a four-phased cyclical process with an emphasis on learners' critical thinking and reflection. The educational session was well received and generated a lot of onsite discussions. Dr. Fu hopes that the MAL model will be more widely applied in the Physical Therapy profession as it has the potential to help learners learn how to learn and get ready for the future healthcare environment, which is unknown and unpredictable.
Reference:
Cutrer WB, Pusic MV, Gruppen LD, Hammoud MM, Santen SA. The Master Adaptive Learner. Philadelphia, PA: Elsevier; 2020.