A Conversation with Tiarra Dembo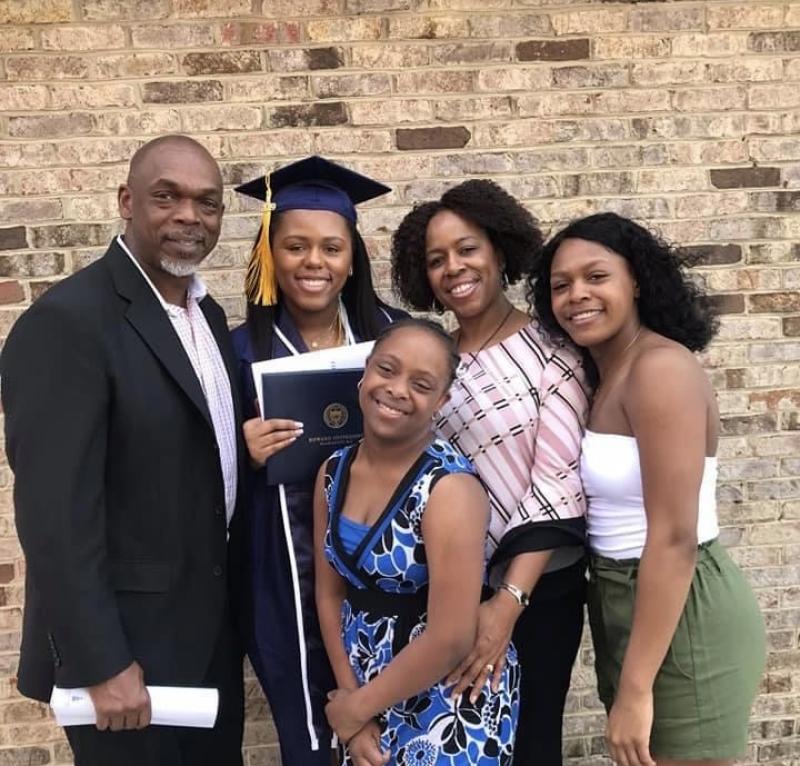 ---
Tiarra Dembo is a second-year student in our entry-level Doctoral Program in Physical Therapy (DPT). We spoke to Tiarra about her journey to PT school, how it's going, and the impact her family has had on her chosen career path. Tiarra also speaks about her sister, who recently participated in Dr. Yoons "Learn from the expert's day," a day where individuals with disabilities speak with PT students about their experiences.  Tiarra's sister has had a meaningful impact on her decision to pursue a career in Physical Therapy.
Can you please tell us a little about yourself and your journey so far to attend PT school. 
My name is Tiarra Dembo, and I am a 2nd-year student in Columbia University's DPT program. I grew up in Beacon, NY, and was surrounded by a close-knit family. I attended Howard University before coming to Columbia, where I majored in Human Performance with a concentration in Sports Medicine.
Why has Physical Therapy been important to your life?
I believe Physical Therapy has been important to my life because of the way it allowed my family and me, to the best of our ability, to care for my youngest sister. I didn't understand it at the time, but PTs and other healthcare professionals who assisted my family through Early Intervention services had a significant impact on my parents' understanding of Down Syndrome. The resources and education they provided to my family made it so that we could cater to my sister's needs as best as possible. I realized the benefits of the services with the way my sister can independently participate at home, in school, and all her other recreational activities.
What was the moment that you realized you wanted to attend PT school?
I had been interested in attending PT school for a very long time. The exposure to PT within my family intrigued me initially, and my participation in sports throughout middle and high school made me want to pursue a career where I could possibly work with athletes. I don't think there was a specific moment that I realized I wanted to be a PT, but my life experiences, interests, and desire to go into a field where I could make a difference in others' lives led me to Physical Therapy.
Was Columbia your first choice? What attracted you most to our PT program?
There were a lot of programs that I was interested in during my application process for PT school, but Columbia became my first choice after my interview. Columbia's interview process stood out because of the welcoming nature of the faculty and students that I met. Everyone I talked to was friendly and engaging, and I remember feeling like they really cared about our education. The interview day was a great introduction to the program overall, and it made me feel confident that I would have a good experience here.
Can you tell us a little about your family, specifically your sister who recently participated in our Learn from expert's day. Did your sister's developmental disability have an impact on your decision to be a physical therapist?
My family consists of myself, my mom, my dad, my older brother, and my two younger sisters. My youngest sister has Down Syndrome, and although it is a developmental disability, I believe it has had a positive impact on all of us in many ways. Personally, I can say that having a sibling with Down Syndrome has made me more aware of the challenges that all individuals with cognitive or physical disabilities face every day. It is also a constant reminder to work against any stigma I might have towards people with disabilities and see people for who they are as a whole. My life experiences strengthened my empathy for and awareness of the factors that individuals with disabilities and their families face and significantly impacted my decision to be a physical therapist.
How has PT school been so far? What challenges have been the most frustrating? What advice do you have for future students who might be thinking about applying to our program?
PT school has been a big challenge for me so far, but it has also been very rewarding. It takes a lot to keep up in the classroom but seeing how so much of what we learned can impact patients in the clinical setting has made it worthwhile. My advice for students thinking about applying to PT school is to stay confident in themselves. In a program where everyone is knowledgeable and accomplished, it can be easy to let imposter syndrome hold you back. I find that it's important to remind myself that I deserve to be here because I worked hard for it and that I'm capable of anything if I continue to put in the same work.