Columbia Student Medical Outreach Program
Please utilize the CoSMO clinic phone number 347-688-6766 / 720-772-6766 for questions and medical concerns. We will continue to operate primary care and mental health telemedicine services to meet your clinical needs and refill any medications.
Please note the following free or low-cost clinics that may also be resources during this time:
Primary Care
Associates in Internal Medicine (AIM) / (212) 305-6354 / 622 W 168th St #205, New York, NY 10032
Heritage Health / (212) 862-0054 / 1727 Amsterdam Avenue, 4th Floor, New York NY 10031
Ryan Health / (212) 749-1820 / 110 W 97th St New York NY 10025 
Other Federally Qualified Health Centers: https://www.fqhc.org/find-an-fqhc
Mental Health:
Metropolitan Center for Mental Health / (212) 543-0777 / 1090 St. Nicholas Avenue, New York NY 10032
Institute for Family Health - Center of Harlem / (212) 423-4200 / 1824 Madison Ave, New York NY 10035
Columbia Student Medical Outreach (CoSMO) exists to provide free, high-quality healthcare to the uninsured and medically underserved population in Washington Heights and Northern Harlem. Every Thursday evening and Saturday morning, students from the Columbia University schools of Medicine, Nursing, Public Health, Physical Therapy, Social Work and Nutrition work together to provide comprehensive and multidisciplinary care, promote community outreach, and foster student education, service, and innovation. No insurance or payment is required to receive care at CoSMO.
History
CoSMO began in 2000 when a group of first-year medical students recognized the need for a primary care center in their community that was devoted to serving the uninsured and residents of Washington Heights. After laying the groundwork through research, recruitment of attending physicians and administrative support, and partnership with the NewYork-Presbyterian Hospital, CoSMO opened its doors to the community four years later on March 6th, 2004. Since then, CoSMO has become an model of collaboration and service on the Columbia University Medical Center campus, thanks to the involvement of student volunteers from five schools – Medicine, Nursing, Public Health, Physical Therapy, and Nutrition. The students involved in CoSMO have worked to continuously expand the services available to patients, including the establishment of a behavioral health clinic to meet patients mental health needs, rapid HIV screening and diabetes self-management education, and the inclusion of health coaches in clinic to broaden the sustainable impact on patients' health.
 
Services
CoSMO's primary care clinic aims to address the physical, social and behavioral aspects of patients' health through a comprehensive set of services that include complete histories and physicals, prescription drugs, laboratory testing, diabetes equipment, imaging and cancer screenings. When patients come to the clinic, they are seen by a team consisting of a senior student clinician and junior student clinician, supervised by an attending physician. Patients also have the opportunity to meet with a social work student or health coach depending on their needs. Patients with neuromusculoskeletal complaints can be referred to physical therapy for differential diagnosis and treatment to address any functional deficits. The clinic can also provide patients with referrals to specialists as well as for cardiac diagnostic testing and advanced imaging (CT, MRI, and ultrasound).
CoSMO also has a behavioral health (BH) clinic every other Thursday that offers in-depth diagnostic and psychosocial assessments for patients with depression, anxiety, and other mental health needs. New patients meet with a senior clinician who gathers their history, formulates a diagnosis, and works with the patient to develop an initial treatment plan, with oversight from an experienced psychiatry attending. Patients are then seen regularly in BH clinic once or twice per month, meeting with the same senior clinician when possible, and with additional psychiatric referrals when appropriate. If you are from another Columbia student-run clinic and would like to refer a patient with mental health needs to our behavioral health clinic, please fill out this form.
Location
CoSMO is located in the Audubon Urgicare Center at 21 Audubon Avenue between 166 and 167th Streets. To get to CoSMO by subway, take the A/C or 1 train to the 168th Street Station.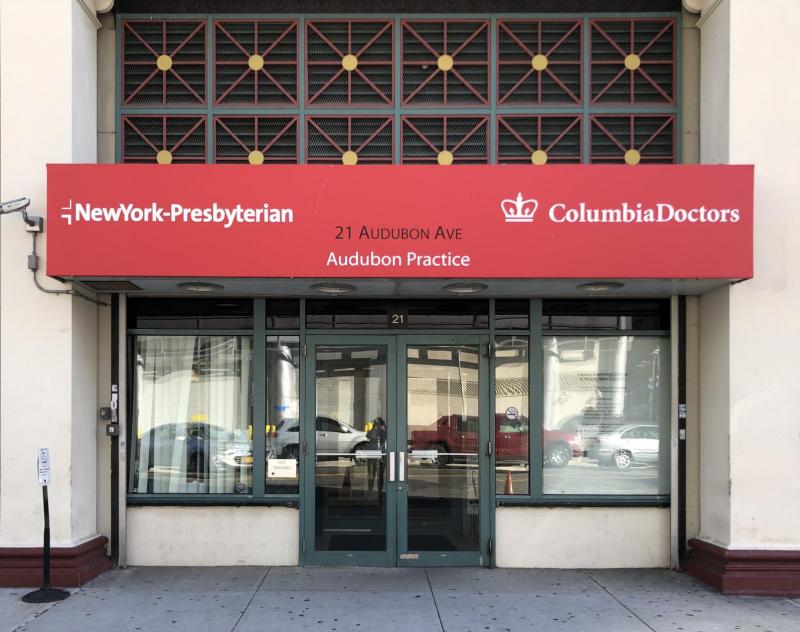 Volunteer with CoSMO
CUIMC students interested in becoming involved with CoSMO can volunteer in a variety of different roles:
Junior Clinicians are first or second year medical students who are paired with a senior clinician to see 1-2 patients each shift. Junior clinicians are welcome to perform as much of the history and physical exam as they are comfortable with. This is a fantastic opportunity to practice clinical skills and to learn from the senior clinician and attending physician. All VP&S preclinical students are welcome to volunteer.
Senior Clinicians are fourth year medical students, many of whom were involved in CoSMO during their first and/or second years of medical school. These students are passionate about CoSMO and about teaching, and are responsible for performing the history and physical, ordering labs and referrals and following up on results, presenting to the attending physician, and teaching the junior clinician.
Associate Coordinators are the face (and voice) of CoSMO, in clinic and on the phone. These students are responsible for answering the CoSMO phone line, introducing patients to the clinic, scheduling follow-up appointments, and assisting the clinic coordinator and Urgicare Front Desk staff with clerical and administrative duties and managing clinic flow. The Associate Coordinator is the first and last CoSMO representative that every patient sees, and plays an integral role in keeping the clinic running.
Health Coaches are students from any healthcare discipline who work closely with CoSMO patients on a one-on-one basis to develop meaningful connections with the hope of improving the chronic care of our patients. These students meet with CoSMO patients in any downtime during their appointments to provide counseling relevant to specific health-related needs and goals. They also answer the patient's questions about their healthcare to the best of their ability, and discuss patient attendance at CoSMO appointments and outside referrals. Health coaches help bridge any gaps in understanding between the patient and the healthcare team.
Social Work Volunteers are students enrolled in the Columbia School of Social Work who work as a part of the care team to assess the structural and environmental factors affecting patients' health. These students meet with patients one-on-one during their appointments and then confer with the rest of the care team to discuss what interventions or resources might be appropriate for the patients' needs.
If you are interested in volunteering and aren't sure how to get involved, please contact us at ps-cosmo@cumc.columbia.edu.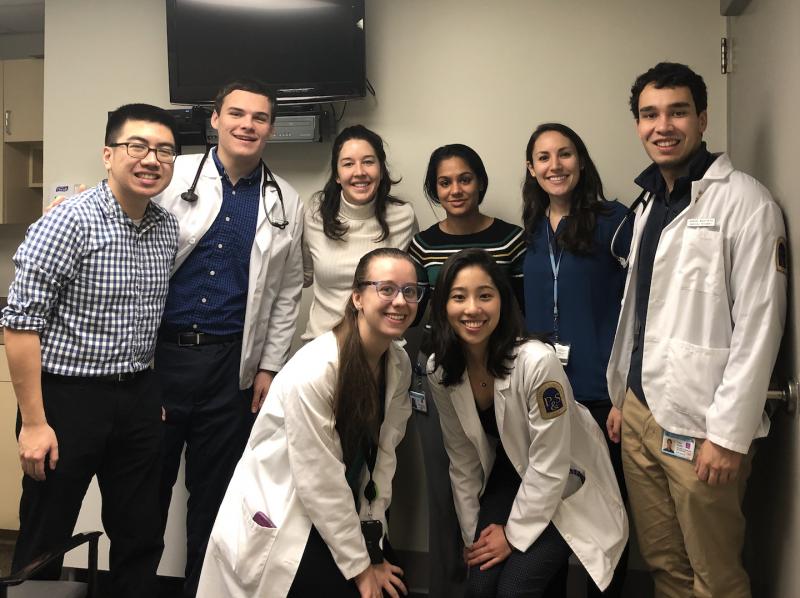 Quality Improvement
CoSMO is continuously working to improve its clinical outcomes and operations. The quality improvement (QI) committee is a small team of process-oriented students with a passion for improving health systems that have taken on the task of gathering reliable data in order to address problems that arise within the clinic. The committee has tackled a number of complex problems, working to make the clinic better for both patients and volunteers. Along the way, members of the committee develop necessary skills to solve problems in healthcare delivery, both at CoSMO and in future healthcare settings.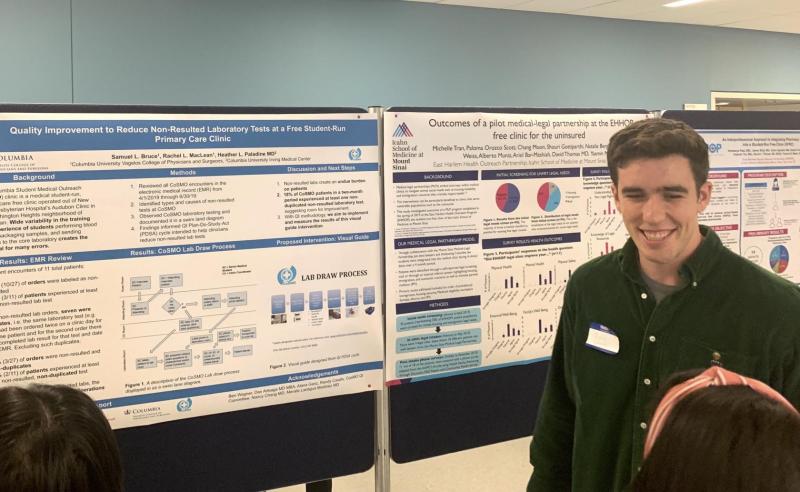 Contact Us
CoSMO is run by a dedicated General Council of students and an outstanding team of clinicians. To contact the CoSMO co-chairs with any questions, or to inquire about new appointments, please email ps-cosmo@cumc.columbia.edu or give us a call at 347-688-6766 / 720-772-6766.
Support Us
CoSMO is a completely volunteer-run organization that aims to cover all costs associated with patients' healthcare needs, and 100% of all donations go to covering the cost of clinic supplies and patient medications.
If you would like to make a tax-deductible donation online:
Search for and select "CoSMO" (Columbia Student Medical Outreach Program).

Make your desired donation. Any donation, no matter how small, helps us keep our doors open and meet our patients' needs!
If you would like to make a donation by check, please address checks to "Columbia University VP&S Club" with the memo "CoSMO" and mail to:
Columbia University - VP&S Club
Attn: CoSMO
50 Haven Ave. Room 106
New York, NY 10032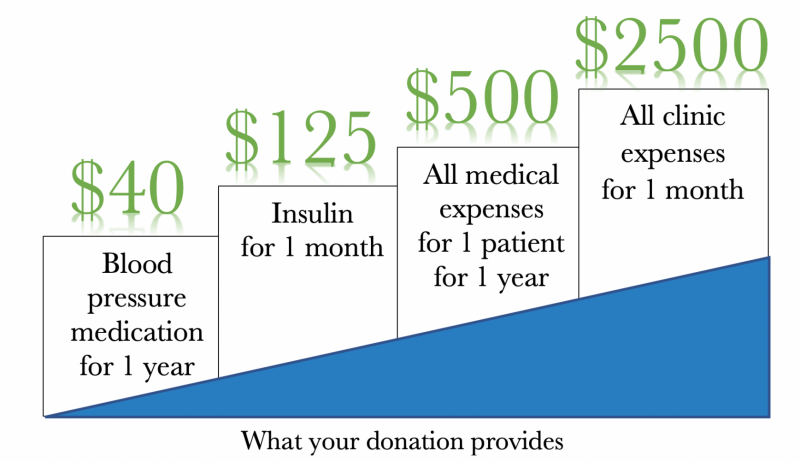 Additionally, by using this unique Amazon.com link (HERE), 6% of the cost of all your Amazon orders will be donated to CoSMO at no additional cost to you! To use:
1.      Sign in and add all items to your cart.
2.      When you are ready to check out, close your current Amazon window, and then click this link.
3.      Continue to "check out" as usual. Everything will look the same except the URL at the top.