Program Leadership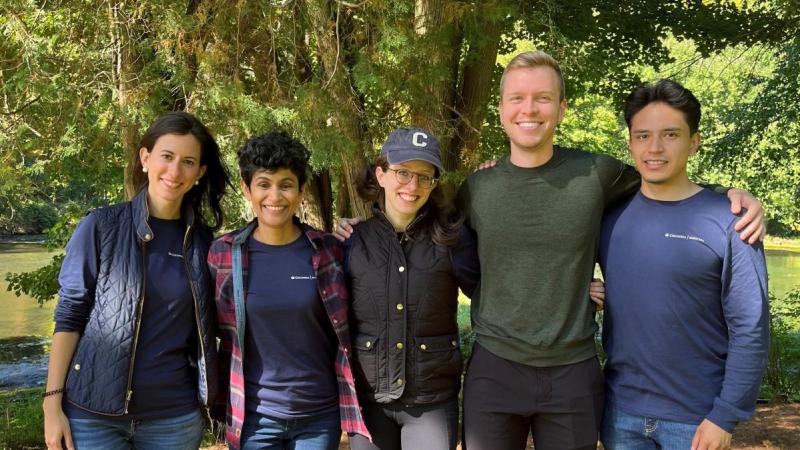 Program Leadership
Subani Chandra, MD

Dr. Subani Chandra is an Associate Professor of Medicine in Pulmonary, Allergy and Critical Care Medicine at Columbia University Medical Center and serves as the Program Director for the Internal Medicine Residency Program and the Vice Chair for Education for the Department of Medicine.

Dr. Chandra is a dedicated clinician and educator who attends on the various medical critical care services at Columbia and has a special interest in the development and application of point-of-care ultrasonography. She teaches ultrasonography at national and international courses for the major professional societies in pulmonary and critical care medicine. As a national leader in medical education, she has leadership roles with the Training and Transitions Committee of the American College of Chest Physicians (ACCP) and the Education Committee of the Association of Pulmonary and Critical Care Medicine Program Directors (APCCMPD) and is a member of the Section of Medical Education of the American Thoracic Society. Dr. Chandra is also the recipient of numerous teaching awards including the prestigious national 2020 Early Career Clinician Educator award from the ACCP, in addition to several departmental teaching awards including the House Staff Teaching Award, Ewig Clinical Scholar Award, and the Daniel V. Kimberg Memorial Faculty Teaching Award.

In addition, Dr. Chandra serves on the Editorial Board of the CHEST Journal as a Section Editor for the "Pearls" section of CHEST. She has received both intra-mural and extra-mural grant funding for her work advancing medical education. Her grant awards include funding from the Alliance for Academic Internal Medicine (AAIM), ACCP and APCCMPD.

Eric Burnett, MD

Associate Program Director

Dr. Eric Burnett is originally from Atlantic Highlands, NJ. He majored in biological sciences and minored in Spanish literature at Rutgers University. After college, Eric obtained his masters in biomedical sciences at the University of Medicine and Dentistry of New Jersey. He then went on to study medicine at Rutgers New Jersey Medical School. Eric completed his internal medicine residency here at Columbia and is currently an attending physician in the division of hospital medicine.

Dr. Burnett's interests focus on medical student and resident education. He thoroughly enjoys his time as ward attending, working side by side with CUIMC's excellent medical students and IM residents. In his spare time, Dr. Burnett enjoys baking, reading, and spending time with his husband Billy and dog Denver.

Kaylan Christianer, MD

Associate Program Director

Dr. Kaylan Christianer is a native of Northern California and attended the University of California at Davis, where she obtained degrees in Neurobiology, Physiology and Behavior, and Art History. After college, she worked as a clinical research coordinator, followed by a move to New York City for medical school at Weill Cornell Medical College. She then completed her residency at NewYork-Presbyterian Columbia, where she was part of the Generalist-Primary Care Track. After serving as Chief Resident, she joined the faculty in the Division of General Medicine to help develop a new primary care practice at Columbia's main campus. Kaylan's academic interests include medical education, geriatrics and palliative care, and promoting the advancement of women in medicine. Her recent teaching awards include two Arnold P. Gold Resident Teaching Awards. Outside of the hospital she enjoys hiking, running and exploring New York City's food scene.

Maria De Miguel, MD, MS

Associate Program Director

Dr. Maria De Miguel is from Bethesda, MD, and studied Visual Arts and Art History at Princeton. She attended medical school at the University of Maryland, and completed residency at Columbia. After a year as chief resident, she joined the faculty in the joint resident-faculty outpatient practice at the medical center. She completed a Masters in Epidemiology at the Mailman School of Public Health. She directs the Generalist-Primary Care pathway, mentoring residents interested in primary care and academic generalist careers. She now serves as the APD for Ambulatory Education, designing and evaluating curriculum and educational experiences for the residents in continuity clinic. Maria's interests are in health disparities, the role of primary care, urban public health, and health literacy. She has three kids and spends her free time painting or seeing art in NYC.

David Diuguid, MD

Associate Program Director

Dr. David Diuguid received his undergraduate degree from Harvard College where he graduated cum laude. He matriculated at Weill Cornell and received his medical degree in 1979. He did residency at Boston University Medical Center where he served as Chief Resident from 1982 to 1983. He then completed his fellowship training at Tufts New England Medical Center in Boston and served on the faculty there for three years before coming to Columbia. Dr. Diuguid cares for patients with both bleeding and clotting disorders with a special emphasis on patients with a history of increased risk of clotting problems. He also cares for patients with hematological malignancies including lymphoma, acute and chronic leukemia, and myeloma. He currently is involved in patient care, clinical research, and teaching on the hematology service. He serves as Head of the Coagulation Service and is also Head of the Section of Hematology.

Wilson Quezada, MD

Associate Program Director

Dr. Quezada is an Assistant Professor of Clinical Medicine in the Division of Pulmonary, Allergy, and Critical Care Medicine. A native of Washington Heights, he received his Sc.B. with Honors in Biology from Brown University in Providence, Rhode Island, and his medical degree from Columbia University College of Physicians and Surgeons. He completed residency training in Internal Medicine, and Fellowship in Pulmonary and Critical Care Medicine, at Columbia University Medical Center, serving as Chief Fellow on his last year of fellowship training. He is board-certified in Internal Medicine and Pulmonary Disease by the American Board of Internal Medicine. Dr. Quezada specializes in providing excellent care of patients suffering from lung disease, including patients with asthma, COPD, and interstitial lung disease. He also has special interest in smoking cessation and interventional bronchoscopy. His research interests include smoking cessation, COPD and asthma, serving as a co-primary investigator in a multicenter NIH-sponsored clinical trial. He has also performed research looking into the relationship between sensitization and exposure to indoor allergens in asthma patients residing in inner city neighborhoods, and the development of tools to help identify patients with early COPD.

Maya Rao, MD

Associate Program Director SP

Maya Rao is an Associate Professor of Medicine in the Division of Nephrology at Columbia University, where she has been on the faculty since 2009. She is the Director of the Chronic Kidney Disease Program at Columbia. Since 2021, she has served as the chief of Medicine at the Allen Hospital. She has served as a PI or site PI on several NIH grants. She has an interest in caring for older adults with kidney disease, focusing on dialysis decision making and initiating a palliative approach for patients who choose to forgo dialysis for active medical management of their kidney disease. She lives in Manhattan with her husband and 3 kids.

Jacob Stevens, MD

Associate Program Director

Dr. Jacob Stevens is an Assistant Professor of Medicine in the Division of Nephrology at Columbia University Medical Center. He graduated summa cum laude in Neuroscience at Bowdoin College before attending Dartmouth Medical School. He completed his internal medicine residency training at Massachusetts General Hospital where he served as Chief Resident during his senior year. He went on to complete his nephrology fellowship at Columbia University Medical Center where he also served as Chief Fellow during his senior year. His clinical and research interests include critical care nephrology and improving the care provided to patients with acute kidney injury and he is the Medical Director of Acute Care Nephrology at Columbia University Irving Medical Center. He is also dedicated to medical education and was recognized with the Senior Resident Teaching Award at Massachusetts General Hospital in 2016 and with the Kimberg Memorial Faculty Teaching Award at Columbia University Irving Medical Center in 2020.
Chief Residents
Matt Carey, MD MBA

Matt was born in Cleveland, OH but grew up in San Antonio, TX before attending Rice University where he studied economics and was a member of the cross country and track & field team. After working in consulting at McKinsey & Company, where he served health system, insurance, and government clients on healthcare-related projects and completing his MBA at Rice University, he ventured north to University of Michigan for medical school to switch careers and become a physician. At Columbia, he is a member of the Generalist Primary Care (GPC) track and has a particular interest in health services research and healthcare administration. He plans to apply into cardiology with the goal of improving care coordination for patients with advanced heart failure. When not in the hospital he enjoys running and walking his Shiba Inu in Central Park.

Jenna Lanz, MD

Jenna was raised in the suburbs of Pittsburgh, PA by her physician parents who can take full responsibility for setting her on the path to internal medicine. Though she nearly ditched the academic life to try and "make it" on Broadway, she came to her senses and attended Duke University for her undergraduate degree. She completed a research post-baccalaureate year at the NIH before joining Eytan and Ella at Columbia University College of Physicians and Surgeons for medical school. She was so pleased with her first 4 years of education here that she chose to stay for an additional 3 years of training in Residency and then a 4th year as chief resident. While she remains undecided in the next step in her career, she is excited to learn more about program leadership, medical education and hospital administration during her chief year.

Ella Magun, MD

Ella was born and raised in Hastings-on-Hudson, NY and attended college at Columbia University, where she majored in history. She attended the post-bac pre-med program at Goucher College before returning to NYC to attend medical school at Columbia. She plans to apply to fellowship in Cardiology with the goal of pursuing a career in cardio-obstetrics. Outside of the hospital, you can find Ella spending time with her niece in Brooklyn, planning trips to national parks, and feeling the pain of being a newfound Mets fan.

Eytan Palte, MD

Eytan was born and raised in Atlanta, Georgia and stayed close to home for his undergraduate studies at the University of Georgia (Go Dawgs!), where he majored in international affairs. He then moved to New York to begin medical school at Columbia University College of Physicians and Surgeons, and after deciding 4 years wasn't enough, he chose to stay at Columbia for internal medicine residency. In his free time, he enjoys reading, spending time in Central Park, hiking, and trying new recipes. He plans to apply for gastroenterology fellowship followed by a career in transplant hepatology.
Rising Chief Residents
Gillian Foley, MD

Gillian was raised in the San Francisco Bay Area and grew up performing in local musicals with her sights set on becoming a Broadway star. Little did she know that NYC would summon her for a different purpose! While attending college at UC Davis, her research in neuroscience sparked an interest in clinical medicine. After graduation, she spent two years working with patients at Planned Parenthood in San Francisco, focusing on women's health and preventative care. She attended UCLA for medical school and (while a CA girl at heart) she was ecstatic to make the transition to the East Coast for residency. In 10 years, she foresees a career that incorporates her interests in general medicine, palliative care, and ethics. Outside of the hospital, she loves playing with her Shih Tzu, reading, travelling, photography, and a night out on the town for dinner and a Broadway show!

Leticia Helms, MD

Leticia was born and raised in Brazil and grew up playing volleyball, tennis, and dancing ballet. Inspired by her grandfather, she embarked on her medical journey at the Federal University of Minas Gerais, in her hometown. Always seeking international experiences, she jetted off to the University of Queensland in Australia for an exchange year, diving headfirst into exciting research opportunities. Despite her deep love for family and friends, Leticia decided to chase her dream by moving to the US and getting the best medical training she could receive and has since fallen in love with New York City. Looking forward, Leticia is determined to specialize in pulmonary critical care after completing her residency. Outside of residency, Leticia loves yoga, Levain cookies and afternoons at Central Park.

Laura McLaughlin, MD

Laura was born and raised in Torrance, California. She began her journey east starting in college at Washington University in St. Louis where she studied evolutionary biology and French. After college, she moved to Brooklyn where she promptly fell in love with NYC and decided to make it her home. She attended medical school at NYU Grossman School of Medicine and decided to venture uptown to Columbia for residency. While at Columbia, she's been a part of the ultrasound curricula development, Pride Pod and Gold Lunches. After residency, she plans to specialize in cardiology. Outside of the hospital, she enjoys exploring the city by foot – both by going for long walks in her Chelsea neighborhood and running up and down the Hudson.

Jeff Paer, MD

Jeff was born at NYP-CUIMC and raised by his family of musicians in the NJ suburbs. He attended Wheaton College in MA, where he played on the men's soccer team and majored in biology. He then worked at an HIV immunology lab and an infectious disease (ID) molecular diagnostic startup in Boston. He returned home for medical school at Rutgers-NJMS, followed by a full-circle return to his birthplace at NYP-CUIMC for residency. Following chief year, Jeff will be applying for a fellowship in ID with the goal of specializing in transplant ID. When not in the hospital, Jeff enjoys playing guitar and soccer as well as hiking and cycling the Palisades.
Program Administration
Gladys Bueso

Vilma Luciano-Colon

Medical Education Compliance Officer

Denise Romero