Diversity, Equity, Inclusion, and Belonging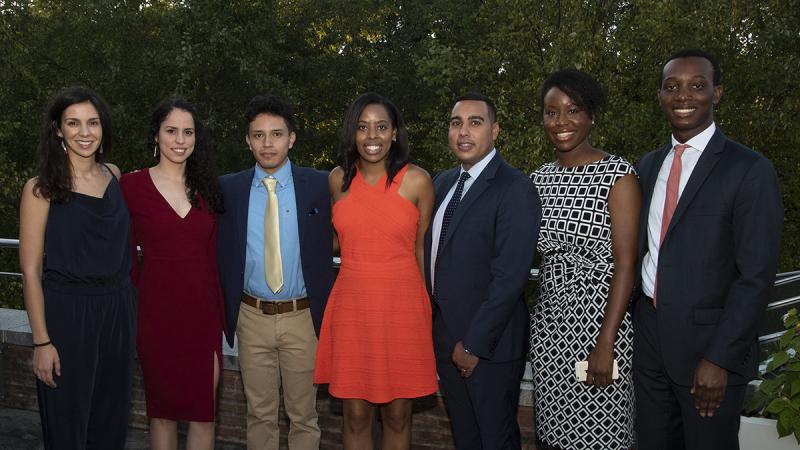 Lindenbaum-Thomson Society for Diversity in Medicine (LTSDM)
The Lindenbaum-Thomson Society for Diversity in Medicine (LTSDM) is committed to promoting academic excellence and diversity. Founded by Black and Latino house officers, LTSDM was named in honor of two preeminent physicians at Columbia: Dr. John Lindenbaum, an acclaimed hematologist, social advocate, and founder of the Annual Lindenbaum Lecture Series, and Dr. Gerald Thomson, an honored nephrologist, prior Dean of Minority Affairs at the College of Physicians and Surgeons, and the first Black President of the American College of Physicians (ACP). Since its establishment, LTSDM has continually advocated for the recruitment, retention, and development of minority physicians traditionally under-represented in medicine. It has done so through dedicated mentorship, lectures highlighting diverse faculty, community outreach, and regular social gatherings. Consequently, LTSDM has fostered a diverse and supportive academic and social environment, and a legacy of commitment and contribution to the surrounding community.
For more information about LTSDM, please contact Dr. William Turner at wt62@cumc.columbia.edu.
The Pride Pod
The Stonewall Riots occurred in New York City in 1969 and are considered to be one of the most important events in the modern gay rights movement. What started on Christopher Street moved across the country and landed on the steps of the Supreme Court in 2015 in Obergefell v. Hodges. But this battle for equal rights, recognition, and respect is not over, and often the medical community has lagged behind in this movement. The Pride Pod hopes to remedy this. We openly demonstrate to our patients our commitment to cultivating a community of respect for all people and help educate providers in the care of LGBTQA+ patients. The Pride Pod is also a close-knit group of physicians who are able to support each other through residency and create personal and professional connections for life.
You can reach out to our executive board by emailing Sarah Sherwood at sks7003@nyp.org.
Women in Medicine
Women in Medicine at Columbia (WIM@C) is a resident-led organization that aims to support, inspire, and promote the advancement of women residents in Columbia's Department of Medicine. The group was founded in 2015 and has grown into a large and dynamic forum for discussion, mentorship, and education. In addition to an executive committee of resident leaders, WIM@C is supported by the residency program leadership, faculty sponsors, and a steering committee of women residents, fellows, and attending physicians across the Columbia Department of Medicine. The group hosts a variety of events throughout the year addressing career development, leadership, gender bias and equity, and work-life balance.
We believe that WIM@C plays an invaluable role in fostering the success of women trainees and by extension, the Department as a whole. We encourage you to ask questions about the experiences of women trainees wherever you visit and especially as you consider making Columbia your residency training community. You can reach out to our executive committee by contacting Genna Braverman at geb9046@nyp.org.