The Broadway Haven Players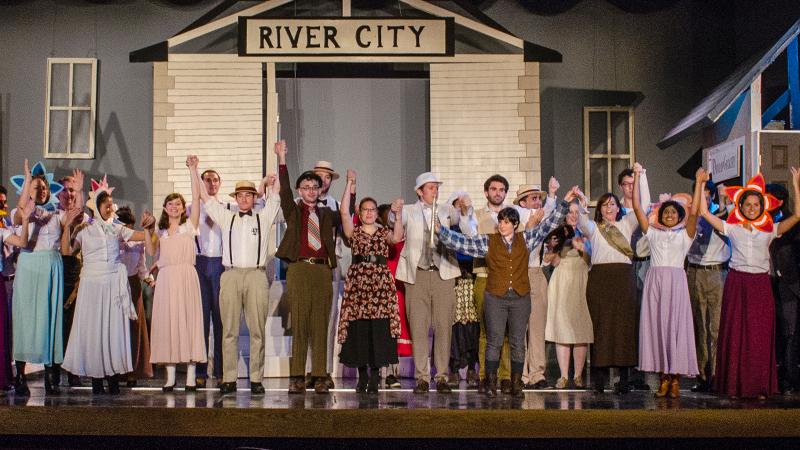 The Haven Players is the preeminent medical center theater company in the country and one of the crown jewels of Columbia University Irving Medical Center. Since 1967, HP has been doing the near impossible—producing three fully-mounted theatrical productions each academic year. Drawing on the creativity, design, and performance skills of students and faculty members from all corners of the medical center's campus, HP creates entertainment of high artistic quality that is also great fun for all involved.
For more information, please email psbhp@cumc.columbia.edu.
Read about the Broadway Haven Players in this article by The New York Times.
Complete List of Past Haven Players Performances
View Broadway Haven Players performances by decade below. If you have any missing information or copies of unlisted past programs and posters, please email thepsclub@columbia.edu. 
1956: Operetta Club - The Mikado (fall)
1957-64 (Christmas party): Operetta (name unknown, Christmas party)
1963: H.M.S. Pinafore (fall)
1966: H.M.S. Pinafore (fall)
1967: Guys & Dolls (fall)
1968: Two Guys From Syracuse (fall)
1969: A Funny Thing Happened On The Way to the Forum (fall)
1970: Brigadoon (fall)
1971: Barefoot In the Park (winter)
1971: Carnival (fall)
1972: Anything Goes (fall)
1973: Bells Are Ringing (spring)
1973: How to Succeed in Business... (fall)
1974: Pirates of Penzance (spring)
1974: Fiddler on the Roof (fall)
1975: Once Upon A Mattress (spring)
1975: Pajama Game (fall)
1976: Iolanthe (spring)
1976: How He Lied to Her Husband & The Best of BHP (orientation)
1976-77: Damn Yankees
1976-77: Kiss Me Kate
1977: Wonderful Town (fall)
1978: Jacques Brel Is Alive, Well & Living in Paris (winter)
1978: Anything Goes (spring)
1978: Guys & Dolls (fall)
1979: Fiorello (winter)
1979: The Fantasticks! (spring)
1979: The Music Man (fall)
1980: The Taming of the Shrew (winter)
1980: Girl Crazy (spring)
1980: Applause (fall)
1981: Side By Side (winter); Pippin (spring); Two Gentleman of Verona (fall)
1982: A Midsummer Night's Dream (winter); Company (spring); Fiddler on the Roof (fall)
1983: As You Like It (winter); Godspell (spring); Once Upon A Mattress (fall)
1984: Hair, The Man Who Came to Dinner (winter); Cabaret (spring); The Hot L Baltimore (fall)
1985: Gala (winter); West Side Story (spring); Anything Goes (fall)
1986: The Real Inspector Hound (winter); Pippin (spring); Kiss Me Kate (fall)
1987: It's Only A Play (winter); Merrily We Roll Along (spring); Candide (fall)
1988: The Front Page (winter); Guys & Dolls (spring); How to Succeed in Business Without Really Trying (fall)
1989: The Dining Room (winter); Company (spring); Cabaret (fall)
1990: The Man Who Came to Dinner (winter); Sister Mary Ignatius Explains It All For You (spring); West Side Story (fall)
1991: Our Town (winter); A Midsummer Night's Dream (spring); The Best Little Whorehouse in Texas (fall)
1992: The House of Blue Leaves (winter); The Tempest (spring); A Little Night Music (fall)
1993: The Robber Bridegroom (spring); Kiss Me Kate (fall)
1994: Night of January 16th (spring); The Pirates of Penzance (fall)
1995: An Evening of One Acts and Modern Dance (winter); Guys & Dolls (fall)
1996: A Midsummer Night's Dream (winter); Three One-Act Plays (spring); West Side Story (fall)
1997: Much Ado About Nothing (winter); Noises Off (spring); Oklahoma! (fall)
1998: Arcadia (winter); A Chorus Line (fall)
1999: The Cherry Orchard (winter); Picasso at the Lapin Agile (spring) Good Morning, Orenthal (spring); Jesus Christ Superstar (fall)
2000: Twelfth Night (winter); Black Comedy (spring); The Mystery of Edwin Drood (fall)
2001: She Stoops to Conquer (winter); All in the Timing (spring); Company (fall)
2002: Rashomon (winter); The Heidi Chronicles (spring); A Funny Thing Happened on the Way to the Forum (fall)
2003: The Taming of the Shrew (winter); The Country Wife (fall)
2004: The Last Five Years (winter); Grease (spring); Anything Goes (fall)
2005: Twelfth Night (winter); The Inspector General (spring); West Side Story (fall)
2006: The Importance of Being Earnest (winter); Guys & Dolls (fall)
2007: Much Ado About Nothing (winter); The Mousetrap/The Real Inspector Hound (spring); Kiss Me Kate (fall)
2008: Tartuffe (winter); The Man Who Came to Dinner (spring); Footloose (fall)
2009: Romeo & Juliet (winter); Museum (spring); Into the Woods (fall)
2010: As You Like It (winter); Durang Durang (spring); Crazy For You (fall)
2011: The Winter's Tale (winter); The Mouse That Roared (spring); A Funny Thing Happened on the Way to the Forum (fall)
2012: A Midsummer Night's Dream (fall); Rumors (spring); My Favorite Year (fall)
2013: Macbeth (winter); Picasso at the Lapin Agile (spring); Urinetown: The Musical (fall)
2014: Julius Caesar (winter); Rosencrantz and Guildenstern are Dead (spring); The Music Man (fall)
2015: The Tempest (winter); Savage/Love & Tongues (two 1-act plays, spring); Little Shop of Horrors (fall)
2016: The Wedding Singer (winter); Cyrano de Bergerac (spring); Cabaret (fall)
2017: Antony and Cleopatra (winter); The Crucible (spring); Into the Woods (fall)