Class Day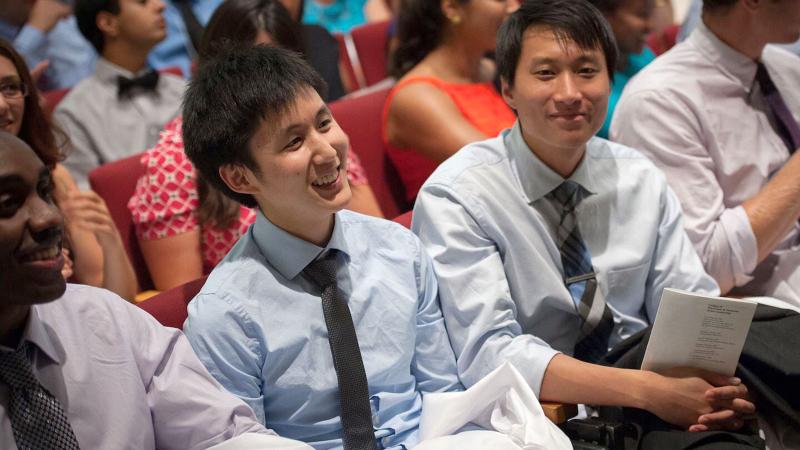 The Class Day ceremony will take place on (2023 TBD) in the Alumni Auditorium. 
Please visit the Commencement site for the University commencement information. VP&S MD and Ph.D. ceremony will take place on (2023 TBD)  Information and details should be decided by the end of February 2023.
https://www.ps.columbia.edu/commencement
VP&S Class Day is an awards ceremony to honor graduating students and usually takes place on the day before commencement. It is an occasion for our students, their families and partners, and faculty and administration to collectively celebrate the hard work and accomplishments fulfilled in medical school. The Columbia University Vagelos College of Physicians and Surgeons (VP&S) has more than 40 named prizes endowed by generous gifts from donors who wish to recognize the people named on the awards. These prizes recognize:
Academic excellence
Compassionate patient care
Contributions to the community
Outstanding leadership
In addition, VP&S recognizes students for outstanding academic achievements, leadership, and service, as well as the 15 percent of the class selected for membership in the Gold Humanism Honor Society for their humanism, compassion, and care.
Graduation Prizes and Awards
AAN Medical Student Prize for Excellence in Neurology
Albert B. Knapp Scholarship (awarded at the conclusion of the third year to the medical students with highest scholarship in the first three years)
Alfred M. Markowitz Endowment for Scholars (exemplifies Dr. Markowitz's dedication to patient care, teaching, and scholarship)
Alumni Association Award (in recognition of interest in and devotion to the College of Physicians and Surgeons and its Alumni Association)
Andrew Mark Lippard Memorial Research Award in Neuroscience (excellence in research in neuroscience by an MD/PhD student)
Aura E. Severinghaus Scholar (superior academic achievement)
Barbara Liskin Memorial Award in Psychiatry (exemplifies the empathy, scholarship, and excellence exhibited by Dr. Barbara Liskin)
Chair of Medicine Award (given by the Barasch Family to a graduating senior medical student who best exemplifies the vision, intellectual clarity, and moral compass that characterize the work of the leadership of the Department of Medicine)
Coakley Memorial Prize (outstanding achievement in otolaryngology)
Daniel J. Fink, MD, Memorial Prize (best exemplifies Dr. Fink's enthusiasm for the study and practice of medicine)
David M. McDowell, MD '89, School Spirit Award (a student who embodies the VP&S school spirit)
Doctor Allen O. Whipple Memorial Prize (outstanding performance in surgery)
Doctor Cecil G. Marquez B.A.L.S.O. Student Award (outstanding contribution to the Black and Latino Student Organization and the minority community)
Doctor Charles E. Hamilton Award (excellence in pulmonary disease)
Doctor Harold Lee Meirhof Memorial Prize (excellence in pathology over four years in medical school)
Doctor Harry S. Altman Award (outstanding achievement in pediatric ambulatory care)
Doctor William Raynor Watson Memorial Award (excellence in psychiatry throughout the four years of medical school)
Doctors William Nastuk, Beatrice Seegal, and Konrad Hsu Award (demonstrated successful laboratory collaboration between student and faculty)
Donald A.B. Lindberg, MD, (VP&S'58) Award for Excellence in Biomedical Informatics
Donald M. Palatucci Prize (awarded to the student in the fall of his or her fourth year who is in the upper one-third of the class, who exemplifies through activities in art, music, and literature that living and learning go together, and who exemplifies compassion, candor, and zest for life)
Edith and Denton McKane Memorial Award (outstanding graduate entering in ophthalmology)
Excellence in Public Health Award
F. Lowenfish Prize in Dermatology (creative research in dermatology)
Glasgow-Rubin Achievement Award (presented to women students graduating in the top 10 percent of their class)
Herbert J. Bartelstone Award (exceptional accomplishments in pharmacology)
James M. McKiernan, MD, Prize for Compassionate Care (exemplifies Dr. James McKiernan's high level of medical knowledge, humanism, and compassion for patients' well-being)
Janeway Prize (highest achievement and abilities in the graduating class)
John K. Lattimer Prize in Urology (excellence in urologic research)
Joseph Garrison Parker Award (exemplifying through activities in art, music and literature, and the public interest the fact that living and learning go together)
Marie Nercessian Memorial Award (exhibiting care, unusual concern and dedication to helping sick people)
Medical Society of the State of New York Community Service Award
Michael H. Aranow Memorial Prize (best exemplifies the caring and humane qualities of the practicing physician)
New York Orthopedic Hospital Award (outstanding performance in research and clinical work)
Outstanding Student in Family Medicine Award (demonstrates academic achievement in the area of family medicine, has shown initiative in community health service and an understanding and commitment to the principles of family medicine)
Robert G. Bertsch Prize (emulates Dr. Bertsch's ideals of the humane surgeon)
Rosamond Kane Cummins'52 Award (graduate entering orthopedics with academic excellence, sensitivity, kindness, devotion to patients, and the fine human qualities that she exemplified)
Sigmund L. Wilens Prize (excellence in pathology)
The Behrens Memorial Prize in Ophthalmology (outstanding graduate entering ophthalmology)
The Campbell Award (given to a graduating student at each school who demonstrates exceptional leadership and an exemplary job building spirit at Columbia)
The Daniel Noyes Brown Primary Care Scholar Award (recognizes the recipients' commitment to primary care and community service)
The Drs. Robert A. Savitt and George H. McCormack Award (exemplifies Dr. George McCormack's medical skill, consideration, understanding, and compassion)
The Edward T. Bello, MD, Listening Award (best portrays the art of listening to patients, colleagues, and self in practicing the chosen field of medicine)
The Endocrine Society's Medical Student Achievement Award
The Helen M. Sciarra Prize in Neurology (outstanding achievement in neurology)
The Izard Prize in Cardiology (excellence in cardiology)
The Jerry Jacobs Prize in Pediatrics (excellence in the differential diagnosis and treatment of disorders in children)
The Leonard Tow Humanism in Medicine Award (excellence in science and compassion in patient care)
The Miriam Berkman Spotnitz Award (excellence in research of neoplastic diseases)
The Office of Student Affairs Outstanding Service to VP&S Award (outstanding contribution to improving the quality of life of his or her peers while at VP&S)
The Rebecca A. Schwarz Memorial Prize (achievement in pediatric cardiology)
The Robert F. Loeb Award (excellence in clinical medicine)
The Samuel and Beatrice Leib Memorial Prize in Ophthalmology (outstanding graduate entering ophthalmology)
The Society for Academic Emergency Medicine Award (excellence in the specialty of emergency medicine)
The Stephanie Liem Azar Memorial Award (presented to a graduating student who has demonstrated commitment to harm reduction and providing compassionate care to drug users)
The Virginia P. Apgar Award (excellence in anesthesiology)
Thomas F. Cock Prize (excellence in obstetrics and gynecology)
Titus Munson Coan Prize (best essay in biological sciences)
William Perry Watson Prize in Pediatrics (excellence in pediatrics)