Squamous Papilloma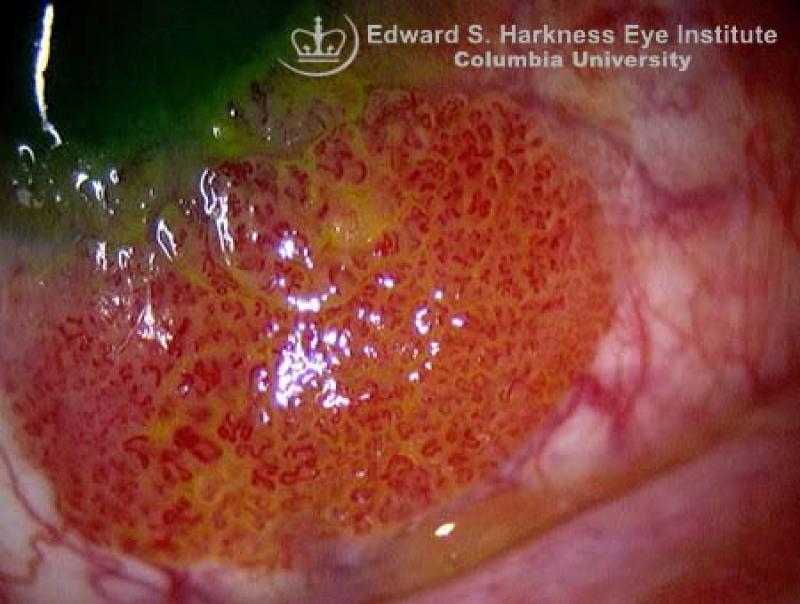 Clinical Features
Symptoms:

May be asymptomatic or associated with foreign body sensation, itching, irritation, mucoid discharge, tearing and even decreased vision
When they become large enough, the mass effect of the lesions may prevent proper lid apposition or closure

Signs:

Can be pedunculated or sessile
Typically appear as strawberry red lesions
The geometric evenly spaced vessel arrangement throughout the lesions can be seen beneath the transparent, glistening surface
May be found anywhere on the conjunctiva as single or multiple lesions
Multiple pedunculated papillomas most commonly develop in children; they are thought to be caused by Human papillomavirus infection
Have no potential of malignant degeneration
Recurrence is frequent, especially in children.
Management
No treatment recommended for asymptomatic lesions because of the high rate of spontaneous resolution.
Simple excision including an area of healthy surrounding conjunctiva with cryotherapy to the base of the excision can give an effective cure.
Medical therapy including interferon has been successful in treating recurrent lesions.
CO2 laser for vaporization therapy may be used.