Fuchs'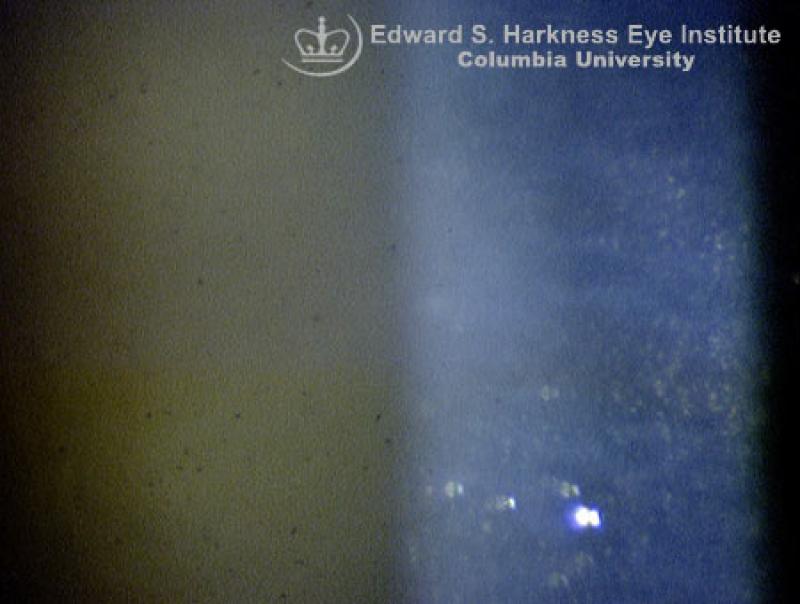 Occasionally it is inherited as an autosomal dominant trait.
Affects women more frequently and more severely than men.
Clinical Features
Symptoms:

Foreign body sensation, pain, tearing, photophobia
Significant blurring of vision when these blisters rupture

Signs:

Asymmetrical bilateral endothelial dystrophy that often presents in the fifth or sixth decade, but can be seen clinically in younger patients
Multiple central corneal guttata (excresences of Descemet's membrane) associated with pigment dusting on the endothelium
With specular reflection, they appear as black holes in the endothelial mosaic

Advanced stage:

Decreased endothelial cell density
Compromised endothelial cell pump function results in corneal edema
Bullous keratopahy usually developed in the decompensated corneal
As the corneal edema progresses and becomes chronic, diffuse subepithelial scarring may form, separating the epithelium from stroma
Corneal sensation is usually diminished
Treatment
Hypertonic agents such as sodium chloride 5% drops or ointment to treat early epithelial edema.
Topical or oral intraocular pressure lowering medications.
Lubricant eye drops or soft bandage contact lens may relieve discomfort by covering the exposed corneal nerve endings.
Penetrating keratoplasty has a high success rate when performed in advanced case where visual rehabilitation is desired.