Residency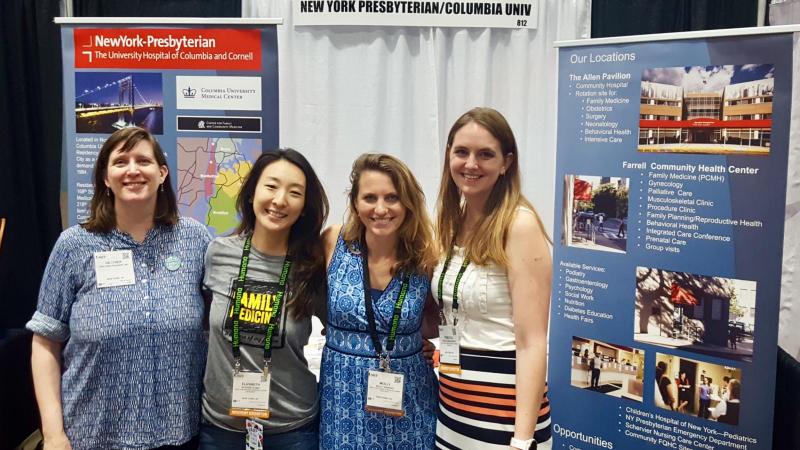 Welcome to the Family Medicine Residency Program at NewYork-Presbyterian Hospital/Columbia University Irving Medical Center (CUIMC)! We are a well-established residency program that began in 1996 and are fully accredited by the Accreditation Council for Graduate Medical Education (ACGME).
We serve the patients of our diverse and vibrant local community in the heart of Washington Heights located in northern Manhattan, which is populated by both longtime residents and recent immigrants from a host of countries, such as the Dominican Republic, Ecuador, Mexico, Bolivia, Cuba, West Africa, and many others. Our residents and faculty are proud to be an integral part of this community and strive to provide the highest quality of patient centered care at our outpatient practice, Herman "Denny" Farrell, Jr. Community Health Center. We are rewarded by our patients with plenty of hugs, blessings, and the long-term relationships we form with them and their families.
We are committed to providing an exceptional educational experience in a rigorous academic environment while also prioritizing our physicians' well-being. Our patients are faced with challenges that undoubtedly impact their health such as poverty, unemployment, language barriers, emotional stress, fear of deportation, and adequate access to necessities such as food, health care, and transportation. Within this context, the residency program is designed to not only prepare family physicians to provide comprehensive and compassionate care, but to advocate for social justice and health equity for their patients.
Our curriculum is designed to go beyond the basic ACGME requirements and strives for clinical excellence. Upon graduation, our residents pass their board exams and can successfully provide full spectrum primary care in a wide variety of health care settings. They are physician leaders, scholars, and independent critical thinkers that are educated to practice evidence informed care. Our residents go on to complete fellowships in Integrative Medicine, Geriatrics, Palliative Care, Faculty Development, Sports Medicine, Women's Health, and others.
At the core of our residency program and center, we value and cultivate camaraderie. We find comfort in each other during challenging times and frequently celebrate birthdays, weddings, pregnancies, babies, and our successes. We empower each other to grow and have developed a culture of ongoing improvement. We invite you to apply and explore our program!
Sincerely,
Heather Paladine, MD, MEd, FAAFP
Residency Program Director
Krishna Desai, MD, FAAFP
Residency Associate Program Director