Curriculum Structure
Columbia-Bassett students' clinical education is organized around a longitudinal integrated patient care model. This includes rapid inpatient clinical experiences followed by the longitudinal integrated curriculum and primary care capstone experience. Key components of our clinical training model at Columbia-Bassett include:
Longitudinal Integrated Curriculum
Systems Leadership Integration and Management (SLIM) Curriculum
The SLIM Curriculum at Columbia-Bassett provides in-depth learning and experiences in health care systems, health delivery, and intensive performance improvement within a rural hospital network.
Learn More About the SLIM Curriculum
Life Experiences Curriculum (LEC)
The LEC at Columbia-Bassett affords students with the opportunity for meaningful exploration around how to better understand and respond to the impacts of trauma and life experiences in the complex systems within which we work.
Learn More About Life Experiences Curriculum
---
Program Timeline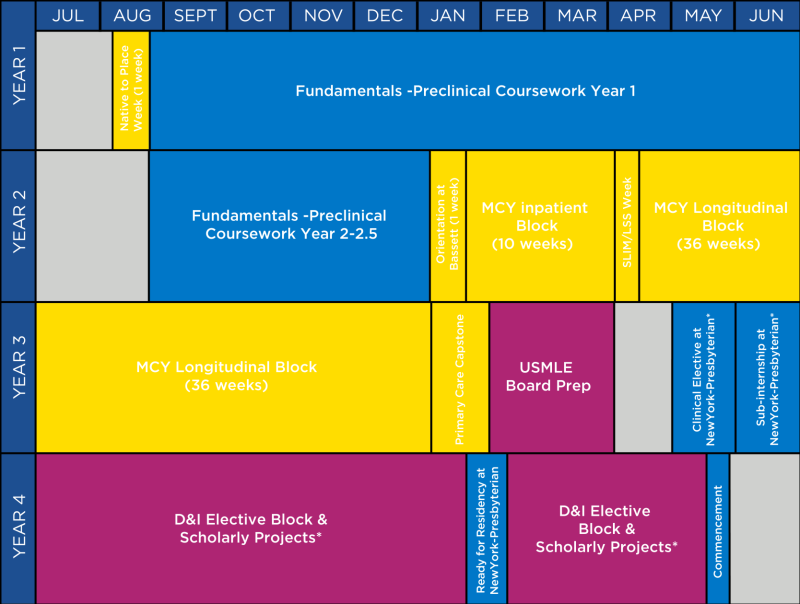 Clinical Education
Fundamentals - Preclinical Coursework
The fundamentals portion of the Columbia-Bassett Program is based in New York City where Columbia-Bassett students join their Columbia University VP&S classmates for pre-clinical coursework. Columbia-Bassett students additionally participate in a Cooperstown based orientation and begin their SLIM and LEC learning through monthly seminars and reflection sessions with faculty.
Year 1
August–June 

Columbia-Bassett Orientation in Cooperstown (1 week)
Columbia Pre-Clinical Curriculum in NYC
Columbia-Bassett Life Experiences Seminar (Jan – June monthly)

Columbia-Bassett Reflection Sessions (Jan – June monthly)

Columbia-Bassett SLIM Seminar (Aug – Dec monthly)
Year 2–2.5  
July – August 
August – December 

Columbia Preclinical Curriculum in NYC
Columbia-Bassett Life Experiences Seminar (monthly)

Columbia-Bassett Reflection Sessions (monthly)
---
Major Clinical Year - Clinical Clerkships
The Major Clinical Year (MCY) occurs in Cooperstown and consists of clerkships in major clinical areas through the rapid inpatient and longitudinal educational model. The SLIM curriculum and LEC are integrated throughout this time. Additionally, there are clerkship didactics and opportunities to engage in the Cooperstown based humanities offerings during MCY.
Year 2.5–3.5
January – March 

Columbia-Bassett Orientation (1 week)
Rapid Inpatient Blocks (10 weeks)

Anesthesia: 1 week rotation
Medicine: 2 week rotation
Neurology: 1 week rotation
Obstetrics & Gynecology: 2 week rotation
Pediatrics: 1 week rotation
Psychiatry: 2 week rotation
Surgery: 2 week rotation

SLIM Week (1 week)
Columbia-Bassett Reflection Sessions (monthly) 

April – December 

Longitudinal Block (36 weeks)

Clinics in Medicine, Neurology, Obstetrics & Gynecology, Pediatrics, Psychiatry, Surgery, Emergency Medicine, and various subspecialties
Following patients in longitudinal panels
SLIM Performance Improvement Projects
SLIM Seminars (monthly)
LEC Reflection Sessions (monthly)
Clerkship Didactics (weekly) 
End-of-clerkship Shelf Exams
2 inter-session weeks in NYC

January 

Primary Care Capstone (4 weeks)
---
Differentiation and Integration - Scholarly Project and Electives
The Differentiation and Integration phase of the program is focused on the consolidation of learning for senior medical students. This includes USMLE board prep and examinations, clinical electives, completion of a scholarly project, returning to the classroom with Columbia VP&S classmates and residency interviews. Columbia-Bassett students spend a portion of this time in New York City to complete NewYork-Presbyterian based electives and are otherwise able to choose between opportunities in Cooperstown and NYC.
Year 3.5
February – March
April – June

D&I Elective Blocks
Scholarly Projects (4 months)
Year 4
July – May

D&I Elective Blocks
Scholarly Projects (4 months)
Sub-I at NewYork-Presbyterian 
Clinical Elective at NewYork-Presbyterian
Back to the Classroom at VP&S

May

Columbia-Bassett Commencement Celebration
Columbia VP&S Commencement