Student Profiles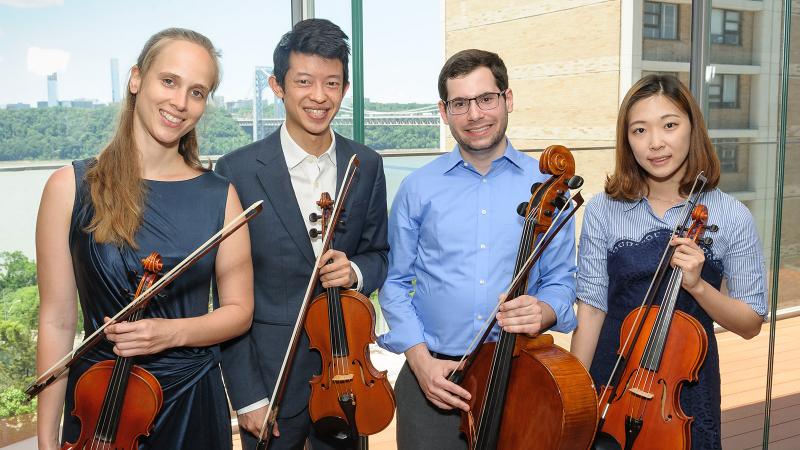 Columbia is home to students from diverse backgrounds driven to make a difference in medicine while also pursuing a range of artistic talents—from music to theater to painting—that bring joy to others and nourish empathy on their path to becoming physicians and surgeons. The ballet dancer turned aspiring physician and Space Medicine Club co-president? Check. The medical student whose experiences living in the United States and abroad shaped his commitment to health care equity? Check. The violinist who provided care to Harlem's homeless population during medical school? Check. Read on for more about our talented students.
Henry Philofsky, Class of 2020
After a year at VP&S, Henry Philofsky said his best adventure so far has been shadowing Marc Dickstein, MD, professor of anesthesiology, during a six-week clerkship at the beginning of the year. These clerkships are integral to the medical school's curriculum.
"It was my second week in medical school and Dr. Dickstein surprised me when he handed me a bronchoscope while we were in the OR," says Philofsky, who is the co-president of the Space Medicine Club and spent two years after high school as a professional ballet dancer. "He walked me through inserting the scope into the patient's throat for a bronchoscopy. I wasn't expecting to be that involved, but it was cool."
---
Ahmed Owda, Class of 2021
Ahmed Owda was born in the United Kingdom to Sudanese parents and spent most of his childhood in Grand Blanc, Michigan.
"As an immigrant from a very under-resourced country, I saw the impact that access to health care had from watching my dad visit family members in rural areas of Sudan and helping out," he says.
His upbringing in the United States also influenced his interests in medicine and making good health care available to more people.
"At the same time, in Michigan I watched the city I grew up next to go from being another struggling city in the Rust Belt to a regular topic in the national news with the Flint water crisis," he says. "I believe in the idea of health equity and that played a big role in influencing my decision to pursue medicine. Additionally, the narrative of black males in America and the dearth of black males in medicine further motivated me in wanting to become a doctor."
---
Yandong Bian, Class of 2018
Throughout her four years in medical school, Yandong "Yanna" Bian honed her patient care skills at Columbia-Harlem Homeless Medical Partnership, a clinic run by VP&S students. "You build incredibly strong relationships with patients at the clinic," she says. "You get to see them longitudinally and know them over time."
Bian was born in China and grew up in Virginia Beach, Va. Upon arriving at Columbia, she shadowed a physician at the Charles B. Wang Community Health Center in lower Manhattan. "I was able to speak with patients in Chinese," she recalls. "I never had an experience like that before. The exposure to Chinese culture and heritage in NYC is unparalleled."
When choosing a field for residency, Bian knew she loved working with her hands and wanted to split her time between the clinic and the OR. Through a research collaboration with Danielle Trief, MD, assistant professor of ophthalmology, she delved more into the field while working on a scholarly project to develop a protocol for ICU patients with exposure keratopathy.
"I look forward to gaining the clinical knowledge and surgical skills in the field," says Bian, who has matched for a residency in ophthalmology at Massachusetts Eye and Ear.
Bian also hopes to continue playing violin in her spare time. She's been a violinist since age 7 and spent a year playing in the symphony orchestra of Virginia Beach before coming to Columbia.