Location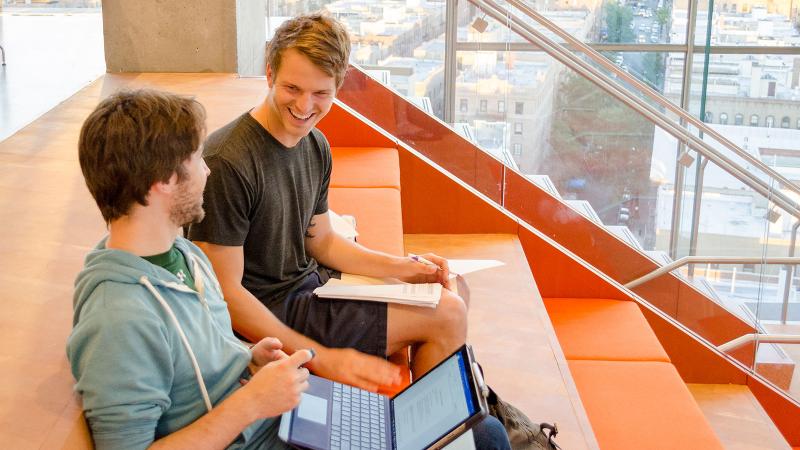 New York is a city in little need of introduction with its iconic skyline and locations familiar to even those who have never visited—Broadway, the Empire State Building, Yankee Stadium, Wall Street, and Times Square—to name a few. The Columbia University Vagelos College of Physicians and Surgeons was founded in 1767 and has been part of the city's landscape ever since. Our medical school's campus is located a few blocks from the Hudson River and George Washington Bridge in the Washington Heights neighborhood of northern Manhattan, benefiting from and contributing to an area rich in history, culture, and diversity. At the heart of campus is the Roy and Diana Vagelos Education Center, which opened in August 2016. The 14-story, state-of-the-art building at 104 Haven Ave. near 171st Street offers students advanced technology classrooms, simulation centers, study spaces, anatomy labs, lecture halls, and an eatery as well as a beautiful 360-degree view of NYC.
Learn more about our neighborhood and beyond using the resources that follow.
Introduction: Washington Heights and Inwood
Washington Heights and the neighboring Inwood area are among the most vibrant places anywhere in Manhattan. They are home to a warm and welcoming immigrant community from the Dominican Republic and many historical sites, parks, restaurants, museums, and libraries. For more information, go to:
Fort Tryon Park and The Cloisters
Just north of our campus, Fort Tryon Park at 192 Street and Broadway is a favorite destination among Columbia medical students. The park provides a beautiful scenic escape on the Hudson River and is home to The Met Cloisters, a collection of medieval art. New Leaf Restaurant & Bar is a short walk from the museum and offers an upscale dining experience in the park.
Historical Sites
Theaters, museums, and churches are some of the sites to see in Washington Heights and Inwood, such as:
Dyckman House (204th Street and Broadway)
St. Francis Xavier Cabrini Chapel (Fort Washington Avenue)
Yeshiva University (185th Street and Amsterdam Avenue)
Audubon Ballroom Complex, home to the Harlem-Heights Historical Society and Audubon Tourist and Information Center (168th Street and Broadway)
Morris-Jumel Mansion (160th Street and Edgecombe Avenue)
Alexander Hamilton Mansion, The Grange (141st Street and Convent Avenue)
Audubon Terrace, the former estate of American artist John James Audubon and home to the American Numismatic Society, Hispanic Society of America, American Academy of Arts and Letters, and Boricua College (155th Street and Broadway)
Church of Intercession (155th Street and Broadway)
Trinity Cemetery (155th Street and Riverside Drive)
Dance Theatre of Harlem (152nd Street)
Hispanic Society of America, a free museum with wonderful art collections from Spain, Portugal, and Latin America (613 W. 155th Street and Broadway)
Historical Highlights
Following are fast facts about the Washington Heights and Inwood neighborhoods:
1626: The Native Americans may have sold Manhattan Island to Peter Minuit in Inwood Hill Park.
1748: Dyckman Farmhouse was built by William Dyckman. Burned down by the British, the house was rebuilt in 1783. Today, it is the last Dutch farmhouse in Manhattan.
1965: Malcolm X was assassinated while addressing a rally at the Audubon Ballroom.
1990: The Dominican community in this area represented the largest in the United States.
1992: Guillermo Linares was the first Dominican elected to public office in the United States as Inwood's City Council Member.
Today: Inwood Hill Park (196 acres) contains the last remnant of primeval forest in Manhattan.