Pulmonary and Critical Care Medicine Fellowship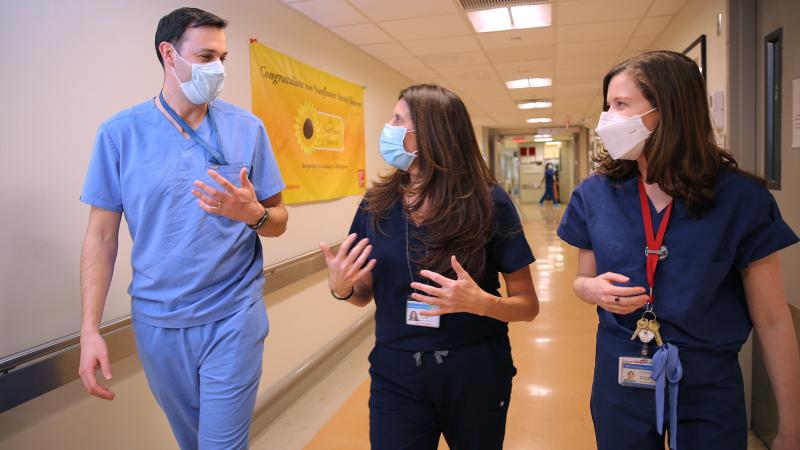 The Columbia University Pulmonary and Critical Care Medicine Fellowship Program provides an outstanding training environment that values excellence, curiosity, diversity, collaboration, and compassion. Our mission is to train future leaders, scientists, educators, and academic clinicians who reflect these values.
Training Pathways
Our program offers different career pathways designed to meet the changing needs of our specialty, our fellows' interests, and to leverage the unique expertise and training opportunities available at Columbia University. These pathways do not require a separate match, but applicants are encouraged to indicate their interest in their application and on the interview day.
Research Pathway
Fellows in this pathway receive training in fundamental investigative skills for bench, translational, or clinical research careers. The fellow spends most of their time working on a mentored research project and may pursue an optional fourth year to continue work on promising mentored research projects. Fellows are supported by an NIH-funded T-32 training grant and may have an opportunity to participate in the MS in Patient Oriented Research Program at the Mailman School of Public Health, to support their career goals to become an independent, grant-funded physician-scientist.
Global Health Research Pathway (GHRP)
This goal of this pathway is to train fellows as physician researchers with a focus on global health using basic, clinical, translational, policy, and implementation science approaches. The GHRP is a four-year research pathway with specific Global Health course requirements and provides fellows with international and global health research opportunities (which could also include research within a global health framework in New York City depending on the fellow's interest).
Clinician Scholar Pathway
This pathway prepares fellows for a career as academic clinicians and leaders. Fellows in this pathway are expected to identify an area of clinical focus in pulmonary medicine (interstitial lung disease, pulmonary hypertension, cystic fibrosis, lung transplantation, advanced diagnostic bronchoscopy) or critical care medicine (Extracorporeal life support, respiratory failure, critical care ultrasound, palliative care/serious illness communication). During their third year, fellows develop their expertise by receiving advanced clinical training in their area of focus and by completing a scholarly project in either medical education, quality and safety, or a focused-research project.
We are a family-friendly program with a strong sense of community and a commitment to physician wellness. Divisional leadership, program leadership, and faculty alike are invested in fellow training and career development. It brings us great joy to support our fellows through their career milestones and to witness their successes!