Critical Care Nurse Practitioner Program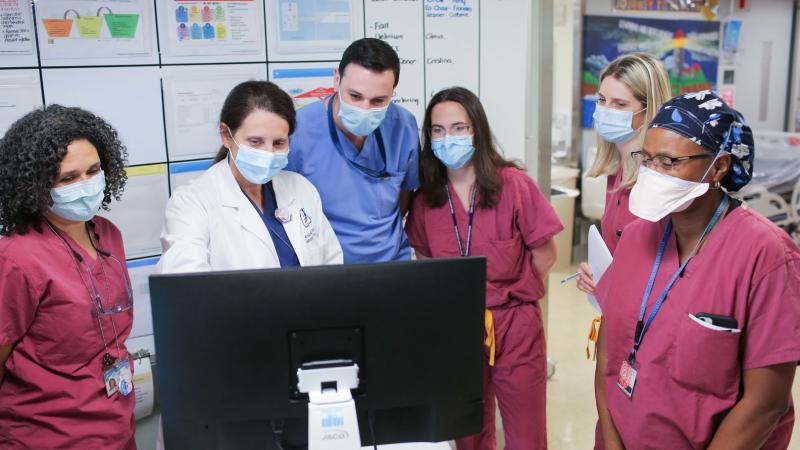 One of the two medical intensive care units at Milstein hospital is staffed 24 hours a day by Acute Care Nurse Practitioners (NPs) working alongside Pulmonary/Critical Care fellows and board-certified Pulmonary/Critical Care attendings to provide cutting-edge medical care.  The MICU is a major tertiary and quaternary referral center, providing medical critical care to a clinically diverse patient population with a broad range of critical illness. The MICU NP team is directly responsible for the evaluation and management of over 600 patients annually. They are also at the core of the Medical extracorporeal membrane oxygenation (ECMO) program, handling the ECMO intake process and collaborating on the expert management of these patients.
Our Staff
Our NPs are board-certified and licensed acute care nurse practitioners (ACNPs) who are experienced in ICU care. In addition to clinical growth opportunities, our NP staff have an opportunity to become leaders in critical care and academic medicine by teaching students and trainees, participating in critical care research, publishing in peer-reviewed journals, and attending national conferences. Senior NP staff are encouraged to take on additional responsibility through various established leadership roles within the ICU including but not limited to: education, recruitment, research, and staff wellness.
Staff Training
Our mission is to provide state-of-the-art care for medically critically ill patients and to train current NPs in the comprehensive care of medically complex patients. Clinical independence is crafted in an atmosphere filled with personal and interprofessional support. Progressive responsibility is the goal of our staff training with attending level support always available. Clinical skills are developed and refined to create complete differentials and treatment plans, learning how to apply evidence-based medicine in the diagnosis and treatment of various medical conditions in the intensive care environment.
The MICU NP staff training is designed to provide outstanding clinical and academic training that prepares collaborative practitioners to function in a progressive medical intensive care unit.  A comprehensive, competency-driven curriculum is the core of our training philosophy.  This curriculum is focused on clinical experiences caring for critically ill patients: bedside teaching rounds, educational conferences, as well as independent and peer-guided review of the medical literature. 
Employment Opportunities
For inquiries about joining our team, please contact: