Medical Intensive Care NP Fellowship Program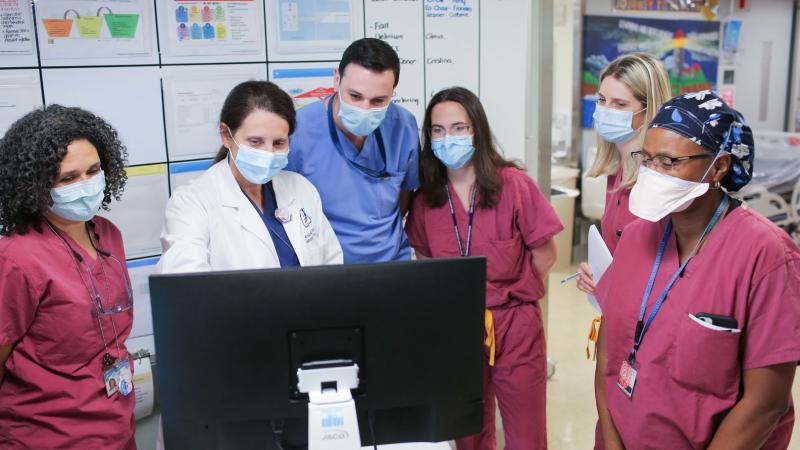 Our mission is to provide a focused and structured environment to help acute care nurse practitioners develop their skill set in critical care medicine, nurturing their growth from novice to proficient provider.
---
Program Overview
The Columbia NP Fellowship Program is an intensive, one-year training program for novice or more established Acute Care Nurse Practitioners looking to gain experience in critical care and become adept in evaluating and managing critically ill patients. The program offers exposure to a diverse medically complex patient population with a wide range of critical illnesses.
The fellowship program will have a strong didactic component as well as an intense clinical experience in a cutting-edge interprofessional environment that will:
prepare the practitioner to provide high-quality evidence-based patient care
enhance critical thinking skills
establish proficiency in a wide range of invasive procedures
---
Program Details
This is a one-year stipend program with full employee medical benefits and paid time off.
Clinical training includes:
team-based clinical management of complex medical ICU patients
experience with the application and management of ECMO for respiratory failure
training in invasive procedures including paracentesis, lumbar puncture ,and placement of nasogastric tubes, arterial lines and central venous catheters.
---
Candidates
Eligible candidates are board-certified practitioners who have completed an MSN with a specialty in Acute Care. Preference is given to those with at least 1 year of direct patient care experience.
---
How to Apply
Send the following items to Anne Meier (am3495@cumc.columbia.edu):
CV
Statement of intent
3 letters of recommendation (at least 2 must be from references with knowledge of the applicant's clinical abilities)
Note: the following will need to be provided to complete the credentialing process
Copy NYS NP and RN licenses
Copy of acute care board certification
Copy of NYS DEA license
Copy of ACLS/BLS certification
---
Application Deadline
The 2022 application cycle for the NP fellowship program is currently on hold. Please check back for updated information regarding the 2023 application cycle deadline.