Columbia-Bassett Current Students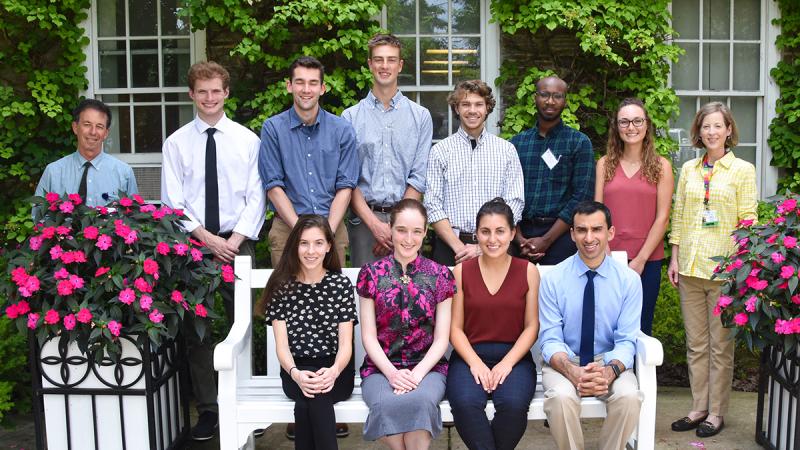 Anna Frappaolo, Class of 2023 
I was born and raised in Boston. I went to Harvard for undergrad, where I studied human evolutionary biology with minors in global health and health policy and Italian. I find a lot of satisfaction and meaning in working with my hands—both in medicine and in my hobbies. In the hospital, I enjoy performing procedures that provide immediate relief for patients and aid in their convalescence. In my free time, I enjoy making pottery—plates and bowls are my favorite—and I recently learned how to knit sweaters and socks!
What drew you to the Columbia-Bassett program?
I remember finding the Columbia-Bassett website and lighting up with every section I read. The program is so forward-thinking and strikes a nice balance between idealism and practicality. Both the life experiences and SLIM curriculums drew me in because they seemed to speak directly to experiences I had while working as a medical assistant in an OB-GYN office in Boston. Columbia-Bassett's holistic approach to understanding patients as humans and to developing care providers as well-rounded individuals both inside and outside of the hospital was a refreshing take on medicine that really appealed to me. I was also very intrigued by the longitudinal curriculum as an innovative approach to medical education designed to help with long-term retention, knowledge application, and understanding the patient experience.
What has been your favorite part of the program so far?
My classmates are, hands down, my favorite part. Completing our own orientation before the main program ensures that you start school with nine close friends off the bat, and living together in Cooperstown really solidifies these connections. The longitudinal curriculum has also been a huge asset in my learning, not only because of the continual reinforcement of important topics inherent to the structure but also because of the relationships you build while working with the same attendings over an entire year. The curriculum also allows for schedule flexibility so you can pursue your clinical interests more deeply. Working in a more community-based hospital prioritizes learning the bread and butter of each specialty and is a valuable supplement to NYP rotations. Since navigating residency interviews, I have a newfound appreciation for the Columbia-Bassett program, which significantly aided my growth as a confident, flexible, self-directed, and internally motivated student.
What do you hope to do in the future?
I am currently applying to OB-GYN residency programs with the goal (for now!) of becoming a general OB-GYN. I came into medical school with an established interest in women's health, and my mentors in Cooperstown and at Columbia only strengthened this passion. I love the variety of practice inherent to OB-GYN, which allows for meaningful outpatient and inpatient clinical work as well as hands-on procedural/surgical training. At Columbia-Bassett, thanks to the small cohort size and supportive faculty, I was able to negotiate an extra week on labor and delivery and more scheduled time in the gynecologic operating room to hone my skills and increase my pre-residency exposure. I was also able to complete my primary care rotation in a robust gender wellness center, which meaningfully informed my career goals and provided me with important education not routinely covered in the standard curriculum.
---
Nick Waring, Class of 2024
I was born in Plano, Texas, and grew up in Raleigh, North Carolina. I studied mathematics at Georgetown University. I have found the most meaning in my work and life through my relationships with friends and colleagues.
What drew you to the Columbia-Bassett program?
There were so many different aspects of the Columbia-Bassett program that appealed to me. I appreciated the program's emphasis on fostering relationships on all levels, including with patients, colleagues, and mentors. The integrated longitudinal curriculum and the opportunity to follow patients over the course of their care seemed like the ideal way to learn medicine while staying in touch with the reasons I chose this career. The additional training in trauma-informed care was another major draw for me, including the emphasis on treating the entire patient in the context of their life experiences. It also doesn't hurt that Bassett Medical Center is in Cooperstown, on the beautiful Otsego Lake.
What has been your favorite part of the program so far?
My favorite part of the Columbia-Bassett program has been the people. I have met some of my best friends in medical school, and the program has felt like a family. I have also found incredible faculty mentors, both through the Bassett program and at Columbia. The small nature of the program creates many opportunities for mentorship across different classes of students, which has been especially rewarding. Additionally, the curriculum provides flexibility to explore individual interests more deeply during the major clinical year, which helped me make and confirm my decision of which specialty to pursue. I also appreciated how phenomenal the surgery experience is at Bassett, which was not something I knew coming into the program.
What do you hope to do in the future?
I hope to pursue a career in otolaryngology. I have been fortunate to spend an additional year between my third and fourth years of medical school doing research at Columbia on a novel implantable middle-ear microphone for fully implantable cochlear implants. One of the many reasons I am drawn to otolaryngology is my personal experience with genetic sensorineural hearing loss, so I am particularly interested in going into otology/neurotology or pediatric otolaryngology.
---
Christopher McLaughlin, Class of 2024
I am from Suffield, Connecticut. I graduated from Williams College with a bachelor's degree in biology. Connecting with others is core to many of the things I find most meaningful. Spending time with family and friends, writing and performing music to share with others, and being present for a patient or their family during a crucial time in their medical care are some of the kinds of experiences I've found most meaningful and are all, in different ways, rooted in connection.
What drew you to the Columbia-Bassett program?
I was initially drawn to the opportunity to work with patients longitudinally throughout the major clinical year. Helping to care for individual patients and being a part of their treatment teams over the course of a year not only gives us insight into how treatment plans evolve across different medical contexts but also allows us to develop true connections with patients and their families. Building such close therapeutic relationships is what drew me to medicine in the first place, and being able to do so as a medical student is a truly unique and valuable aspect of the Columbia-Bassett program.
What has been your favorite part of the program so far?
I've really appreciated how closely we get to work with attending physicians. Spending most of our clinical time one-on-one with attendings in each specialty affords us frequent teaching opportunities from experienced clinicians while also giving us a window into what their clinical practice is like after training. The fact that they work with us across the whole year also means they really get to know us on an individual level and can give us personalized feedback to help us progress over time. 
Also, I loved living in Cooperstown! I felt truly fortunate to live in such a naturally beautiful place with such amazing and kind classmates and was constantly supported by the community within the program, throughout the medical system, and in the local area.
What do you hope to do in the future?
I plan to apply for residency in internal medicine and have particular interests in medical oncology and gastroenterology, but I've enjoyed many specialties and am not ruling anything out! I am also interested in working in health care policy in some capacity and am grateful for our SLIM curriculum providing many tools to pursue these kinds of projects.
---
Anne-Sophie van Wingerden, Class of 2024
I was born in New York City and grew up mostly in Holland, France, and England. I was in the class of 2020 at Williams College, where I majored in chemistry, Chinese, and comparative literature. The most meaningful part of medical school has been spending time with friends who encourage me to try new things, both in Cooperstown and back in NYC. 
What drew you to the Columbia-Bassett program?
I knew I wanted to apply to Columbia-Bassett after I read about the life experiences curriculum and other aspects of the program on the website. I've always been interested in the transmission of intergenerational trauma due to aspects of my own family history, and I liked the program's emphasis on humanities and its rural setting. Beyond that, though, I was struck by how personal the language on the website felt—it had clearly been written by someone who truly cared about these issues, and it stood out from the relatively standardized language on most schools' admissions pages. When I met Dr. Weil and Dr. Kozak on my interview day, I realized they were the kind of role models who would make me a better person, not just a better doctor. Columbia-Bassett instantly became my top choice. 
What has been your favorite part of the program so far?
The summer of our major clinical year (MCY) was probably the most fun I've had in medical school. The program builds free blocks of time into the curriculum that can be used to explore specialties you're interested in or work on academic projects. Over the summer, I spent some extra time in OB-GYN on the labor and delivery unit, but I also had plenty of time left to explore Cooperstown. The area is beautiful in the summer, and I have great memories of hiking and swimming in the lake with my Columbia-Bassett classmates. Our humanities curriculum also provided funds for us to rent paddleboards for a class outing. Among all the highs and lows of MCY, the summer stands out as the time when I finally started feeling at home in the hospital and in our wider community. 
What do you hope to do in the future?
I'm planning to do my residency in OB-GYN after I graduate in 2024. 
---
Lindsey Gorsch, Class of 2025 
I am from central Virginia, not far from Charlottesville. I grew up in a rural area (the rolling Blue Ridge mountains were the backdrop of my childhood), and the stunning natural world remains an energizing force in my life! I attended Georgetown University and surprised myself by veering from the premed track and instead majoring in religion. 
What drew you to the Columbia-Bassett program?
When I think of the Columbia-Bassett curriculum, one word comes to mind: intentional. The program was crafted by individuals with a deep understanding of the health care system, medical education, and what it means to do meaningful, good work in the world. The unique ethos of the program stood out to me from day one and continues to resonate with me on many levels. I was initially drawn to Columbia-Bassett for its focus on longitudinal care, its emphasis on understanding patients as human beings, and its aim to improve our health care system. Moreover, I loved the idea of splitting my training between a bustling metropolis and a charming rural town.  
What has been your favorite part of the program so far?
"The people" is likely one of the most overused and cliched answers to this question, but it is the truth! I absolutely adore my classmates—they are some of my best friends and have made this year a delight! I am in awe of the mentors I have met through the Columbia-Bassett program. The attendings and residents I work with are incredible teachers, empathic providers, and wonderful people. The community is small and tight-knit. I constantly run into familiar faces at the gym, in line at the grocery store, and during walks by the lake. This environment fosters a culture of kindness and empathy. It is a joy to train here! 
What do you hope to do in the future?
As of now, I am not sure what I would like to specialize in. I see myself ending up in a small community (more Cooperstown than NYC) and hopefully having time for lots of hiking, skiing, biking, and other outdoor adventures!
---
Sidney Saint-Hilaire, Class of 2025
I grew up in Elmont, on Long Island, New York, where I was raised in a Rwandan and Haitian cultural household. My parents fostered an early interest in the brain, which led me to study cognitive science and education studies at Yale, focusing on themes of inequality, group identity, and essentialism. My upbringing and education both made clear to me the power and joy of seeing and being seen, which inspires me as a person and a future clinician. 
What drew you to the Columbia-Bassett program?
I spent my time in undergrad being led by relationships—in terms of which research projects I pursued, clubs I joined, and classes I took part in—which has paid off endlessly. When I came across the Columbia-Bassett program, I noticed the same hallmarks of the nurturing environments I benefited from: an intimate class size, an emphasis on relational health, and a balanced, collaborative approach to curricula. I knew I wanted medical school to be an education in care as well as medicine, and the Columbia-Bassett program seemed most poised to give me that.
What has been your favorite part of the program so far?
Without a doubt, the life experiences curriculum has been the highlight of my time in the program. The opportunity to have an intentional space to discuss far-reaching yet underexamined aspects of health and life, particularly trauma and resilience, is invaluable to clinicians who want to learn how to balance caring for others as well as caring for themselves. Medical school can be a place where vulnerability and self-compassion are not always rewarded. So for me, the life experiences curriculum and the Columbia-Bassett program more broadly have been places for me to seek refuge and reflection.
What do you hope to do in the future?
Being so early in my clinical year, I'm still teasing things out. However, psychiatry and primary care interest me as fields where I can maintain therapeutic relationships with patients longitudinally. I'd also be interested in going back to school to study medical sociology and humanities or maybe a little art school! Either way, I'm looking forward to learning and expressing myself. Lastly, I'm excited to add to my loving family.
---
Madhav Nekkar, Class of 2026
I grew up in Campbell, California, a small town next to San Jose, and went to undergrad at the University of California, Berkeley, where I studied economics. I'm deeply interested in the intersection of health and society, especially around how we can improve the health of both individual patients and entire communities.
What drew you to the Columbia-Bassett program?
I hoped to learn medicine in an environment that fosters strong patient relationships and a patient-centric mindset, and I felt that Columbia-Bassett, with its unique longitudinal integrated curriculum, would be the ideal place to do so. I'm excited to understand patients' perspectives on health care delivery and their interactions with different aspects of the health system. In addition, I was attracted to the opportunity to learn at both an urban academic teaching hospital (in New York City) and a large rural health system (in Cooperstown). I hope spending time in both places will help me understand the challenges faced by diverse groups of patients in different settings. Lastly, the opportunity to work on real quality-improvement projects at Bassett during our major clinical year (through the systems, leadership, integration, and management, or SLIM, curriculum) was a huge draw.
What has been your favorite part of the program so far?
There are already too many to name! I was really nervous about moving across the country and finding community in medical school, but from the first day of orientation in Cooperstown, I felt those worries were unfounded. Experiencing Cooperstown during that week—from interacting with physicians at Bassett Medical Center to spending time at a local blueberry farm and even swimming in Lake Otsego—was incredible. My Columbia-Bassett classmates are among my closest friends in medical school, and we frequently hold potluck dinners and game nights. The SLIM curriculum, where we are presented with case studies of real quality-improvement projects implemented in different hospitals, has also been very informative in helping me understand more about the role of physicians in systems improvement.
What do you hope to do in the future?
I am undecided on what specialty to pursue, but I hope to eventually work at the intersection between clinical medicine, global health equity, and digital health.