Sports Medicine Fellowship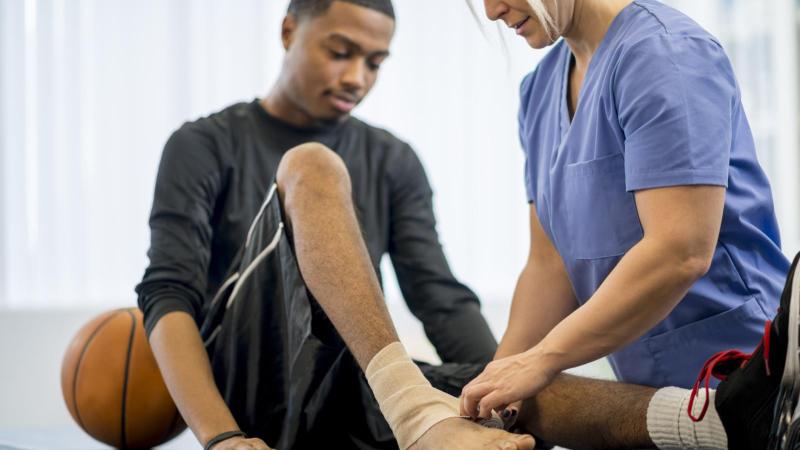 Our Sports Medicine Fellowship has been accredited by the ACGME since 2015. Originally accommodating a single fellow, the program has grown to allow for two sports fellows following parallel tracts. Our Sports Medicine Fellowship is a one-year training program that follows completion of a residency in Physical Medicine and Rehabilitation, Family Medicine, Emergency Medicine, Internal Medicine, or Pediatrics. The training program is rigorous and provides a rich academic and clinical environment. With access to the resources provided by Columbia University Irving Medical Center, Weill Cornell Medicine, New York-Presbyterian Queens, and St. Johns Athletics, this truly is a unique academic program in Sports Medicine and musculoskeletal care.
To ensure a broad and in-depth training that prepares our graduates to step into a leadership role upon graduation, we collaborate with several departments. Our program offers opportunities involving orthopedic surgery, radiology, emergency medicine, family medicine, and other sports specialists. A longitudinal curriculum focuses on high-level clinical competency for musculoskeletal conditions, including training in outpatient procedures, diagnostic imaging interpretation, and the use of sports ultrasound for diagnosis and therapeutic injection guidance. Academic training includes career, education, and scholarly mentorship, with multiple opportunities for leadership.
Fellows are expected to participate in a variety of academic activities, including:
At least one scholarly project
Grand rounds
Weekly journal clubs
Monthly radiology rounds
Functional anatomy
Education in ultrasound clinic
Additional presentations, lectures, and conferences
Diagnostic and procedural training includes:
Diagnostic ultrasound evaluation
Ultrasound-guided joint/tendon injections and procedures
Image-guided orthobiologic procedures
Fluoro-guided lumbar spine procedures (optional)
Compartment testing (optional)
Additional Training includes:
Sports medicine and professional topics didactic schedule
Hands-on training for sideline coverage in high school, collegiate, and professional sports
Pre-participation physicals
Training room coverage
Mass-event coverage
Concussion Evaluation
Our Faculty
The fellows have the opportunity to train with multiple faculty members across several departments and campuses, including:
Weill Cornell Medicine: Jaspal R. Singh, MD; Amy Skaria, MD; Jennifer Soo Hoo, MD; Vandana Sood, MD; Katherine Yao, MD
Columbia University Irving Medical Center: Elan Goldwaser, DO; Farah Hameed, MD; Paul Haffey, DO; Michael Saulle, DO; Christine Townsend, MD; Christopher J. Visco, MD; Kristian von Rickenbach, MD; Michael Saulle, DO
NYP Queens: Justin Classie, MD; Libi Galmer, DO; lan Goldwyn, MD; Mathew Hamula, MD; Jason Hu, MD; Kevin Jiang, MD; Kevin Pak, MD; Tony Quach, MD
Locations
Site 1 CPC OP: Columbia Doctors Midtown & Columbia Doctors Harkness Pavilion
Site 2 WCM OP: Weill Cornell Baker Pavilion, Weill Cornell Lower Manhattan clinic, WCM Spine Center
Site 3 NYPQ OP: NYP Queens Flushing & NYP Queens Orthopedic and Sports Medicine
Site 4 Training Room: Columbia Athletics
Site 5 Training Room: St. John's Athletics
Application Process
New York-Presbyterian Columbia and Cornell Department of Rehabilitation Medicine Sports Medicine Fellowship Program participates in the NRMP, and applications are accepted via ERAS. Applicants for the fellowship must be in their final year of residency or have completed their residency in a qualifying specialty (physical medicine and rehabilitation, family medicine, emergency medicine, internal medicine, or pediatrics).
ACGME Program: #3423534005
Columbia/Cornell Track NRMP: #1492342F1
Cornell/Queens Track NRMP: #1492342F2
Contact Us
For more information about our Sports Medicine Fellowship, please contact:
NewYork-Presbytarian Hospital
Columbia University Irving Medical Center
Harkness Pavillion, 1-168
180 Fort Washington Avenue,
New York, NY 10032
Phone: 212-305-8592
Fax: 212-305-4258