Serpiginous Choroiditis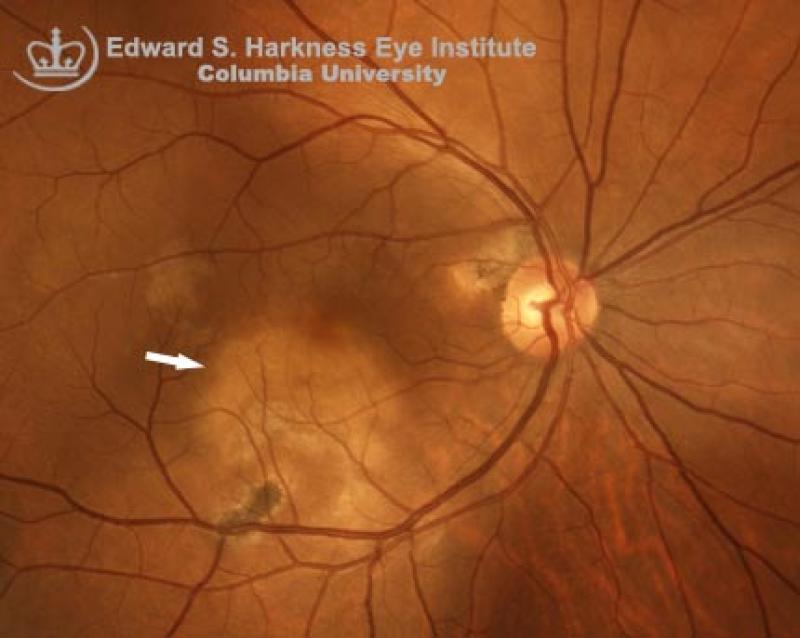 Rare, chronic, bilateral inflammatory disorder
Recurrences are common
Onset is usually between ages 30 and 70 years
Clinical Features
Symptoms:

Painless blurring of vision with central or paracentral scotoma
Metamorphopsia due to macular involvement

Signs:

Acute onset lesion: gray-yellowish discoloration of the RPE with a pseudopodial configuration extending in a centrifugal manner from the optic disc
Acute lesions normally last in several weeks, followed with development of chorioretinal atrophy and RPE migration along the large choroidal vasculature
Previous inflammation is evidence with areas of atrophic RPE, choriocapillaris and pigment clumpings
New lesions are often contiguous with the chronic lesions
Can be complicated with choroidal neovascularization
Fluorescein Angiogram Demonstrates
Acute lesions: hypofluorescence in the early phases and hyperfluorescence with leakage or staining of the lesion evolving centrally in the mid to late phases
Mottled hyperfluorescence due to pigment clumping in chronic lesions
Electrophysiologic studies are normal.
Occasional cases have been associated with the administration of anti-tuberculosis drugs.
Management
Self assessment with Amsler grid test
Triple immunosuppression with; systemic corticosteroid, acyclovir and cyclosporin in vision threatening cases, such as macular or papillomacular involvement.
Laser photocoagulation and submacular surgery in cases complicated with choroidal neovascularization.