Initiative for Drug Delivery Innovation Laboratory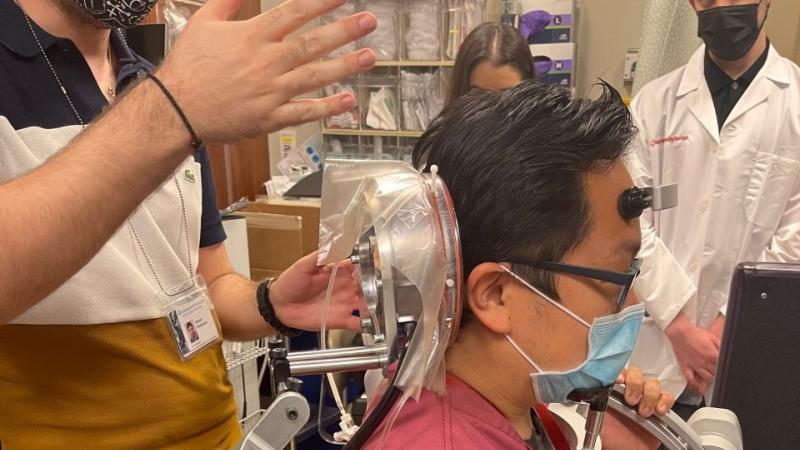 Location and Contact Information
630 West 168 Street
Vanderbilt Clinic (VC)-11-227
United States
The laboratory for the Initiative for Drug Delivery Innovation (IDD) in Childhood Brain is interested translating novel drug delivery technologies to treating children with brain tumors.  The brain has a natural barrier that prevents toxins and other agents from reaching the brain. This same barrier also limits the access of systemic treatments, including chemotherapy, targeted therapy, and immunotherapy, from reaching the tumor.  We are interested in exploring the usage of focused ultrasound (FUS) and convection enhanced delivery (CED). Using targeted ultrasound, or FUS, with microbubbles, the blood brain barrier (BBB) can temporarily and reversibly open to allow for enhanced drug delivery to fight brain tumors. In addition, we are also exploring the use of direct catheter delivery of drugs to the brain tumors using CED. Working with IDDI and Dr. Stergios Zacharoulis, our research approach is divided into three interrelated arms. The first goal is to help immediate translation of these technology to clinical trial. The second goal is to develop novel methods to improve treatment outcomes, including combining with new drug therapies or radiation. The last goal is to work in collaboration with the Bioengineering Department and Neurosurgery Department to advance the technologies of FUS and CED respectively. The preclinical translational science is critical for bringing these exciting drug delivery modalities to patients.  We believe that working in a collaborative approach, with the different expertise at Columbia, we can advance patient care.
Lab Members
Active Lab Members
Dr. Stergios Zacharoulis, MD FAAP

Chief of Pediatric Neuro-Oncology, Director of the IDDI Program

"James" Hong-Jian Wei, PhD

Associate Research Scientist

Hong-Jian Wei, Ph.D. is a postdoctoral research scientist of Radiation Oncology at Columbia University Medical Center. Dr. Wei received his Ph.D. in Medical Sciences from Taipei Medical University, Taiwan and performed his postdoctoral training in Stem Cell Research at Taipei Medical University, Taiwan. His academic training and experience have provided me with multi-discipline backgrounds in research, including molecular biology, biochemistry, genetics, stem cell biology, and oncology.
Dr. Wei's professional interests focus on central nervous system (CNS) malignancy and its microenvironments and his current projects include focused ultrasound (FUS)-mediated blood-brain barrier (BBB) opening for drug delivery and immune modulation in brain tumors. His long-term research goals are dedicated to developing novel treatment approaches and preclinical rationales for the clinical management of CNS malignancies.

Oscar Padilla, MD

Postdoctoral Fellow, Radiation Oncology Resident

Nicolas McQuillan

Nicholas graduated summa cum laude from Tufts University in 2020 with a B.S. in Biochemistry and Italian Studies. His current research interests include assessing the safety and feasibility of utilizing focused ultrasound (FUS) in conjunction with conventional radiotherapy and existing drug therapies to better treat metastatic brain tumors. In the future, Nicholas hopes to pursue an MD/PhD dual degree with a potential focus in oncology. In his spare time, he enjoys running, traveling, and learning new languages.

Masih Tazhibi

Masih graduated Phi Beta Kappa from Columbia University with a degree in Neuroscience and Behavior. His research interests include optimizing treatment approaches for pediatric metastatic brainstem tumors using Focused Ultrasound (FUS) and Convection Enhanced Delivery (CED). Ultimately, Masih hopes to pursue an MD/Ph.D. dual-degree and a career in academic neurosurgery. In his free time, he enjoys photography, running, exploring New York City, and writing philosophy articles on his website (www.adeepthought.com).

Andrea Webster Carrion

Postdoctoral Clinical Fellow

My name is Andrea Webster Carrion. I am originally from Ecuador. I completed my General Pediatrics residency at Jackson Memorial Hospital in Miami, FL prior to coming to New York City.

I am currently a Hope & Heroes Pediatric Hematology, Oncology, and Stem Cell Transplant Fellow at CUMC/ NewYork-Presbyterian Morgan Stanley Children's Hospital. My hope is to continue my training by pursuing a Pediatric Neuro-Oncology Fellowship. My research interests include high grade gliomas and focused ultrasound as a drug delivery technology to maximize drug penetrance and decrease systemic side effects. My current projects focuses on H3 K27M diffuse midline glioma animal models, with special attention to thalamic tumors.

Matthew Gallitto, MD

Postdoctoral Fellow, Radiation Oncology Resident

Dr. Gallitto is currently a PGY-3 resident in the Department of Radiation Oncology at Columbia University. He completed his undergraduate education as a Presidential Honors Scholar at New York University, and attended medical school at the Icahn School of Medicine at Mount Sinai, graduating with distinction in research. He then completed an internship in Internal Medicine at Emory University. His research interests lie in pediatric and central nervous system malignancies, particularly in using new technologies to improve drug delivery and studying the role in which the blood brain barrier plays. He is currently examining the use of non-invasive focused ultrasound-mediated blood brain barrier-opening to enhance drug delivery, in combination with radiation therapy, to explore new treatment paradigms. Dr. Gallitto is the first Holman Research Pathway trainee at Columbia.

Danae Kokossis

Postdoctoral Research Scientist

Danae was born in England, UK and moved to Greece during her teenage years. She graduated with honours from the University of Athens, Medical School in 2020, where she developed a keen interest for Paediatric Haematology-Oncology. She joined the Wu Lab in August 2021 as a postdoctoral researcher, to study novel initiatives in the treatment of paediatric brain stem tumours, using Focused Ultrasound (FUS)-mediated opening of the blood-brain barrier for optimization of drug delivery, in combination with existing drug therapies. In the future, Danae hopes to further her medical training by specializing in Paediatric Hematology-Oncology in the U.S. In her spare time, she enjoys playing chess and traveling.

Alexander Berg

Alexander (Xander) Berg participated in Stony Brook University's 5 Year Accelerated Master's Degree program for BME. During his undergraduate career, he conducted research in Dr. Wei Zhao's lab, studying amorphous selenium x-ray detectors. During his graduate year, his research interests included free water imaging in DTI MRI and dosimetry in fluoroscopic procedures. In July 2021, Xander began work in Dr. Fred Wu's lab to assist with the first FDA trial using focused ultrasound to facilitate chemotherapy for pediatric brain cancer.
Inactive Lab Members
Zachary Englender, MD

Postdoctoral Fellow, Neurosurgery Resident

Zack was born in 1990 in New York City. He received his B.A. in Biology from Yeshiva University in 2013. He earned his combined M.D./M.S. degree from Columbia's College of Physicians and Surgeons in 2018. His Masters thesis focused on advanced functional magnetic resonance imaging in diffuse glioma. Zack is now currently a resident in the Department of Neurological Surgery at New York Presbyterian-Columbia University Irving Medical Center. From 2019-2020 he spent a year as a postdoctoral research fellow studying the feasibility of focused ultrasound mediated blood-brain barrier opening in pediatric brain stem tumor models. This work was funded by the NIH R38 Columbia Cancer Training Program for Resident-Investigators (CAPRI) through the Herbert Irving Comprehensive Cancer Center. His research interests include enhanced drug delivery in brain stem tumors using ultrasound and clinical translation of therapeutic ultrasound in the pediatric population

Education:

M.D., Columbia University College of Physicians and Surgeons, New York, NY USA
M.S., Biomedical Sciences, Columbia University College of Physicians and Surgeons, New York, NY USA
B.A., Biology, Yeshiva University, New York, NY USA

Projects: Blood-brain barrier opening

Nina Yoh, MD

Postdoctoral Fellow, Neurosurgery Resident

Nina was born in New York City and received a BA in fine art photography at Bard College prior to starting her career in medicine. She attended the Columbia University Postbaccalaureate Premedical Program and graduated from the Columbia University College of Physicians and Surgeons in May 2019. Nina is currently a resident in the Department of Neurological Surgery at New York Presbyterian -Columbia University and joined the Wu lab in 2020 to study novel approaches to the treatment of pediatric brain stem tumors including focused ultrasound mediated blood-brain barrier opening and convention-enhanced delivery in the mouse model. Broadly, her research interests include neuro-oncology, vascular neurosurgery, and neurocritical care. When not in the hospital/lab, she attempts to surf and spends time eating delicious foods with her family.

HONORS / AWARDS
• Alpha Omega Alpha (AOA) Honor Medical Society
• Gold Humanism Honor Society (GHHS)
• Glasgow-Rubin Achievement Award for Women Graduating in the Top 10 Percent of Their Class, Columbia P&S
• Albert B. Knapp Award for Highest Academic Achievement at the End of the Major Clinical Year, Columbia P&S
• Edward and Susan Yawney Fellowship Research Grant, 2021
• NIH-R38 Columbia Cancer Training Program for Resident Investigators (CAPRI), 2020
• NIH-T35 Summer Medical Research Fellowship, 2016
• Alan & Ruth Borenstein Medical Scholarship, 2016
• Columbia University GS Student Leadership Service Award, 2015
• Columbia University GS Postbac Premed Scholarship, 2014
• AANS Young Neurosurgeons Committee