Patient Care
Make an Appointment
Our team of dedicated representatives are here to help you make an appointment with the radiation oncology specialists that you need.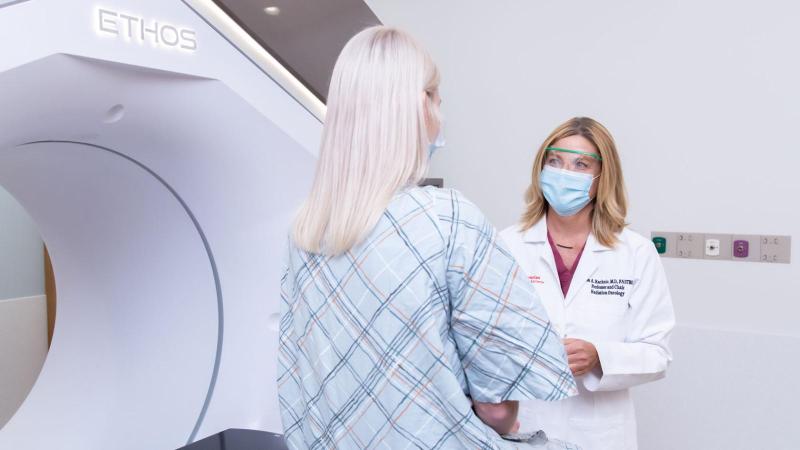 As part of the Herbert Irving Comprehensive Cancer Center, we work with our National Cancer Institute-designated partners to strengthen our clinical programs and research endeavors. We're working to establish best practices and develop cutting-edge therapies that allow us to provide outstanding patient care. Our goal is to deliver the very latest therapies to support optimal healing.
A Personalized Approach
Radiation oncology is often a key component in the fight against cancer. Radiation therapy targets malignant cells with controlled doses of high-energy radiation, destroying cancer or slowing its growth without harming healthy nearby cells.
Radiation therapy may be administered from an external machine or by placing radioactive material inside the body near the cancer cells.
We tailor treatment to each individual, with the goal of reducing radiation exposure and targeting the treatment area while minimizing the affect on healthy tissue. Using a highly coordinated multidisciplinary approach to patient care, our leading experts in radiation and oncology collaborate with renowned surgeons and medical oncologists through the treatment process. We also provide a wide range of patient support services including:
Medical advice on lifestyle, exercise, diet, and nutrition
Psychological counseling and support groups
Consultation on pain management
Patient web portals that offer easy access to test results, appointments, and follow-up care
Comprehensive Care
The Department of Radiation Oncology at Columbia University Irving Medical Center offers the most comprehensive care available anywhere in the world for both adult and pediatric patients with many different kinds of cancer.
The safety and quality of treatments delivered to our patients are always the primary concern of every member of the Columbia radiation oncology clinicians and our multidisciplinary team. We have developed a comprehensive quality assurance program at the Herbert Irving Comprehensive Cancer Center (HICCC). As a nationally recognized leader in the field of radiation oncology, our standards for safety serve as an example for other academic and community-based radiation oncology practices.
Our safety program is nationally accredited by the American College of Radiology, and its practices go well beyond our peers by integrating innovative safety techniques and protocols developed by clinical experts at our institution. We are fortunate to have internationally recognized clinicians, physicists, and researchers on our staff to help develop and integrate into our clinical practice.
Innovative Treatments and Technologies
Our experts were among the first in the nation to refine and introduce the following innovative treatments and technologies.