Humanized Mouse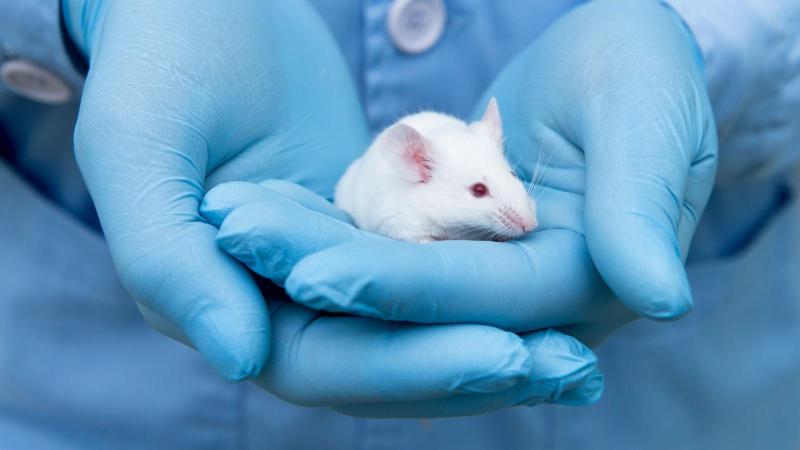 The humanized mouse (hu-mouse) model has revolutionized the ability to carry out in vivo studies of the human immune system. 
With over 25 years of experience developing hu-mouse models with functional human hematopoietic and lymphoid systems, we have pioneered novel humanized mouse models with robust, functional human immune systems. Our original model has been replicated in many other laboratories (sometimes referred to as the "BLT" mouse). The application of this model has been pivotal in the exploration of human immune responses and disorders. Our expertise in this field was conducive to the development of other models, one of which gained renown as the Personalized Immune (PI) humanized mouse with the transplantation of patient-specific hematopoietic stem cells (HSCs). This "personalized immune" mouse provides a new model for individualized analysis of human HSC-intrinsic immune abnormalities predisposing to autoimmunity as well as model individual human immune responses in both health and diseases. Furthermore, we established the Hu-mouse model with Patient-derived-xenograft (PDX) tumors, in which the infiltration of human immune cells in the tumor microenvironment leads this model to be an indispensable tool to determine patient eligibility for novel immunotherapies, treatment options, and mechanisms of immune surveillance in solid tumors. Additionally, we have established protocols for humanized mice with human T cells that express tumor or viral antigen-specific TCRs as well as humanized mice that spontaneously develop autologous human leukemia by transplanting genetically manipulated HSCs. These refinements further expand the potential applications of the hu-mouse model. By providing our services to other laboratories, we aspire to support investigation of human immunology and expand our repertoire of hu-mouse models. 
Core Services
Core Services include breeding and maintenance of NSG (NOD.Cg-Prkdcscid Il2rgtm1Wjl/SzJ) mouse colonies, construction of humanized mice, as well as confirmation of reconstitution of human hematopoietic and lymphoid systems by detection of >25% human cells (including T, B, and myeloid cells) in peripheral blood 8-10 weeks post-engraftment.
Standard Hu-Mouse (Functional Human Immune System)
Core provides standard hu-mice engrafted with human fetal Thymus + HSCs or HSCs only;
Core constructs hu-mice with specific transgenic backgrounds (HLA-A2, HLA-DQ8, hSGM3, etc.) to suit investigator's needs;
Core can occasionally provide a few (<10) standard hu-mice for pilot express studies but we DO NOT regularly stockpile standard hu-mice.
Personalized Immune (PI) Hu-Mouse (Patient-specific Human Immune System) 
Investigators provide patient HLA-typed specimens (CD34+ cells from bone marrow or mobilized PBMC);
Core provides HLA-typed thymic tissue and constructs PI mice.
Patient-Derived Xenografts (PDX)
Investigators provide xenografts or cells from patient tumor samples;
Core constructs PDX model;
Core propagates tumor in mice and cryopreserved tumor for future use upon request.
PDX/Standard or /PI Hu-Mouse
Core engrafts PDX into pre-established partial HLA-matched allogeneic Standard or autologous PI Hu-Mouse;
Core evaluates in vivo efficacy of immunotherapy agents either alone or in combination with standard chemotherapy regimens against human tumors, for an extra charge.
Customized Hu-Mouse (Compromised Human Immune System)
Core provides hu-mice engrafted with virally transduced HSCs. Investigators are encouraged to provide their own transduced HSCs or viral vectors.
Rates per mouse
(for cohorts of at least 5 mice; a labor surcharge will apply to smaller cohorts)
Standard Hu-Mouse (Thymus+HSC's)
Internal Cost: $450
External Cost: $750
Hu-Mouse (HSC's Only)
Internal Cost: $410
External Cost: $680
Personalized Immune Hu-Mouse
Internal Cost: $500
External Cost: $830
Patient-Derived Xenografts (PDX)
Internal Cost: $350
External Cost: $600
PDX/Standard Hu-Mouse
Internal Cost: $700
External Cost: $1,200
PDX/PI Hu-Mouse
Internal Cost: $750
External Cost: $1,500
Customized Hu-Mouse
Internal Cost: TBD
External Cost: TBD
Additional Housing: $0.84/hu-mouse/day
Getting Started
Please submit the Humanized Mouse Request Form at least 2 months prior to intended start date of hu-mouse reconstitution. Once hu-mice reconstitution has been confirmed (8-10 weeks), hu-mice are transferred to investigator's mouse facility, unless Humanized Mouse Core (HMC) housing is required.
It is advised that interested investigators contact us before submission of the request form to thoroughly discuss project and options.
Charge Policy
We can not start to construct hu-mice without chartstring information or purchase order provided by internal or external customers, respectively.
Acknowledgement
If you feature this work in future publications, please acknowledge as much in your paper with the following statement:
"Humanized mouse was provided by Humanized Mouse Core (HMC) Facility, CCTI, CUMC, Columbia University"
Publications
Lan, P., et al., Induction of human T-cell tolerance to porcine xenoantigens through mixed hematopoietic chimerism. Blood, 2004. 103(10): p. 3964-9.
Lan, P., et al., Reconstitution of a functional human immune system in immunodeficient mice through combined human fetal thymus/liver and CD34+ cell transplantation. Blood, 2006. 108(2): p. 487-92.
Tonomura, N., et al., Antigen-specific human T-cell responses and T cell-dependent production of human antibodies in a humanized mouse model. Blood, 2008. 111(8): p. 4293-6.
Tonomura, N., et al., Pig islet xenograft rejection in a mouse model with an established human immune system. Xenotransplantation, 2008. 15(2): p. 129-35.
Kumar, P., et al., T cell-specific siRNA delivery suppresses HIV-1 infection in humanized mice. Cell, 2008. 134(4): p. 577-86.
Shimizu, I., et al., Comparison of human T cell repertoire generated in xenogeneic porcine and human thymus grafts. Transplantation, 2008. 86(4): p. 601-10.
Brainard, D.M., et al., Induction of robust cellular and humoral virus-specific adaptive immune responses in human immunodeficiency virus-infected humanized BLT mice. J Virol, 2009. 83(14): p. 7305-21.
Kim, S.S., et al., RNAi-mediated CCR5 silencing by LFA-1-targeted nanoparticles prevents HIV infection in BLT mice. Mol Ther, 2010. 18(2): p. 370-6.
Onoe, T., et al., Homeostatic expansion and phenotypic conversion of human T cells depend on peripheral interactions with APCs. J Immunol, 2010. 184(12): p. 6756-65.
Onoe, T., et al., Human natural regulatory T cell development, suppressive function, and postthymic maturation in a humanized mouse model. J Immunol, 2011. 187(7): p. 3895-903.
Hu, Z., N. Van Rooijen, and Y.G. Yang, Macrophages prevent human red blood cell reconstitution in immunodeficient mice. Blood, 2011. 118(22): p. 5938-46.
Hu, Z. and Y.G. Yang, Full reconstitution of human platelets in humanized mice after macrophage depletion. Blood, 2012. 120(8): p. 1713-6.
Bai, H., et al., Bcl-xL enhances single-cell survival and expansion of human embryonic stem cells without affecting self-renewal. Stem Cell Res, 2012. 8(1): p. 26-37.
Kalscheuer, H., et al., A model for personalized in vivo analysis of human immune responsiveness. Sci Transl Med, 2012. 4(125): p. 125ra30.
Huang, S.X., et al., Efficient generation of lung and airway epithelial cells from human pluripotent stem cells. Nat Biotechnol, 2014. 32(1): p. 84-91.
Rong, Z., et al., An effective approach to prevent immune rejection of human ESC-derived allografts. Cell Stem Cell, 2014. 14(1): p. 121-30.
Hu Z, Xia J, Fan W, Wargo J, Yang YG. Human melanoma immunotherapy using tumor antigen-specific T cells generated in humanized mice. Oncotarget 2016;7(6):6448-6459. doi:10.18632/oncotarget.7044. [Epub ahead of print]
Wu H, Zhen Y, Xu ZG, Ma Z, Li H, Yu J, Wang XY, Yi H, Yang YG. Arginase-1-dependent promotion of Th17 differentiation and disease progression by MDSCs in systemic lupus erythematosus. Sci Transl Med. 2016 Mar 23;8(331):331ra40. doi: 10.1126/scitranslmed.aae0482.
Xia J, Hu Z, Yoshihara S, Li Y, Jin C, Tan S, Li W, Chen Q, Sykes M, Yang YG. Modeling Human Leukemia Immunotherapy in Humanized Mice EBioMedicine. 2016 Aug; 10: 101–108. Published online 2016 Jun 23. doi: 10.1016/j.ebiom.2016.06.028
Prince A, Wang H, Kitur K, Parker D. Humanized mice exhibit increased susceptibility to Staphylococcus aureus pneumonia. J Infect Dis. 2016 Sep 16. doi:10.1093/infdis/jiw42
Proto JD, Doran AC, Subramanian M, Wang H, Zhang MY, Sozen E, Rymond C, Kuriakose G,  Winchester R, Sykes M, Yang YG, and Tabas I. Hypercholesterolemia induces T cell expansion in humanized immune mice. JCI. 2018 https://doi.org/10.1172/JCI97785.
Li SR, Fu J, Wang H, Ma HH, Xi XM, Yang YG, Deng SX, Mapara MY, Lentzsch S. IMiD compounds affect CD34+ cell fate and maturation via CRBN-induced IKZF1 degradation. Blood Advances 2018 2:492-504
Borot F., Wang H., Ma Y., Jafarov T., Raza A., Ali AM., and Mukherjee S. Gene-edited stem cells enable CD33-directed immune therapy for myeloid malignancies. Proc Natl Acad Sci U S A. 2019 Jun 11; 116(24): 11978–11987.
Contact
Humanized Mouse Core (HMC) Facility
650 West 168th Street
BB-1516 William Black Building, CCTI, CUIMC
United States