Faculty Recognition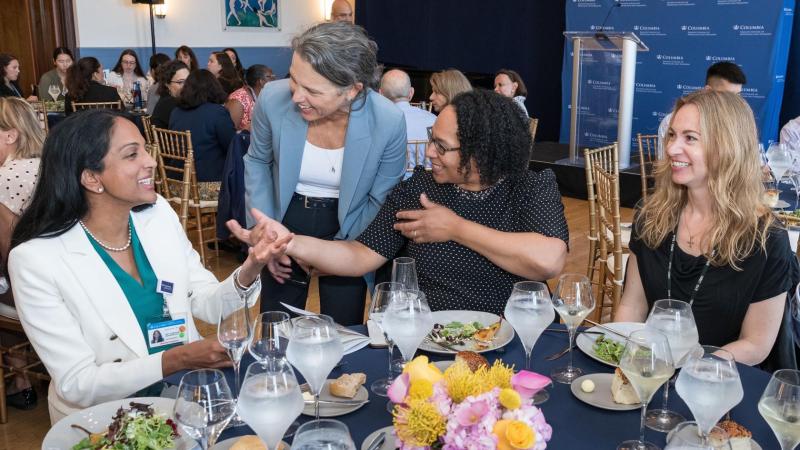 VP&S Honors Luncheon
Each year, the Columbia University Vagelos College of Physicians and Surgeons celebrates the achievements of its outstanding faculty through the VP&S Honors Luncheon. Faculty who were recently promoted, received tenure, and who won prestigious honors or awards are invited to attend this celebratory event, which includes remarks by the dean and special musical performances by our  talented students. It is our way of thanking our faculty for doing what they do!
Message from Dr. Katrina Armstrong, Dean of the Faculties of Health Sciences and the Vagelos College of Physicians and Surgeons:
Congratulations to our VP&S faculty who received promotions or honors during academic year 2022-2023!
VP&S is a remarkable place because of its remarkable people. Our faculty have an incredible propensity for healing, educating, driving discovery, and helping others. The college's ability to advance human health, serve our communities, and prepare the next generation to lead relies on your unparalleled ingenuity, empathy, and dedication to our shared missions. Today, we celebrate faculty who have been recognized for their outstanding accomplishments and for being emblematic of what makes VP&S so special.
Academic promotion recognizes the accomplishments of our faculty in one or more of our core missions:
Transformative research that spans the continuum from basic laboratory studies to clinical and population-based studies
Extraordinary care of our patients
Innovative education that prepares the next generation of physicians and scientists
Service to our communities in Washington Heights, Northern Manhattan, and beyond
We also celebrate well-deserved external honors earned by our faculty over the past academic year. All of you have gone above and beyond to bring honor and recognition to this place so today we celebrate you. Today is an expression of how faculty at the Vagelos College of Physicians and Surgeons continue to inspire students, trainees, and colleagues as we build on our legacy of excellence and shape the future of medicine.
Katrina Armstrong, MD
Dean of the Faculties of Health Sciences and the Vagelos College of Physicians and Surgeons
Executive Vice President for Health and Biomedical Sciences, Columbia University
During the 2022-23 academic year, 27 VP&S faculty members were appointed to endowed professorships, 7 received tenure, 47 were promoted to professor, and 76 were appointed to associate professor. Faculty accomplishments recognized by outside national and international organizations also were honored.
A full listing of faculty who were honored is available in the program.
Read more about the event in CUIMC Weekly Update.
For more information, please email: Office_of_Acad_Affairs@cumc.columbia.edu.