Urology Clerkship & Electives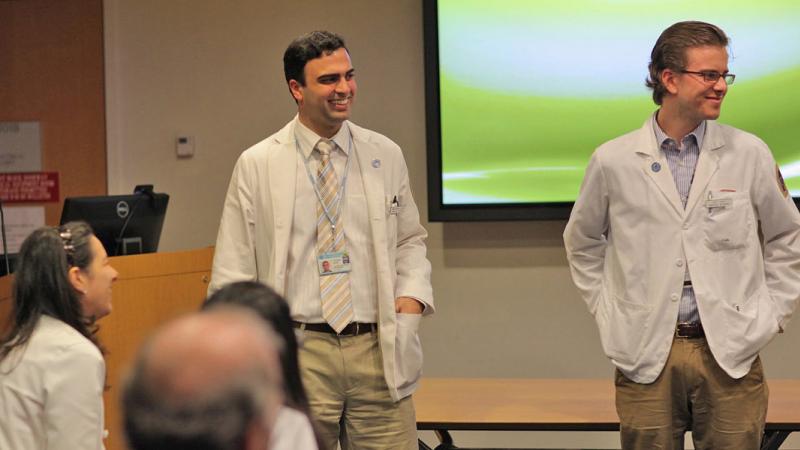 The Department of Urology offers several opportunities to expose medical students to common urologic conditions and treatments. Dr. Gina Badalato, Assistant Professor of Urology, is the Director of Medical Student Education in the Department of Urology.
Urology Clerkship
During the Major Clinical Year (MCY), Columbia VP&S students participate in 1-week clerkships. The goal of the rotation is for students to gain an ability to recognize and diagnose common diseases of the genitourinary system through bedside teaching seminars and didactics in private practice and OR settings.
4th Year Electives
The Department of Urology offers VP&S and Visiting 4th year medical students the opportunity to complete a 4-week sub-internship in urology.
Sub-Internship in Urology
The primary objective of the rotation is to expose the sub-intern to an intensive experience managing complex urologic conditions, and to what a career in urologic surgery will entail. In addition, the sub-internship serves as a means of evaluating the student's potential for future accomplishments in the field.
During the month on the service, we expect students to function as a direct member of the house staff team to which they are assigned. Students will be assigned to assist in the operating room and the cystoscopy suite on a rotational basis. Students will be exposed to all components of adult urology including urologic oncology, voiding dysfunction, endoscopy and minimally invasive surgery, infertility and erectile dysfunction, pediatric urology, and reconstructive urology. Students will be exposed to inpatient services at Milstein Hospital and NYP-Morgan Stanley Children's Hospital; outpatient experiences will also be available at certain affiliated locations.
Students will be evaluated on professionalism, willingness to learn, interaction with patients and staff, as well as growth in fund of knowledge. They will be required to prepare and present one formal grand rounds presentation on a topic of their choosing based on a clinical case in which they were involved.
Dr. Badalato will provide direct support counseling and teaching throughout the rotation. A scheduled time will be available to meet with Dr. Badalato after two weeks of the rotation to provide feedback and incorporate the student's suggestions for making the rotation more rewarding.
Students will be assigned a grade (H/HP/P/F) based on attendance, participation, case presentations and interactions with residents, faculty and staff. At the completion of the rotation, the student will receive a final summative assessment and evaluation by the course director.
Visiting Sub-intern Diversity Scholarship
Our Department welcomes students from diverse backgrounds to do a visiting sub-internship. We are providing a $1,500 scholarship to a qualifying student to help defray the cost of an away rotation at our institution. This program has been created specifically for those students who identify as Black, Latino/Hispanic, Native American, Native Hawaiian, or Pacific Islander.
Eligibility Requirements
In addition to meeting the criteria above, candidates must fulfill the following eligibility requirements:
Must meet requirements for enrollment via the Columbia Vagelos College of Physicians and Surgeons Visiting Student Program
Plan to rotate on a four-week Sub-internship in our department during the months of July, August, or September of 2021
Submit a brief statement as to why the candidate is interested in rotating in our department
Provide contact information of a faculty member that may serve as a reference for their application. The contact information should include the reference's name, title, nature of relationship to applicant, telephone number, and email address.
The last two eligibility requirements should be submitted as a one document pdf to Mrs. Laura Z. Vargas, Department of Urology Medical Education Coordinator, at lp2224@cumc.columbia.edu.