Prospective Students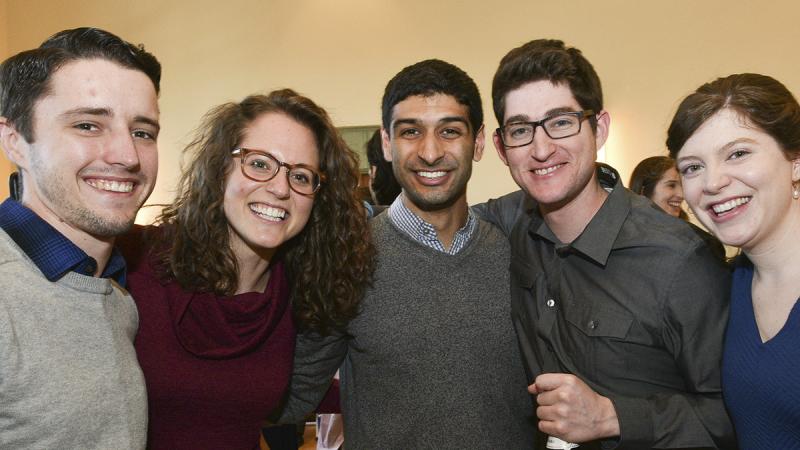 Want to learn more about genetic counseling and the Columbia University Genetic Counseling Graduate Program? Join us for one or more of the following opportunities. Contact us at gc-program@cumc.columbia.edu to register.
Webinars
Events in our 2021 webinar series are listed below, all times are Eastern. 
Genetic Counselors, the Future of Genomic Medicine: discover who genetic counselors are and what they do. This webinar provides an overview of the profession of genetic counseling, including example clinical cases, various career paths, and next steps to prepare for graduate school.
Wednesday, May 5 at 6pm
Tuesday, July 13 at 4pm
Monday, October 18 at 7pm
A "How-To" Guide for Applying to Columbia University Genetic Counseling Graduate Program: learn more about the application process at Columbia. This webinar provides an overview of admission, including information about program prerequisites and other recommended pre-graduate experiences.​
Tuesday, May 25 at 4pm
Monday, August 9 at 6pm
Wednesday, November 10 at 7pm
Financing a Genetic Counseling Graduate Degree: learn more about resources to assist you in successfully financing a graduate education in genetic counseling. This webinar provides an overview of anticipated financial costs of completing a graduate degree, including opportunities for scholarships and work-study, and planning ahead for loan repayment.
Wednesday, June 23 at 6pm
Thursday, September 16 at 7pm
Meet the Columbia GC Program Students: join us to meet representatives from the Class of 2022 and 2023. Hear from them about what drew them to Columbia, their experiences in the program so far, and life as a student in NYC.
​Wednesday, December 8 at 8pm
Open Houses
We invite you to join us virtually to learn more about the Columbia University Irving Medical Center campus and discover the unique strengths of our graduate program. Meet faculty and students, explore our curriculum, and learn more about applying. You are encouraged to attend one or more of the program webinars in advance of attending an open house. 2021 open houses are listed below, all times are Eastern.
Wednesday, October 6 from 6:30-8:30pm
Tuesday, October 26 from 6:30-8:30pm
Application Workshops
Join us remotely for "office hours" as you work on your Columbia application. Our workshops are a time for you to ask questions and receive support for submitting an organized and complete admission application. Each workshop will address different aspects of our application. Space is limited in each session, email us at gc-program@cumc.columbia.edu to request a spot in the workshop(s) you wish to attend. All times are Eastern.
Letters of recommendation/transcripts/standardized testing

Monday, November 29 at 3pm and 3:30pm
Tuesday, December 7 at 6pm and 6:30pm

Resume/CV and Coursework & Counseling Form

Wednesday, December 1 at 6pm and 6:30pm
Monday, December 13 at 3pm and 3:30pm

Personal statement

Thursday, December 9 at 3pm and 3:30pm
Wednesday, December 15 at 6pm and 6:30pm
Columbia Pre-Genetic Counselor Experiential Practicum
Gain hands-on experience of the clinical work done by genetic counselors. This in-depth exploration of the profession is essential prior to applying to graduate school. We realize that access to shadowing and genetic counseling internships may be limited and have developed the practicum to assist prospective students in gaining meaningful exposure to the practice and art of genetic counseling. Those accepted into the practicum will engage online/remotely with our genetic counselor faculty, observing and debriefing about client sessions in various specialty clinics, including reproductive genetics, general genetics, cancer genetics, and neurogenetics. Practicum participants will also have the opportunity to attend an interdisciplinary genetics meeting on our campus (remotely) and participate in a journal club focused on the clinical specifics of genetic counseling and work with clients. Applications for the Fall 2021 cycle are now closed, check back for more information about our 2022 practicums which will be posted in the spring.