About the Department of Radiation Oncology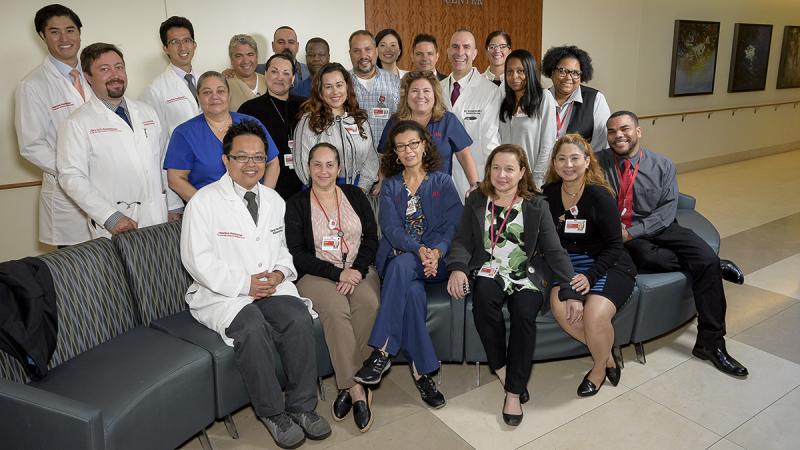 The practice of radiation oncology advances continuously. Major strides in technology allow physicians to treat patients more comfortably and with better results than ever before. Biological and genetic research is helping to unravel the mysteries and benefits of radiation treatment for cancer at a remarkable rate. Those discoveries are leading to dramatic results in patient care.
At Columbia University Irving Medical Center (CUIMC), we are at the forefront of this progress. Home of the prestigious Columbia University Center for Radiological Research, the nation's largest and most experienced university-based research center for radiation biology, the doctors and scientists of Columbia Radiation Oncology are world renowned.
We firmly believe that the compassionate care delivered every day by our dedicated physicians and staff is one of our greatest assets. We strive to make each patient's unique experience positive and supportive.
The safety and quality of treatments delivered to our patients are always the primary concern of every member of the Columbia radiation oncology clinicians and our multidisciplinary team. We have developed a comprehensive quality assurance program at the Herbert Irving Comprehensive Cancer Center (HICCC). As a nationally recognized leader in the field of radiation oncology, our standards for safety serve as an example for other academic and community-based radiation oncology practices. Our safety program is nationally accredited by the American College of Radiology, and its practices go well beyond our peers by integrating innovative safety techniques and protocols developed by clinical experts at our institution. We are fortunate to have internationally recognized clinicians, physicists, and researchers on our staff to help develop and integrate into our clinical practice.
The Department of Radiation Oncology at Columbia University Irving Medical Center offers the most comprehensive care available anywhere in the world for both adult and pediatric patients with many different kinds of cancer.
Our experts were among the first in the nation to refine and introduce the following innovative treatments and technologies:
3D Conformal Radiation
4D CT Treatment Planning and Delivery
Adaptive Radiation Therapy (ART)
Brachytherapy – HDR / LDR / Eye Plaque
CTVision
External Beam Radiation Therapy
Gamma Knife Radiosurgery
Hypofractionated Breast Radiotherapy
Image Guided Radiotherapy (IGRT)
Intensity Modulated Radiotherapy (IMRT)
Intraoperative Radiation Therapy (IORT)
Linear Accelerator-Based Stereotactic Radiosurgery
Partial Breast Irradiation
Respiratory Gating
Stereotactic Body Radiation Therapy (SBRT)
Stereotactic Radiosurgery (SRS)
Total Body Irradiation (TBI)
Total Body Skin Electron Treatment (TSET)
Volumetric Arc Therapy (VMAT) - RapidArc
Each year we make new advances in the field of cancer treatment, working with Columbia's Center for Radiological Research, the nation's largest and most prestigious research center for the study of radiation biology. Our dedication to research and education continue to improve our patients' outcomes and quality of life.
We also provide a wide range of patient support services including:
Medical advice on lifestyle, exercise, diet, and nutrition
Psychological counseling and support groups
Consultation on pain management
Patient web portals offering easy access to test results, appointments, and follow-up care