Louisa Gross Horwitz Prize Lecture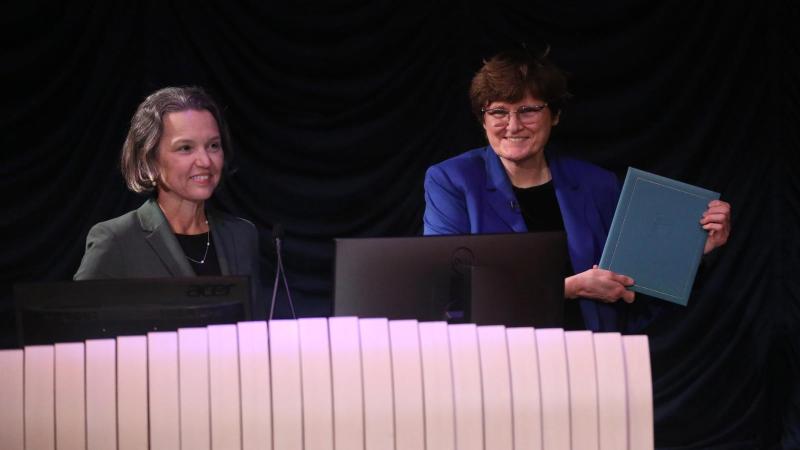 The Louisa Gross Horwitz Prize was established under the will of the late S. Gross Horwitz through a bequest to Columbia University and is named in honor of the donor's mother. Louisa Gross Horwitz was the daughter of prominent Philadelphia surgeon Samuel David Gross (1805–1889), who wrote the outstanding two volume work Systems of Surgery and served as president of the American Medical Association.
Each year since its inception in 1967, the Louisa Gross Horwitz Prize has been awarded by Columbia University for outstanding basic research in the fields of biology or biochemistry. The purpose of this award is to honor a scientific investigator or group of investigators whose contributions to knowledge in either of these fields are deemed worthy of special recognition.
2022
Karl Deisseroth, Stanford University, USA
Peter Hegemann, Humboldt-Universität zu Berlin, Germany
Gero Miesenböck, University of Oxford, UK
2021
Katalin Karikó, BioNTech SE; University of Pennsylvania
Drew Weissman, University of Pennsylvania
2020
Robert Fettiplace, University of Wisconsin-Madison
A. James Hudspeth, Howard Hughes Medical Institute; The Rockefeller University
Christine Petit, Collège de France; Pasteur Institute
2019
Lewis C. Cantley, Weill Cornell Medicine, New York, NY
David M. Sabatini, Massachusetts Institute of Technology, Cambridge, MA
Peter K. Vogt, Scripps Research, La Jolla, CA
2018
Bert W. O'Malley, Baylor College of Medicine
Ronald M. Evans, Howard Hughes Medical Institute; Salk Institute for Biological Studies
Pierre Chambon, Institute for Advanced Study of the University of Strasbourg, France; Institut de Génétique et de Biologie Moléculaire et Cellulaire
2017
Jeffrey I. Gordon, Washington University School of Medicine in St. Louis, MO
2016
Howard Cedar, Hebrew University of Jerusalem, Israel
Gary Felsenfeld, National Institute of Diabetes and Digestive and Kidney Diseases
Aharon Razin, Hebrew University of Jerusalem, Israel
2015
Lawrence Zipursky, Howard Hughes Medical Institute; University of California, Los Angeles
2014
James P. Allison, University of Texas, MD Anderson Cancer Center
2013
John Michael O'Keffe, University College London, England
Edvard I. Moser II, Norwegian University of Science and Technology, Trondheim, Norway
May-Britt Moser, Norwegian University of Science and Technology, Trondheim, Norway
2012
Joe Lutkenhaus, University of Kansas Medical School
Richard Losick, Harvard University
Lucy Shapiro, Stanford University School of Medicine
2011
Jeffery C. Hall, Brandeis University
Michael Rosbash, Brandeis University
Michael W. Young, The Rockefeller University
2010
Thomas J. Kelly, Memorial Sloan Kettering Cancer Center
Bruce Stillman, Cold Spring Harbor Laboratory
2009
Victor R. Ambrose, University of Massachusetts Medical School
Gary Ruvkun, Harvard Medical School
2008
F. Ulrich Hartl, Max-Planck-Institute of Biochemistry Martinsried, Germany
Arthur Horwich, Howard Hughes Medical Institute; Yale University School of Medicine
2007
Joseph G. Gall, Carnegie Institution of Washington
Elizabeth H. Blackburn, University of California, San Francisco
Carol W. Greider, Johns Hopkins University School of Medicine
2006
Roger D. Kornberg, Stanford University School of Medicine
2005
Ada Yonath, Weizmann Institute of Science, Rehovot, Israel
2004
Tony Hunter, Salk Institute for Biological Studies
Anthony Pawson, University of Toronto, Canada
2003
Roderick MacKinnon, The Rockefeller University
2002
James E. Rothman, Sloan-Kettering Institute
Randy W. Schekman, University of California, Berkeley
2001
Avram Hershko, Technion-Israel Institute of Technology, Israel
Alexander Varshavsky, California Institute of Technology
2000
H. Robert Horvitz, Massachusetts Institute of Technology
Stanley J. Korsmeyer, Harvard Medical School
1999
Pierre Chambon, Institute Génétique et de Biologie Moleculaire et Cellulaire, Université L. Pasteur, Strasbourg, France; Collége de France, Paris
Robert Roeder, The Rockefeller University
Robert Tijan, Howard Hughes Medical Institute; University of California, Berkeley
1998
Arnold J. Levine, The Rockefeller University
Bert Vogelstein, Johns Hopkins University
1997
Stanley B. Prusiner, University of California, San Francisco
1996
Clay M. Armstrong, University of Pennsylvania
Bertil Hille, University of Washington, Seattle
1995
Leland H. Hartwell, University of Washington, Seattle
1994
Philippa Marrack, University of Colorado Health Sciences Center, Boulder
John W. Kappler, University of Colorado Health Sciences Center, Boulder
1993
Nicole Le Douarin, Institut d'Embryologie Cellulaire et Moléculaire, Nogent-sur-Marne, France
Donald Metcalf, The Walter and Eliza Hall Institute of Medicine, Victoria, Australia
1992
Christiane Nüsslein-Volhard, Max-Planck-Institut für Entwicklungbiologie, Tübingen, Germany
Edward B. Lewis, California Institute of Technology
1991
Richard Ernst, Laboratorium für Physikalische Chemie, Zurich, Switzerland
Kurt Wuthrich, Swiss Federal Institute of Technology; Institut für Molekularbiologie und Biophysik, Zurich. Switzerland
1990
Stephen Harrison, Howard Hughes Medical Institute; Harvard University
Michael G. Rossmann, Purdue University
Don C. Wiley, Howard Hughes Medical Institute; Harvard University
1989
Alfred G. Gilman, The University of Texas Southwestern Medical Center
Edwin G. Krebs, Howard Hughes Medical Institute; University of Washington, Seattle
1988
Thomas R. Cech, University of Colorado, Boulder
Philip A. Sharp, Massachusetts Institute of Technology
1987
Günter Blobel, The Rockefeller University
1986
Erwin Neher, Max-Planck Institute for Biophysical Chemistry, Gottingen, Germany
Bert Sakmann, Max-Planck Institute for Biophysical Chemistry, Gottingen, Germany
1985
Donald D. Brown, Carnegie Institution of Washington
Mark Ptashne, Harvard University
1984
Michael S. Brown, The University of Texas Southwestern Medical Center
Joseph Goldstein, The University of Texas Southwestern Medical Center
1983
Stanley Cohen, Vanderbilt University School of Medicine, Nashville
Vitkor Hamburger, Washington University, St. Louis
Rita Levi-Montalcini, Instituto di Biologia Cellulare, Rome
1982
Barbara McClintock, Cold Spring Harbor Laboratory
Susumu Tonegawa, Massachusetts Institute of Technology
1981
Aaron Klug, Medical Research Council, Laboratory of Molecular Biology, Cambridge, England
1980
Cesar Milstein, Medical Research Council, Laboratory of Molecular Biology, Cambridge, England
1979
Walter Gilbert, Harvard University
Frederick Sanger, Medical Research Council of Molecular Biology, Cambridge, England
1978
David Hubel, Harvard University School of Medicine
Vernon Mountcastle, Johns Hopkins University School of Medicine
Torsten Wiesel, The Rockefeller University
1977
Michael Heidelberger, New York University School of Medicine
Elvin A. Kabat, Columbia University
Henry G. Kunkel, Columbia University
1976
Seymour Benzer, California Institute of Technology
Charles Yanofsky, Stanford University
1975
K. Sune D. Bergstrom, Nobel Foundation, Stockholm
Bengt Samuelsson, Karolinska Institute, Stockholm
1974
Boris Ephrussi, University of Paris, France
1973
Renato Dulbecco, The Salk Institute
Harry Eagle, Albert Einstein College of Medicine
Theodore T. Puck, University of Colorado Medical Center
1972
Stephen W. Kuffler, Harvard Medical School
1971
Hugh E. Huxley, Medical Research Council, Laboratory of Molecular Biology, Cambridge, England
1970
Albert Claude, Universite Catholoque de Louvain, Louvain, Belgium
George E. Palade, Yale University School of Medicine
Keith R. Porter, University of Maryland-Baltimore County
1969
Max Delbrück, California Institute of Technology
Salvador E. Luria, Massachusetts Institute of Technology
1968
H. Gobind Khorana, Massachusetts Institute of Technology
Marshall Warren Nirenberg, National Heart, Lung & Blood Institute, Bethesda, MD
1967
Luis F. Leloir, Instituto de Investigaciones Bioquimicas, Buenos Aires, Argentina