Matthew R. Baldwin, MD, MS
Critical Care Medicine, Internal Medicine, Pulmonary Disease Medicine, Pulmonology
More specialties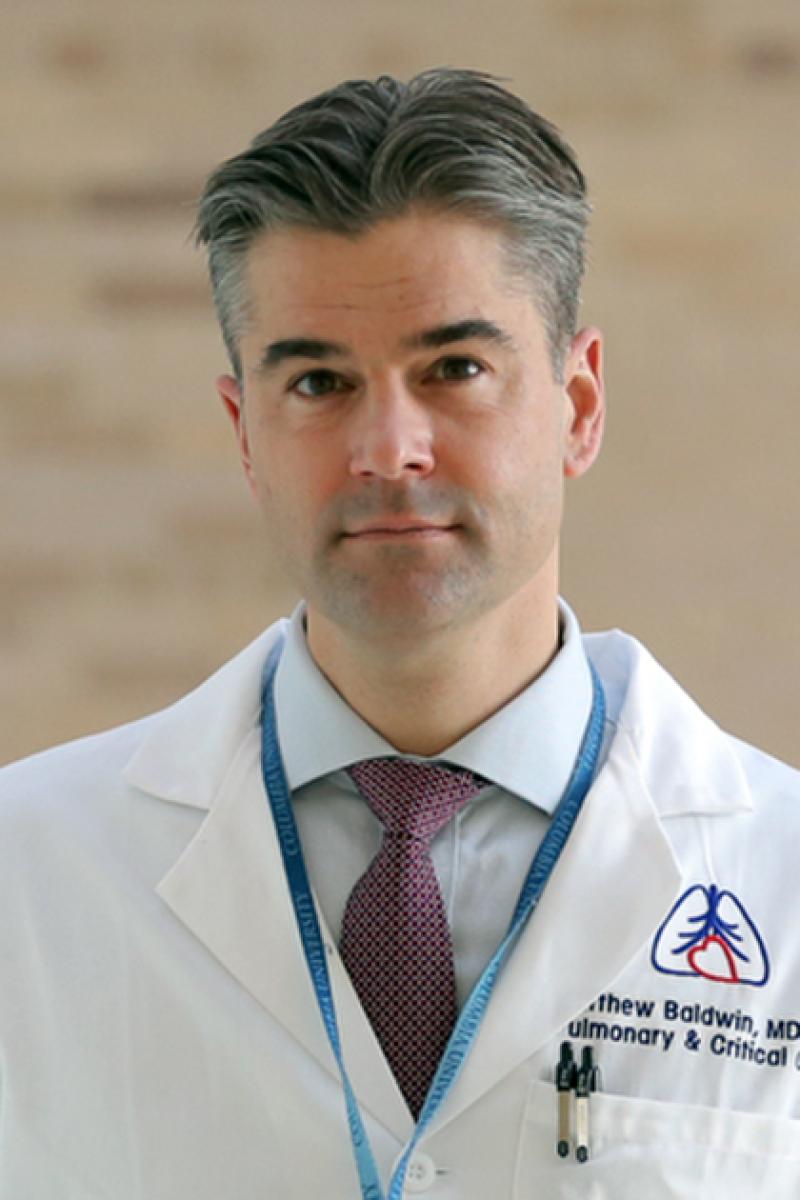 Overview
Dr. Baldwin is a board-certified pulmonary and critical care physician and clinical investigator with a Masters in Biostatistics. Dr. Baldwin's research aims to improve critical illness survivorship and spans three areas of study.
Epi-mechanistic research to endophenotype acute respiratory failure survivors and COVID survivors to elucidate mechanisms of physical impairment as therapeutic targets for improving long-term recovery.
Clinical and epidemiologic research with a focus on clinical risk prediction modeling and health disparities outcomes.
Novel palliative care interventions aimed at improving ICU survivorship. For example, chaplain-led communication-board-guided spiritual care for mechanically ventilated patients.
Areas of Expertise / Conditions Treated
Acute Respiratory Distress Syndrome (ARDS)
Critical Care
General Pulmonology
Intensive Care
Pulmonary Critical Care Medicine
Pulmonary Disease
Pulmonary Medicine
Respiratory Failure
Academic Appointments
Herbert Irving Assistant Professor of Medicine at CUMC
Hospital Affiliations
NewYork-Presbyterian / Columbia University Irving Medical Center
NewYork-Presbyterian Allen Hospital
Schedule an Appointment
Connect Patient Portal
For existing patients, login to make an appointment, view documentation or contact your care provider.
Insurance Accepted
*Please contact the provider's office directly to verify that your particular insurance is accepted.
Credentials & Experience
Education & Training
MD, Columbia University College of Physicians and Surgeons
Residency: Johns Hopkins Hospital
Fellowship: NewYork-Presbyterian Hospital/Columbia University Medical Center
Board Certifications
Critical Care Medicine
Internal Medicine
Pulmonary Disease Medicine
Honors & Awards
Phi beta Kappa
Alpha Omega Alpha
NIH loan repayment awardee
NIA K23 awardee
Department of Defense PRMP awardee
Research
Research Interests
Acute Respiratory Distress Syndrome (ARDS)
Acute Respiratory Failure
Chronic critical illness
Critical care outcomes after hospital discharge
Lung Transplantation
Measuring and treating frailty among elderly survivors of critical illness
Palliative care for chronically and critically ill
Grants
W81XWH2110217
04/01/2021-03/31/2025
Department of Defense, Peer Reviewed Medical Research Program
Title: Covid-19 Lung Injury, ARDS, and Thrombosis: Acute Disease and Long-Term Sub-Phenotypes.
Role: PI, Co-PI Christine Garcia, MD, PhD
COVID-19 Clinical Trial 
09/01/2020-08/30/2021
Apellis Pharmaceuticals
Title/Goal: A randomized, double-blind, vehicle-controlled, multi-center, study of APL-9 (second generation
complement-3 inhibitor) in mild to moderate acute respiratory distress syndrome due to COVID-19.
Role: Site PI
Selected Publications
Risk-stratification, phenotyping, and discovery of mechanisms that may represent therapeutic targets in acute respiratory failure survivors.
Baldwin MR, Pollack LR, Friedman RA, Norris SP, Javaid A, O'Donnell MR, Cummings MJ, Needham DM, Colantuoni E, Maurer MS, Lederer DJ. Frailty subtypes and recovery in older survivors of acute respiratory failure: a pilot study. Thorax. 2020; 76(4):350-359. PMID: 33298583. 
Rosenberg BJ, Hirano M, Quinzii CM, Colantuoni E, Needham DM, Lederer DJ, Baldwin MR. Growth differentiation factor-15 as a biomarker of strength and recovery in survivors of acute respiratory failure. Thorax. 2019; 74(11):1099-1101. PMID: 31534031; PMCID: PMC7043788.
Baldwin MR, Singer JP, Huang D, Sell J, Gonzalez WC, Pollack LR, Maurer MS, D'Ovidio FF, Bacchetta M, Sonett JR, Arcasoy SM, Shah L, Robbins H, Hays SR, Kukreja J, Greenland JR, Shah RJ, Leard L, Morrell M, Gries C, Katz PP, Christie JD, Diamond JM, Lederer DJ. Refining Low Physical Activity Measurement Improves Frailty Assessment in Advanced Lung Disease and Survivors of Critical Illness. Annals of the American Thoracic Society. 2017; 14(8):1270-9. PMID: 28398076; PMCID: PMC5566272.
Philpotts YF, Ma X, Anderson MR, Hua M, Baldwin MR. Health Insurance and Disparities in Mortality among Older Survivors of Critical Illness: A Population Study. Journal of the American Geriatrics Society. 2019; 67(12):2497-2505. PMID: 31449681; PMCID: PMC7208434.
Discovery of immunophenotypes of COVID-19 ARDS and pulmonary fibrosis sub-phenotypes of COVID-19 survivors.
Anderson MR, Geleris J, Anderson DR, Zucker J, Nobel YR, Freedberg D, Small-Saunders J, Rajagopalan KN, Greendyk R, Chae SR, Natarajan K, Roh D, Edwin E, Gallagher D, Podolanczuk A, Barr RG, Ferrante AW, Baldwin MR. Body Mass Index and Risk for Intubation or Death in SARS-CoV-2 Infection: A Retrospective Cohort Study. Annals of Internal Medicine. 2020; 173(10):782-790. PMID: 32726151; PMCID: PMC7397550.
Weisberg SP, Connors T, Zhu Y, Baldwin MR, Lin WH, Wontakal S, Szabo PA, Wells SB, Dogra P, Gray JI, Idzikowski E, Bovier F, Davis-Porada J, Matsumoto R, Li Poon MM, Chait MP, Mathieu C, Horvat B, Decimo D, Bitan ZC, La Carpia F, Ferrara SA, Mace E, Milner J, Moscona A, Hod EA, Porotto M, Farber DL. Antibody responses to SARS-CoV2 are distinct in children with MIS-C compared to adults with COVID-19. Nature Immunology. 2021; 22(1):25-31. PMID: 33154590; PMCID: PMC8136619.
Szabo PA, Dogra P, Gray JI, Wells SB, Connors TJ, Weisberg SP, Krupska I, Matsumoto R, Poon MML, Idzikowski E, Morris SE, Pasin C, Yates AJ, Ku A, Chait M, Davis-Porada J, Zhou J, Steinle M, Mackay S, Saqi A, Baldwin M, Sims PA, Farber DL. Interplay of respiratory and systemic immune responses in the pathogenesis of severe COVID-19. Immunity 2021 54(4):797-814. PMID: 33765436 PMCID: PMC7951561.
McGroder C, Zhang D, Choudhury M, Salvatore M, D'Souza B, Hoffman E, Wei Y, Baldwin MR*, Garcia CK*. Pulmonary Fibrosis Four Months after COVID-19 is Associated with Severity of Illness and Blood Leukocyte Telomere Length. Thorax. 2021; April 29: online ahead of print.*Co-senior authors. PMID: 33927016.
Determining the clinical-epidemiologic effects of COVID-19 therapeutics and outcomes.
Cummings MJ, Baldwin MR, Abrams D, Jacobson BA, Meyer BJ, Balough EM, Aaron JG, Claassen J, Rabbani LE, Hastie J, Hochman BR, Salazar-Schicchi J, Yip NH, Brodie D, O'Donnell MR. Epidemiology, clinical course, and outcomes, of critically ill adults with COVID-19 in New York City: a prospective cohort study. Lancet. 2020;395(10239):1763-1770. PMID: 32442528; PMCID: PMC7237188
Geleris J, Sun Y, Platt J, Zucker J, Baldwin M, Hripcsak G, Labella A, Manson DK, Kubin C, Barr RG, Sobieszczyk ME, Schluger NW. Observational Study of Hydroxychloroquine in Hospitalized Patients with Covid-19. The New England Journal of Medicine. 2020; 382:2411-2418; PMID: 32379955 PMCID:PMC7224609.