Eldad A. Hod, MD
Blood Banking/Transfusion Medicine, Pathology - Anatomic & Clinical, Pathology-Anatomic/Pathology-Clinical
More specialties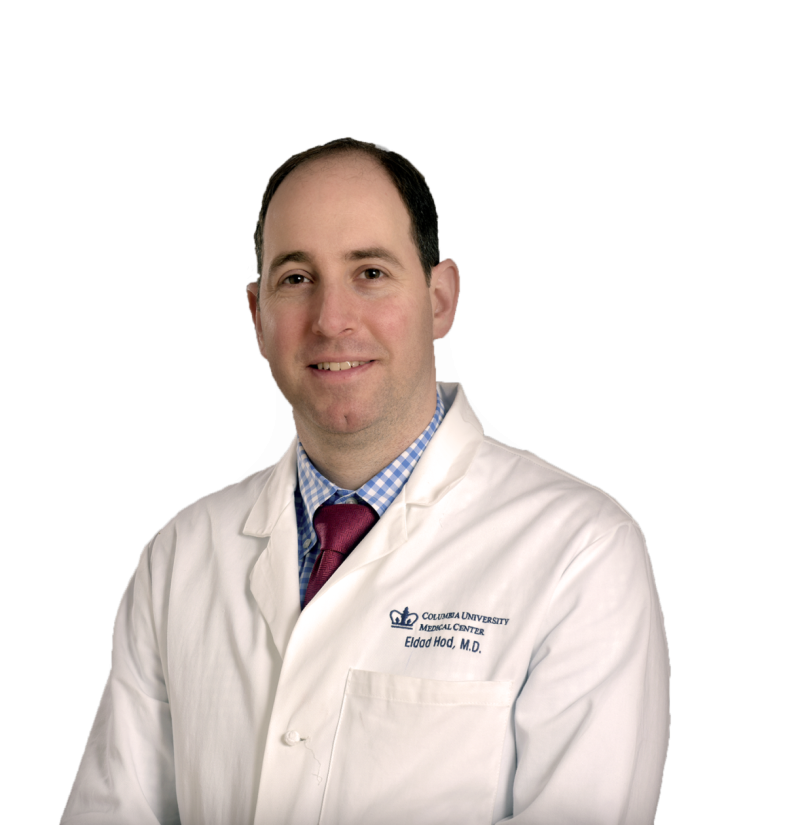 Overview
Areas of Expertise / Conditions Treated
Academic Appointments
Professor of Pathology and Cell Biology
Administrative Titles
Associate Director, Automated Core Laboratories
Director, Center for Advanced Laboratory Medicine
Vice Chair for Laboratory Medicine
Hospital Affiliations
NewYork-Presbyterian / Columbia University Irving Medical Center
Schedule an Appointment
Connect Patient Portal
For existing patients, login to make an appointment, view documentation or contact your care provider.
Insurance Accepted
Cigna
EPO
Great West (National)
HMO
POS
PPO
Emblem/GHI
Medicare Managed Care
PPO
Emblem/HIP
ConnectiCare
EPO
Essential Plan
HMO
Medicaid Managed Care
Medicare Managed Care
POS
PPO
Select Care (Exchange)
Vytra
Medicare
Railroad
Traditional Medicare
UnitedHealthcare
Columbia University Employee Plan
Compass (Exchange)
Empire Plan
HMO
Medicare Managed Care
POS
PPO
*Please contact the provider's office directly to verify that your particular insurance is accepted.
Credentials & Experience
Education & Training
Residency: NewYork-Presbyterian Hospital/Columbia University Medical Center
Fellowship: New York Blood Center
Board Certifications
Blood Banking/Transfusion Medicine
Pathology-Anatomic/Pathology-Clinical
Honors & Awards
1994 - Westinghouse Finalist
2004 - Arnold P. Gold Humanism in Medicine Honors Society
2005 - Alpha Omega Alpha (AOA)
2010 - Louis V. Gerstner, Jr., Scholar
2014 - Jean Julliard Prize
2014 - National Blood Foundation (NBF) Scholar
2014 - Jack Latham Memorial Award for Innovative Research, National Blood Foundation (NBF)
2020 - Member of National Blood Foundation (NBF) Hall of Fame
Research
My current research program uses in vitro systems, mouse models, and human studies to investigate important problems relating to red blood cell transfusion and iron biology, particularly related to refrigerated storage, iron deficiency, hemolytic transfusion reactions, red blood cell senescence, and phagocytosis.
Clinical Trials
COVID-19 STUDIES - Recruiting people who have recovered from COVID-19 (Coronavirus) to donate convalescent plasma.
Donor Iron Deficiency Study (DIDS) - ClinicalTrials.gov NCT02889133. A randomized trial to determine if red blood cells from donors with iron deficient erythropoiesis have decreased post-transfusion red blood cell recovery and whether iron repletion improves recovery.
Selected Publications
Hod EA, Zhang N, Sokol SA, Wojczyk BS, Francis RO, Ansaldi D, Francis KP, Della-Latta P, Whittier S, Sheth S, Hendrickson JE, Zimring JC, Brittenham GM, Spitalnik SL. Transfusion of red blood cells after prolonged storage produces harmful effects that are mediated by iron and inflammation. Blood. 2010;115: 4284-92.
Jang J, Hod EA, Spitalnik SL, Frenette P. CXCL1 and its receptor, CXCR2, mediate murine sickle cell vaso-occlusion during hemolytic transfusion reactions. J Clin Invest. 2011;121(4):1397-401. PMCID: PMC3069787.
Hod EA, Brittenham GM, Billote GB, Francis RO, Ginzburg YZ, Hendrickson JE, Jhang J, Schwartz J, Sharma S, Sheth S, Sireci A, Stephens HL, Stotler BA, Wojczyk BS, Zimring JC, Spitalnik SL. Transfusion of human volunteers with older, stored red blood cells produces extravascular hemolysis and circulating non-transferrin-bound iron. Blood. 2011;118(25):6675-82. PMID: 22021369. PMCID: PMC3242722.
Callan MB, Patel RT, Rux AH, Bandyopadhyay S, Sireci AN, O'Donnell PA, Ruane T, Sikora T, Marryott K, Sachais BS, Hod EA. Transfusion of 28 Day-Old Leukoreduced or Non-Leukoreduced Stored Red Blood Cells Induces an Inflammatory Response in Healthy Dogs. Vox Sang. 2013 Nov;105(4):319-327. PMID: 23763639. PMCID: PMC3797206.
Prestia K, Bandyopadhyay S, Slate AR, Francis RO, Francis KP, Spitalnik SL, Fidock DA, Brittenham GM, Hod EA. Transfusion of stored blood impairs host defenses against gram-negative pathogens in mice. Transfusion. 2014 Nov;54(11): 2842-51. PMID: 24840185. PMCID: PMC4229414.
Steiner ME, Ness PM, Assmann SF, Triulzi DJ, Sloan SR, Delaney M, Granger S, Bennett-Guerrero E, Blajchman MA, Scavo V, Carson JL, Levy JH, Whitman G, D'Andrea P, Pulkrabek S, Ortel TL, Bornikova L, Raife T, Puca KE, Kaufman RM, Nuttall GA, Young PP, Youssef S, Engelman R, Greilich PE, Miles R, Josephson CD, Bracey A, Cooke R, McCullough J, Hunsaker R, Uhl L, McFarland JG, Park Y, Cushing MM, Klodell CT, Karanam R, Roberts PR, Dyke C, Hod EA, Stowell CP. Effects of red cell storage duration in cardiac surgery patients. N Engl J Med. 2015; 372(15):1419-29. PMID: 25853746.
L'Acqua C, Bandyopadhyay S, Francis RO, McMahon DJ, Nellis M, Sheth S, Kernie SG, Brittenham GM, Spitalnik SL, Hod EA. Red blood cell transfusion is associated with increased hemolysis and an acute phase response in a subset of critically ill children. Am J Hematol. 2015; 90(10):915-20. PMID: 26183122.
de Swart L, Hendriks JC, van der Vorm LN, Cabantchik ZI, Evans PJ, Hod EA, Brittenham GM, Furman Y, Wojczyk B, Janssen MC, Porter JB, Mattijssen VE, Biemond BJ, MacKenzie MA, Origa R, Galanello R Deceased, Hider RC, Swinkels DW. Second International Round Robin for the Quantification of Serum Non-Transferrin-Bound Iron and Labile Plasma Iron in Patients with Iron-Overload Disorders. Haematologica. 2016 Jan;101(1):38-45. PMID: 26385212. PMCID: PMC4697890.
Yaghi S, Boehme AK, Hazan R, Hod EA, Canaan A, Andrews HF, Kamel H, Marshall RS, Elkind MS. Atrial Cardiopathy and Cryptogenic Stroke: A Cross-sectional Pilot Study. J Stroke Cerebrovasc Dis. 2016 Jan;25(1):110-4. PMID: 26476588 PMCID: PMC4695267.
Elkind MSV, Hills NK, Glaser CA, Lo WD, Amlie-Lefond C, Dlamini N, Kneen R, Hod EA, Wintermark M, deVeber GA, Fullerton HJ, and the VIPS Investigators*. Herpesvirus Infections and Childhood Arterial Ischemic Stroke: Results of the VIPS Study. Circulation. 2016 Feb 23;133(8):732-41. PMID: 26813104.
Gibb DR, Calabro S, Liu D, Tormey CA, Spitalnik SL, Zimring JC, Hendrickson JE, Hod EA*, Eisenbarth SC*. The Nlrp3 Inflammasome Does Not Regulate Alloimmunization to Transfused Red Blood Cells in Mice. EBioMedicine. 2016 9:77-86.
Fullerton HJ, deVeber GA, Hills NK, Dowling MM, Fox CK, Mackay MT, Kirton A, Yager JY, Bernard TJ, Hod EA, Wintermark M, Elkind MS; VIPS Investigators. Inflammatory Biomarkers in Childhood Arterial Ischemic Stroke: Correlates of Stroke Cause and Recurrence. Stroke. 2016 47:2221-8. PMID: 27491741
Barasch J, Hollmen M, Deng R, Hod EA, Rupert PB, Abergel RJ, Allred BE, Xu K, Darrah SF, Tekabe Y, Perlstein A, Wax R, Bruck E, Stauber J, Corbin KA, Buchen C, Slavkovich V, Graziano J, Spitalnik SL, Bao G, Strong RK, Qiu A. Disposal of iron by a mutant form of lipocalin 2. Nat Commun. 2016 Oct 31;7:12973.
Rapido F, Brittenham GM, Bandyopadhyay S, La Carpia F, L'Acqua C, McMahon DJ, Rebbaa A, Wojczyk BS, Netterwald J, Wang H, Schwartz J, Eisenberger A, Soffing M, Yeh R, Divgi C, Ginzburg YZ, Shaz BH, Sheth S, Francis RO, Spitalnik SL, Hod EA. Prolonged red cell storage before transfusion increases extravascular hemolysis. J Clin Invest. 2017 Jan 3; 127(1):375-382.
Francis RO, Hod EA. The questions surrounding stored blood do not get old. Transfusion. 2017 Jun;57(6):1328-1331. doi: 10.1111/trf.14129. PubMed PMID: 28594139.
Nemkov T, Sun K, Reisz JA, Song A, Yoshida T, Dunham A, Wither MJ, Francis RO, Roach RC, Dzieciatkowska M, Rogers SC, Doctor A, Kriebardis A, Antonelou M, Papassideri I, Young CT, Thomas TA, Hansen KC, Spitalnik SL, Xia Y, Zimring JC, Hod EA, D'Alessandro A. Hypoxia modulates the purine salvage pathway and decreases red blood cell and supernatant levels of hypoxanthine during refrigerated storage. Haematologica. 2018 Feb;103(2):361-372. doi: 10.3324/haematol.2017.178608. Epub 2017 Oct 27. PubMed PMID: 29079593; PubMed Central PMCID: PMC5792281.
Youssef LA, Rebbaa A, Pampou S, Weisberg SP, Stockwell BR, Hod EA, Spitalnik SL. Increased erythrophagocytosis induces ferroptosis in red pulp macrophages in a mouse model of transfusion. Blood. 2018 Jun 7;131(23):2581-2593. doi: 10.1182/blood-2017-12-822619. Epub 2018 Apr 17. PubMed PMID: 29666112; PubMed Central PMCID: PMC5992863.
Bitan ZC, Zhou A, McMahon DJ, Kessler D, Shaz BH, Caccappolo E, Schwartz J, Francis RO, Brittenham GM, Spitalnik SL, Hod EA. Donor Iron Deficiency Study (DIDS): protocol of a study to test whether iron deficiency in blood donors affects red blood cell recovery after transfusion. Blood Transfus. 2019 Jul;17(4):274-280. doi: 10.2450/2019.0066-19. PubMed PMID: 31385800; PubMed Central PMCID: PMC6683873.
Francis RO, D'Alessandro A, Eisenberger A, Soffing M, Yeh R, Coronel E, Sheikh A, Rapido F, La Carpia F, Reisz JA, Gehrke S, Nemkov T, Thomas T, Schwartz J, Divgi C, Kessler D, Shaz BH, Ginzburg Y, Zimring JC, Spitalnik SL, Hod EA. Donor glucose-6-phosphate dehydrogenase deficiency decreases blood quality for transfusion. J Clin Invest. 2020 May 1;130(5):2270-2285. doi: 10.1172/JCI133530. PubMed PMID: 31961822.
Bloch EM, Shoham S, Casadevall A, Sachais BS, Shaz B, Winters JL, van Buskirk C, Grossman BJ, Joyner M, Henderson JP, Pekosz A, Lau B, Wesolowski A, Katz L, Shan H, Auwaerter PG, Thomas D, Sullivan DJ, Paneth N, Gehrie E, Spitalnik S, Hod EA, Pollack L, Nicholson WT, Pirofski LA, Bailey JA, Tobian AA. Deployment of convalescent plasma for the prevention and treatment of COVID-19. J Clin Invest. 2020 Jun 1;130(6):2757-2765. doi: 10.1172/JCI138745.
Eckhardt CM, Cummings MJ, Rajagopalan KN, Borden S, Bitan ZC, Wolf A, Kantor A, Briese T, Meyer BJ, Jacobson SD, Scotto D, Mishra N, Philip NM, Stotler BA, Schwartz J, Shaz B, Spitalnik SL, Eisenberger A, Hod EA, Justman J, Cheung K, Lipkin WI, O'Donnell MR. Evaluating the efficacy and safety of human anti-SARS-CoV-2 convalescent plasma in severely ill adults with COVID-19: A structured summary of a study protocol for a randomized controlled trial. Version 2. Trials. 2020 Jun 8;21(1):499. doi: 10.1186/s13063-020-04422-y. PMID: 32513308
Thomas T, Stefanoni D, Reisz JA, Nemkov T, Bertolone L, Francis RO, Hudson KE, Zimring JC, Hansen KC, Hod EA, Spitalnik SL, D'Alessandro A. COVID-19 infection results in alterations of the kynurenine pathway and fatty acid metabolism that correlate with IL-6 levels and renal status. medRxiv. 2020 May 16:2020.05.14.20102491. doi: 10.1101/2020.05.14.20102491. Preprint. PMID: 32511571