Anil K. Lalwani, MD
Virtual Visits/Telehealth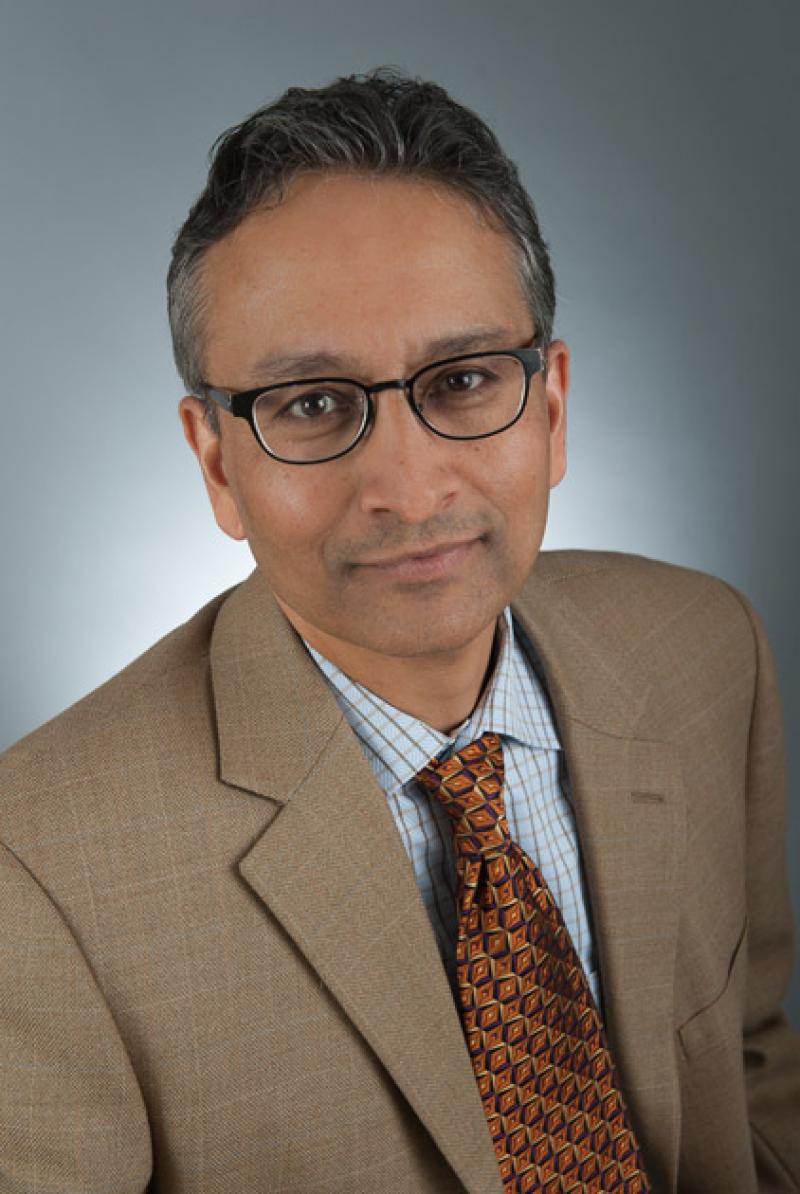 Overview
Anil K. Lalwani, M.D. earned his medical degree from the University of Michigan Medical School in 1985 and subsequently completed is internship in General and Thoracic Surgery at Duke University Medical Center and his residency in Otolaryngology-Head and Neck Surgery at UCSF. Following subspecialty training in Neurotology and Skull base surgery, he served as Senior Staff Fellow at the National Institute on Deafness and Other Communication Disorders, National Institute of Health. In 1994, he joined the faculty at UCSF as an assistant professor and rose to the rank of Professor in 2002. In April 2003, Dr. Lalwani was recruited to New York University School of Medicine to serve as Mendik Foundation Professor and Chairman of the Department of Otolaryngology—a position he held until December 2009. During his tenure, the previously unranked department rose to #22 on the US News and World Report survey and was #13 in research funding.
Dr. Lalwani joined the faculty of the Columbia University College of Physicians and Surgeons in 2012. He is considered one of the leading ear surgeons for children and adults in the country. His clinical specialties include cochlear implantation, middle ear implants, chronic ear disease, cholesteatoma, facial nerve disorders, otosclerosis, superior semicircular canal dehiscence, glomus tumors, cerebellopontine angle tumors (e.g. acoustic neuromas), and skull base surgery, and gamma knife therapy.
Dr. Lalwani's basic research has previously focused on two key areas: identifying genes that are critical for hearing through the use of molecular genetic and molecular biologic methods, and developing and investigating gene transfer technology for the treatment of hearing disorders. More recently, his research endeavors include developing technology to navigate a cochlear implant electrode atraumatically into the cochlea, enhancing music enjoyment in cochlear implant recipients, designing microneedles for introducing stem cells through the round window membrane, defining the otomicrobiome, and studying the role of obesity and tobacco in childhood hearing loss.
Author of more than 180 peer-reviewed articles, and numerous book chapters, Dr. Lalwani serves on the editorial board of leading otolaryngology journals; he is the Section Editor of Triological Society Best Practice – a popular feature published in Laryngoscope. He has published numerous books including the textbook defining the subspecialty of Pediatric Otology and Neurotology. The 3rd edition of his highly successful second book, Current Diagnosis & Treatment in Otolaryngology - Head & Neck Surgery, has been translated into Spanish, Turkish, and Portuguese. The 4th edition of Recent Advances in Otolaryngology - Head and Neck Surgery, has just been published in January 2015.
Areas of Expertise / Conditions Treated
Acoustic Neuroma
Advanced Endoscopic Surgery
Bell's Palsy
Cholesteatoma
Chordoma Tumor
Cochlear Implants
Dizziness
Ear Disease
Ear Disorder
Ear Drum Perforation
Ear Drum Repair
Ear Infection
Ear Laser Surgery
Ear Problems
Ear Surgery
Ear Tumors
Endoscopic Surgery
Facial Nerve Disorders
Facial Nerve Surgery
Gamma Knife
Gamma Knife Radiosurgery
Glomus Tumor
Hearing and Balance
Hearing Loss
Hemifacial Spasm
Implantation of Electromagnetic Hearing Aid
Implantation of Hearing Device In Temporal Bone
Mastoid Surgery
Meniere's Disease
Meningioma
Middle Ear Disease
Otitis Media
Otolaryngology
Otology
Otology-Neurotology
Otosclerosis
Paraganglioma
Pediatric Ear Disease
Pediatric Otology
Skull Base Surgery
Skull Base Tumors
Stapedectomy
Stapedectomy or Stapedotomy
Stereotactic Radiosurgery
Tinnitus
Tympanic Membrane Repair
Vertigo
Academic Appointments
Professor of Otolaryngology-Head & Neck Surgery
Administrative Titles
Chief, Division of Otology, Neurology, and Skull Base Surgery
Vice Chair for Research, Otolaryngology-Head and Neck Surgery
Medical Director of Perioperative Services, NewYork Presbyterian Hospital
Hospital Affiliations
NewYork-Presbyterian / Columbia University Irving Medical Center
NewYork-Presbyterian Morgan Stanley Children's Hospital
Schedule an Appointment
Virtual Visits/Telehealth
Virtual Visits allow you to connect with your provider from the comfort, convenience, and safety of your own home.
New and Existing Patients:
Connect Patient Portal
For existing patients, login to make an appointment, view documentation or contact your care provider.
Location(s)
180 Fort Washington Avenue
51 West 51st Street
Suite 385
Insurance Accepted
Aetna
Aetna Signature Administrators
EPO
HMO
Medicare Managed Care
NYP Employee Plan
NY Signature
POS
PPO
Student Health
Affinity Health Plan
Essential Plan
Medicaid Managed Care
AgeWell
Medicare Managed Care
Special Needs
Cigna
EPO
Great West (National)
HMO
POS
PPO
Emblem/GHI
Medicare Managed Care
PPO
Emblem/HIP
ConnectiCare
EPO
Essential Plan
HMO
Medicaid Managed Care
Medicare Managed Care
POS
PPO
Select Care (Exchange)
Vytra
Empire Blue Cross/Blue Shield
EPO
HMO
Medicare Managed Care
PPO
Empire Blue Cross Blue Shield HealthPlus
Child/Family Health Plus
Essential Plan
Medicaid Managed Care
Fidelis Care
Child/Family Health Plus
Essential Plan
Medicaid Managed Care
Medicare Managed Care
Healthfirst
Child/Family Health Plus
Leaf (Exchange)
Medicaid Managed Care
Medicare Managed Care
Medicare
Railroad
Traditional Medicare
MVP Health Care
Child/Family Health Plus
Essential Plan
HMO
Medicaid Managed Care
Quality Health Management
Quality Health Management
UnitedHealthcare
Compass (Exchange)
Empire Plan
HMO
Medicaid (Community Plan)
Medicare Managed Care
POS
PPO
VNSNY CHOICE
Medicare Managed Care
SelectHealth
Special Needs
WellCare
Medicaid Managed Care
Medicare Managed Care
*Please contact the provider's office directly to verify that your particular insurance is accepted.
Credentials & Experience
Education & Training
University of Michigan Medical School
Internship: Duke University Medical Center, NC
Residency: University of California-San Francisco Medical Center
Residency: 1991 University Of California At San Francisco
Fellowship: University of California-San Francisco Medical Center
Board Certifications
Otolaryngology
Neurotology
Research
Project Title: Enhancing Music Enjoyment with Cochlear Implantation The Cochlear Implant (CI) restores hearing to deafened individuals. Speech discrimination among the post-lingually deafened CI users usually exceeds 80%. Despite excellent performance on speech discrimination, enjoyment of music among CI listeners remains poor and has been attributed to decreased music perception. Music perception – the perception of pitch, melody, harmony, rhythm, and timbre – is greatly impaired in cochlear implantees. Contributing factors responsible for diminished music perception include low resolution and skewed mapping of transmitted frequencies through the CI to the auditory cortex, difficulty perceiving spectral components individually, and deficits with higher perceptual integration tasks such as auditory stream segregation. Limitations of cochlear implant hardware, sound processing software, and auditory nerve degeneration all may play a role in signal degradation. Due to these factors, complex music signals are poorly perceived and consequently poorly enjoyed by CI listeners. The goal of our research is to enhance music enjoyment among cochlear implantees by investigating the features of music that affect its perception and enjoyment. These features include different aspects of music such as reverberation, rhythm, instrument, and overtones, among others. Our hypothesis supported by early studies is that musical enjoyment with cochlear implants is influenced by the complexity of the original music. Thus, re-engineering music to reduce the complexity of music has the potential to make listening more enjoyable for a listener with cochlear implant. We have brought together a cadre of passionate individuals including cochlear implant surgeons, cochlear implant audiologists, music engineers, composers, and imaging specialists to form the Cochlear Implant Engineering Group (CIMEG) to make music enjoyment a reality for cochlear implantees.
Project Title: Otomicrobiome of the Ear Otitis media, or middle ear infection, is a major public health problem in young children. Rapid emergence of resistant bacterial pathogens has led to reconsideration of routine use of antibiotics. The challenge is to develop and utilize knowledge of the basic biology underlying bacterial colonization and infection of the middle ear to create new approaches to preventing infection. Elucidating the events triggering the transition from bacterial colonization to bacterial infection of the middle ear will be essential to developing preventative tools for otitis media (OM). To date, nearly all research on bacterial colonization and infection of the middle ear, nasopharynx, and oropharynx have relied on culture-based or targeted molecular methods, which are inherently limited against complex bacterial communities. We must evaluate the transition from bacterial colonization to infection in OM by fully characterizing the bacterial communities using community-scale molecular bacterial analysis. We hypothesize that disturbances in the ecologic balance of the bacterial community—specifically an increase in otopathogen and a decrease in otocommensals—lead to the transition from bacterial colonization to infection; which can only be elucidated using a community-scale molecular approach. Here, we propose to assess the transition from bacterial colonization to infection of the middle ear using two cutting-edge molecular methods—16S rRNA gene pyrosequencing and 16S rRNA qPCR—to fully characterize the bacterial communities in non-OM and OM nasopharynx, adenoid, and middle ear. Our ability to develop novel OM preventions will be limited until we assess this critical interface between bacterial colonization and infection. Simultaneously, by understanding the pathophysiology of otitis media and more directed therapy, we will reduce the nation's overall healthcare expenditure by minimizing the used of antibiotics. Working with Cindy Liu, MD, PhD, and Lance Price, PhD, of Translational Genomics Research Institute, we anticipate that this research will result in a more efficient use of resources for diagnoses, therapy and prevention of disease.
Project Title: Intracochlear Delivery of Therapeutics Across Round Window Membrane via Microneedle Array Protected by one of the hardest bones in body, the cochlea is nearly an impenetrable structure frustrating both bacteria and clinician trying to gain access to it. As a result, a means for reliable delivery of agents into the inner ear for therapeutic purposes remains a formidable challenge. The round window membrane (RWM) is an attractive target for intracochlear delivery of drugs or biologic agents; diffusion of therapeutic agents, such as gentamicin and steroids, across the RWM has already been harnessed as a mode for intracochlear delivery for the treatment of a variety of auditory and vestibular disorders including Ménière's Disease, sudden sensorineural hearing loss (SNHL) and tinnitus. However, simple diffusion of medications across RWM is limited by what material can be delivered, size of material to be delivered, difficulty with precise dosing, timing, and precision of delivery over time. The goal of our research is to design, fabricate and manufacture microneedles that will allow for the reliable and predictable intracochlear delivery of pharmaceutical, molecular or cellular therapeutic agents across the RWM without anatomic or functional damage. We have established a multidisciplinary team with background in bioengineering (Jeffrey W. Kysar, PhD, Chair of Mechanical Engineering, Columbia University) and intracochlear delivery (Anil K. Lalwani, MD, Professor and Vice Chair of Otolaryngology) necessary to successfully develop these tools. The proposed research is novel and significant. Successful completion of the planned studies will bring our understanding of the biomechanical properties of the RWM to a new level and establish a reliable means of delivering therapeutic materials into the cochlea. Equally important, the ability to aspirate cochlear fluids will make possible inner ear diagnostics and facilitate the development of patient-specific interventions. The availability of microneedle arrays for safe and effective means of intracochlear delivery will have significant impact for the diagnosis, treatment and prevention of variety of auditory and vestibular disorders such as sudden or progressive SNHL, Ménière's Disease, and tinnitus.   Project Title: Hearing Loss in the Elderly Presbycusis, or age-related hearing loss (ARHL), affects approximately 65% of people over the age of seventy and 80% of people over eighty-five; it is associated with numerous deleterious psychosocial, functional and cognitive effects. It is a major public health concern as the population of individuals over the age of 80 is expected to double in the next 40 years. ARHL increases social isolation through impaired communication, while simultaneously decreasing one's ability to carry out activities of daily living and instrumental activities of daily life without assistance from others. Poor hearing is also associated with an increased incidence of cognitive impairment and rate of cognitive decline. Finally, ARHL increases overall mortality in later life through falls and accidents, and is notably associated with poor self-rated health. Despite the high prevalence and negative health consequences of ARHL, fewer than 15% of those affected use hearing aids, which have been shown to improve the social, functional and emotional effects of hearing loss. The severity of hearing loss in the elderly is poorly understood as individuals over 70 are often lumped together. In order to better serve this emerging population, it is important to consider the elderly as a continuum of age rather than a uniform group. By clustering patients over age 70 into a single category, there is blurring of changes in the severity of hearing loss as individuals reach the extremes of age. Our current study aims to characterize the hearing loss phenotypes of individuals between the ages of 80 and 106 grouped by age brackets, gender, comorbidities, and hearing aid use. Further, we will assess the impact of hearing aid use on cognitive function and falls. With better understanding of hearing loss in the very old, we will be able to better address the concomitant psychosocial and cognitive disturbance with more personalized intervention.   Clinical Trial: Cochlear Implantation in Single Sided Deafness Unilateral hearing loss, also known as single-sided deafness (SSD), is associated with communication challenges, inability to locate a sound source in space (localization), severe difficulty with speech recognition in noise and emotional consequences. The negative impact of SSD has been underestimated by the general public and by the professional community. In recent years, however, the sequelae of SSD have become better understood. We at the Columbia Cochlear Implant Center are exploring the use of cochlear implantation (CI) for treatment of SSD. There are rationales for use of CIs in SSD: (a) the alleviation of the various communication, (b) localization and (c) emotional effects imposed by unilateral hearing loss; and (d) the treatment of tinnitus. Each of these in itself constitutes a sufficient rationale for implantation. Enrolled patients will be evaluated for cochlear implantation and if they quality, they will undergo routine cochlear implantation. Following surgery, the patient's ability to understand speech with and without background noise and sound localization ability will be assessed.   Clinical Trial: A Prospective, Randomized, Double-blind, Placebo-Controlled, Multicenter, Phase 2b Study of OTO-104 Given as a Single Intratympanic Injection in Subjects with Unilateral Meniere's Disease Meniere's disease is a condition which arises spontaneously and is associated with disabling vertigo, hearing loss, tinnitus and aural fullness. More frequently it is unilateral, only affecting one year, rather than affecting both ears. Episodes of vertigo are considered the most prominent symptom, with episodes typically lasting at least 20 minutes and resulting in significant patient morbidity. Some doctors have injected dexamethasone into the ear to treat the symptoms of Meniere's disease. They used versions of dexamethasone that do not form gels when injected into the ear and the dexamethasone drained out of the ear. In these instances, the dexamethasone may not have been in the ear long enough to reduce symptoms of Meniere's disease. This study will investigate whether turning OTO-104 into a gel within the ear and holding the dexamethasone in place may improve Meniere's disease symptoms. OTO-104 is a suspension of dexamethasone in a proper amount of solution containing poloxamer 407 constituted for intratympanic (within the middle ear cavity) injection. Poloxamer 407 has thermoreversible properties and functions as liquid pharmaceutical vehicle that gels at body temperature. Dexamethasone, a synthetic steroid hormone, has been formulated in poloxamer 407 for the purpose of studying the potential benefits of intratympanic injections of OTO-104 in subjects with Meniere's disease. This is a randomized, double blind, placebo-controlled, multi center, 20 week, Phase 2b study. Following an initial 4-week lead-in period, eligible subjects will be randomly assigned to either 12 mg OTO-104 or a placebo using a 1:1 allocation ratio. Subjects will be observed for 16-weeks following a single intratympanic injection of either 12 mg OTO-104 or a placebo.