State Pre-College Enrichment Program (S-PREP)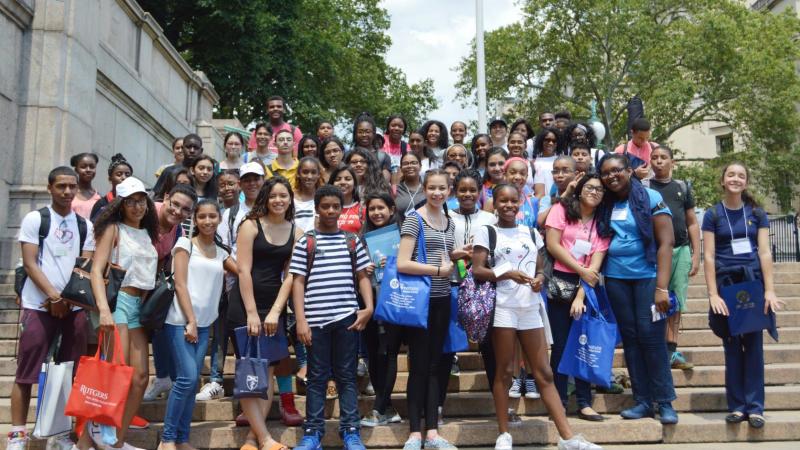 The State Pre-College Enrichment Program (S-PREP) is a free high school and college preparatory program designed for 7th - 12th grade students who are interested in pursuing a career in medicine or related STEM fields. The purpose of the program is to increase the number of historically underrepresented and economically disadvantaged students prepared to enter college and improve their participation rate in mathematics, science, technology, health-related fields, and the licensed professions. S-PREP also known as Columbia STEP is offered by the Office of Student Diversity, Inclusion, and Belonging and is a New York State Education Department- Science & Technology Entry Program (STEP).
S-PREP consists of two sessions (Summer and Academic Year).
Summer Session: Classes are held Monday through Friday (10 am - 3 pm) in the month of July
Academic Year: Classes are held on Saturdays (9 am - 3 pm) from October to May
The program offers enrichment courses geared towards preparing students for success in math and science. Courses include, but are not limited to Anatomy, Biochemistry, Chemistry, Organic Chemistry, Brain & Cognitive Science, Ready for PreMed, Physics, Psychology, Algebra, Geometry, Pre-Calculus, Calculus and Statistics. In addition, the program offers PSAT (summer), and SAT (academic year) preparation courses. Additionally, we offer an SAT prep course starting in January for students who did not enroll in the academic year. Students admitted to the program can continue and enroll in our summer program as well.  The program also offers college preparation and career development workshops, college & academic counseling services, field trips, and college tours.
Additional Opportunities: Students admitted to S-PREP are eligible to apply for summer research programs for high school students run by the Zuckerman Mind Brain Behavior Institute and the Herbert Irving Comprehensive Cancer Center.
The BRAINYAC program (Brain Research Apprenticeships In New York At Columbia) admits students with an interest in biomedical and specifically neuroscience research, students learn basic neuroscience concepts and laboratory skills (in the spring) that will prepare them for their mentored research experience in a CUIMC neuroscience lab during the summer. Students receive a stipend for their participation in the program. Admitted S-PREP students will receive more information in October about the BRAINYAC program and how to apply.
The HICCC CURE program admits students with an interest in Cancer Research. Students will be paired with a mentor for the summer and receive a stipend for their participation. Admitted S-PREP students will receive more information in January about the CURE Program and how to apply.
Find out if you meet the Eligibility Requirements  
To receive notifications on events, program application & information sessions.
Join our Electronic Mailing List   
Social Media
Contact Us
If you have any questions or would like additional information, please email us at sprep-ps@cumc.columbia.edu.