Xin Zhang, PhD
Herbert and Florence Irving Professor of Ophthalmic Science (in Ophthalmology and in Pathology and Cell Biology)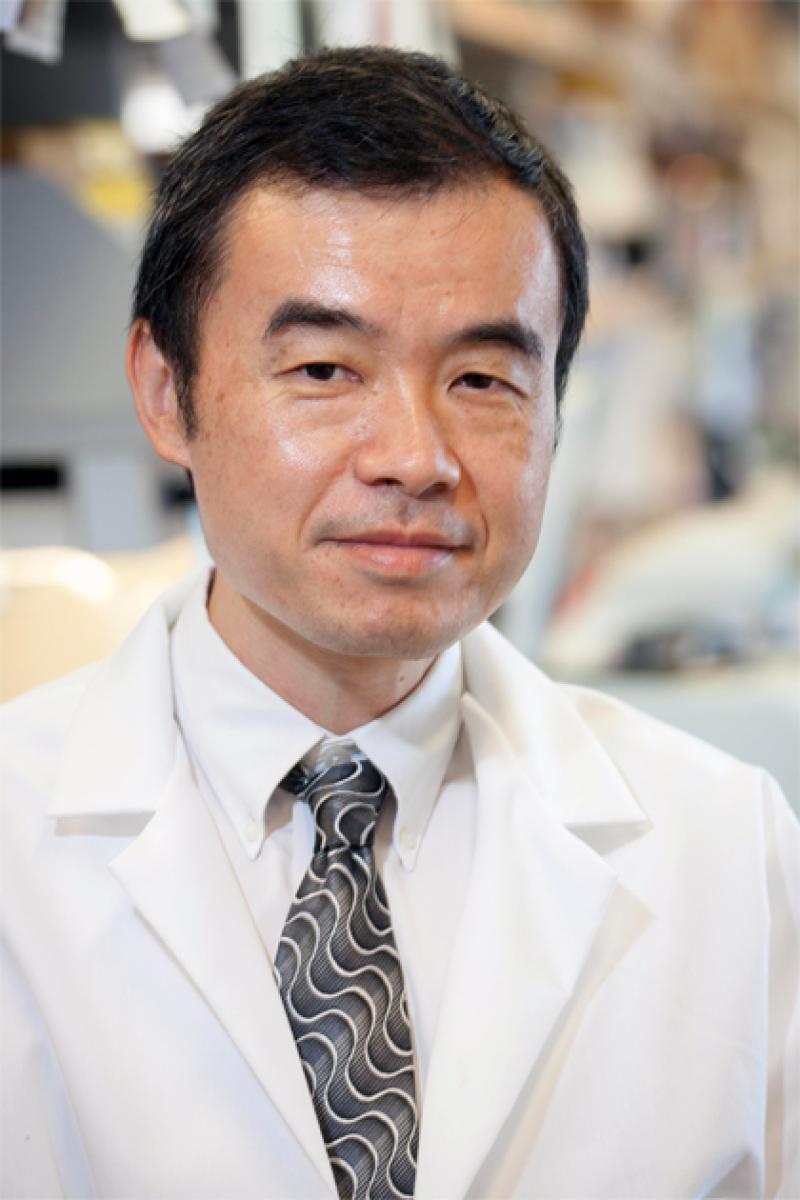 Overview
After graduation from Peking University with a bachelor's degree in physics, Dr. Zhang became fascinated by the exciting research in life sciences and decided to study molecular biology at Johns Hopkins University. Under the guidance of Dr. Robert Schleif, Dr. Zhang worked on the arabinose operon in Escherichia coli and investigated how transcriptional factors interact with RNA polymerase to tightly regulate gene expression. This background prepared Dr. Zhang for the more complex mechanisms of gene regulation in mammalian systems during postdoctoral training in Dr. Richard Maas' Laboratory at Harvard Medical School. Combining mouse genetics and biochemical approaches, Dr. Zhang dissected the transcriptional enhancers of Pax6 in mouse embryonic development and identified that Meis homeodomain proteins are direct upstream regulators of Pax6 in lens induction. Through this experience, Dr. Zhang developed keen interests in vision research and decided to devote his future career in studying eye development.
Dr. Zhang began his scientific journey as a student of physics, which has left an indelible mark in his scientific approach. The goal of physics is to reveal universal laws that underlie the tremendous diversity of the physical world. It does so by studying the minutest components of physical objects and by formulating theories that can explain precise measurements of their properties. This reductionist approach inspires Zhang to pursue biological mechanisms at a fundamental level, rather than simply describing overt phenomena. Dr. Zhang also endeavors to combine biochemical studies with cell biology and mouse genetics, the latter provides the most rigorous test of our models in the context of the whole living organism. In essence, Dr. Zhang aims to study "in vivo cell biology" to identify the precise molecular cascades that govern embryonic development.
Dr. Zhang has mentored undergraduate and graduate students and postdoctoral fellows, many of them have obtained fellowships and career development awards including Knights Templar career-starter research grant and NIH K99 Pathway to Independence Award. He is committed to training next generation investigators in biomedical research.
Academic Appointments
Herbert and Florence Irving Professor of Ophthalmic Science (in Ophthalmology and in Pathology and Cell Biology)
Credentials & Experience
Education & Training
BS, 1991 Physics, Beijing University (China)
PhD, 1998 Biology, Johns Hopkins University
Honors & Awards
2021 Herbert and Florence Irving Professor
2014 Jules and Doris Stein Research to Prevent Blindness Professorship
2011 David D. Weaver Investigator
2005 Basil O'Connor Scholar
Research
The focus of our research is the mechanism of cell signaling during eye development. The eye is a prominent system to study signal transduction, not only because of its biomedical significance, but also because of the rich resource of experimental tools available in eye research. Previous studies have also identified multiple signaling pathways including FGF signaling in mediating cellular interactions in the eye. However, the specific signaling components of these pathways and their precise in vivo functions in the eye remain poorly understood. With the advent of genome wide analysis and the rapidly expanding collection of mouse models, it has now become increasingly important to determine the in vivo function of cell signaling by genetic approaches. We would therefore like to employ the formidable mouse genetic tools to ultimately determine the signaling pathways governing eye development.
Our studies encompass the lens, lacrimal gland and retina, three strikingly different tissues of the eye. We hope to use these models to find the commonalities of cell signaling that can explain the growth, differentiation and homeostasis of the ocular cells, making fundamental contributions to our understanding of the basic biology. There are millions of children in the world who are born with vision disorder, challenging clinicians to find new and better ways to treat these diseases. The medical advances need to be guided by the profound understanding how the human eyes are developed and what can go awry in pathological conditions. By focusing on the growth factor signaling, our studies may help us to understand how these congenital disorders are developed and to inspire future treatment for these diseases. The biological principle revealed in our study may also be broadly applicable to other organs and diseases where growth factor signaling is active.
Research Interests
Glial Development and Pathology
Mechanism of FGF signaling in eye development
Molecular regulation of cell shape, adhesion and migration
Grants
PDGF signaling in lens development
R01 EY025933
Project Dates: 08/01/2015-06/30/2020
Selected Publications
Balasubramanian, R., Min, X., Quinn, P.M.J., Giudice, Q.L., Tao, C., Polanco, K., Makrides, N., Peregrin, J., Bouaziz, M., Mao, Y., Wang, Q., Costa, B., Buenaventura, D., Wang, F., Ma, L., Tsang, S., Fabre, P., Zhang X. 2021. Phase transition specified by a binary code patterns the vertebrate eye cup. Science Advances.
Wang Q, Tao C, Hannan A, Yoon S, Min X, Peregrin J, Qu X, Li H, Yu H, Zhao J, Zhang X. 2021. Lacrimal gland budding requires PI3K-dependent suppression of EGF signaling. Science Advances. 7(27):eabf1068.
Garg A, Hannan A, Wang Q, Makrides N, Zhong J, Li H, Yoon S, Mao Y, Zhang X. 2020. Etv transcription factors functionally diverge from their upstream FGF signaling in lens development. eLife. 9:e51915.
Li H, Mao Y, Bouaziz M, Yu H, Qu X, Wang F, Feng GS, Shawber C, Zhang X. 2019. Lens differentiation is controlled by the balance between PDGF and FGF signaling. PLoS Biology.17(2):e3000133.
Collins TN, Mao Y, Li H, Bouaziz M, Hong A, Feng GS, Wang F, Quilliam LA, Chen L, Park T, Curran T, Zhang X. 2018. Crk proteins transduce FGF signaling to promote lens fiber cell elongation. elife. e32586. doi: 10.7554/eLife.32586.
Garg A, Hannan A, Wang Q, Collins T, Teng S, Bansal M, Zhong J, Xu K, Zhang X. 2018. FGF-induced Pea3 transcription factors program the genetic landscape for cell fate determination. PLoS Genetics. 14(9):e1007660.
Garg A, Bansal B, Gotoh N, Feng G, Zhong J, Wang F, Kariminejad A, Brooks S and Zhang X. 2017. Alx4 relays sequential FGF signaling to induce lacrimal gland morphogenesis. PLoS Genetics.13(10):e1007047.
Tao C, Zhang X. 2016. Neuronal-derived Proteoglycans Control Astrocyte Migration and Angiogenesis by Regulating Basement Membrane Assembly. Cell Reports. 17:1832-1844.
Mathew G, Hertzler-Schaefer K, Wang F, Feng G-S, Zhong J, Zhao J, Downward J, Zhang X. 2016. Targeting of Ras-mediated FGF signaling suppresses Pten-deficient skin tumor. Proceedings of the National Academy of Sciences. 113:13156-13161.