Jahar Bhattacharya, MBBS, DPhil
Professor of Medicine
Professor of Physiology & Cellular Biophysics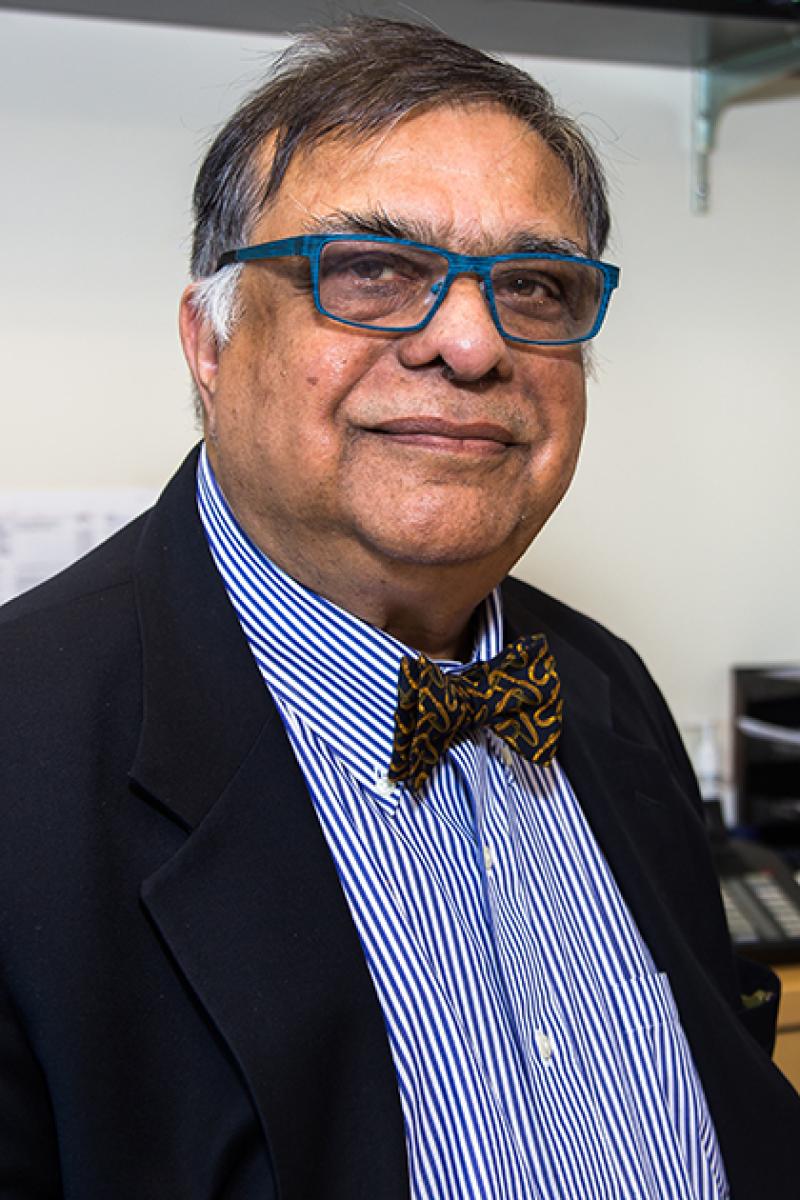 Overview
Dr. Jahar Bhattacharya, MD, DPhil, Professor of Medicine, is the Director of Lung Research at the Division of Pulmonary and Critical Care Medicine at the CUMC. He has been a researcher for over thirty years with an interest in the biology of acute lung injury. Dr. Bhattacharya graduated in medicine from the Institute of Medical Sciences (AIIMS), New Delhi, India. He was cardiology resident at the Radcliff Infirmary, Oxford, UK. Subsequently, he obtained a Ph.D. from Oxford University, and then completed his postdoctoral training at the Cardiovascular Research Institute, University of California at San Francisco. Dr. Bhattacharya's research has been supported by NIH funding and he has served on multiple NIH study sections both as permanent and ad hoc member. He serves as member of Advisory Board for the Cardiopulmonary System, Universities of Giessen, Frankfurt and Max-Planck Inst., Germany and as reviewer for multiple journals. He served on the Executive Committee of the APS Respiration Section and was Chair of the Pulmonary Circulation Assembly of the American Thoracic Society. He has given invited lectures at national and international meetings and has won awards including the Rhodes Scholarship, the American Thoracic Society's Research Recognition Award, the MERIT award of the NIH, and the Julius Comroe award of the American Physiological Society. Ongoing projects in the Bhattacharya lab continue to be focused on basic mechanisms of acute lung injury and include optical imaging studies of macrophage-epithelial interactions, mitochondrial transfer between cells, lung procoagulant mechanisms, endothelial barrier biophysics and therapeutic effectiveness of cell-penetrating peptides. Dr. Bhattacharya directs the PACC's T32 training program.
Academic Appointments
Professor of Medicine
Professor of Physiology & Cellular Biophysics
Administrative Titles
Lung Biology Lab Director
Credentials & Experience
Education & Training
MBBS, 1968 All India Institute of Medical Sciences, New Delhi
MSc, 1973 Oxford University, England
DPhil, 1976 Oxford University, England
Honors & Awards
2020 The Dean's Distinguished Lecture in the Clinical Sciences, Columbia University, NY
2019 Amberson Lecture, American Thoracic Society Conference
2017 Jack Reeves Lecture, Grover Conference, American Thoracic Society
2014 The Irene and Arthur Fishberg Prize, Columbia University
2011 The Comroe Lecture, American Physiological Society
2010 The Robert E. Forster Lecture, University of Pennsylvania
2010 Member of Advisory Board, Max Planck Institute, Bad Nauheim, Germany
2010 Reviewer, CSR College of Distinguished Reviewers, NHLBI
2008 Chair, Columbia branch of Lung Research program at University of Giessen, Germany
2008 Universities of Giessen, Frankfurt and Max-Planck Inst., Germany Publications and Products
2007 Chair, Pulmonary Circulation Assembly, ATS
2001 American Thoracic Society (ATS) Award for Recognition of Scientific Accomplishments
1998 NIH MERIT Award
1985 NIH Research Career Development Award
1976 F.L. Neizer Fellow, Stanford University
1973 Schorstein Lecturer, Oxford University
1970 Rhodes Scholar
Research
I am a tenured professor and Director of Lung Research in the Department of Medicine at Columbia University Vagelos College of Physicians and Surgeons (VP&S). I study the cellular and molecular biology of lung inflammation, acute lung injury and ARDS using optical methods in live lungs. My research recent focus on mitochondria and the cytoskeleton seeks to uncover strategies that protect against the high mortality of ARDS. I patented a biologic which is being tested in preclinical studies as a therapeutic for ARDS. I lead a research laboratory that has received uninterrupted NIH support for more than 35 years, including a MERIT award, and have mentored over 45 investigators, many of whom pursue scientific careers in academia.
Research Interests
Barrier regulation
Calcium regulation in the lung
Cell-cell communication in lung inflammation and sepsis
Cytoskeletal therapy
Formation and clearance of alveolar wall liquid
Molecular mechanisms underlying acute lung injury (ALI) and ARDS
Regulation of alveolar surfactant secretion
Regulation of lung microvascular barrier properties in inflammation and sepsis
Role of mitochondria
Second messenger signaling in lung endothelial cells in situ
Grants
R01 HL057556 (NIH)
U01 HL145547 (NIH)
Defense Threat Reduction Agency HDTRA1-18-C-0049
T32 HL105323
Selected Publications
Galina A. Gusarova, Shonit R. Das, Mohammad N. Islam, Kristin Westphalen, Guangchun Jin, Igor O. Shmarakov, Li Li, Sunita Bhattacharya, Jahar Bhattacharya; Actin fence therapy with exogenous V12Rac1 protects against Acute Lung Injury. JCI Insight. 2021 Mar 22; 6(6): e135753. PMCID: PMC8026177
Lee*, Mohammad Naimul Islam*, Kaveh Boostanpour, Dvir Aran, Stephanie, Christenson, Michael A. Matthay, Walter Eckalbar, Daryle J. DePianto, Joseph R., Arron, Liam Magee, Sunita Bhattacharya, Rei Matsumoto, Masaru Kubota, Donna L. Farber, Jahar Bhattacharya*, Paul J. Wolters*, Mallar Bhattacharya*. *Equal contribution. Molecular programs of fibrotic change in aging human lung. BioRxiv preprint; January 19, 2021. (Accepted by Nature Communications).
Hough RF, Islam MN, Gusarova GA, Jin G, Das S, Bhattacharya J. (2019). Endothelial mitochondria determine rapid barrier failure in chemical lung injury. JCI Insight 4(3). PMID:30728333
Sinha P, Islam MN, Bhattacharya S, Bhattacharya J. (2016). Intercellular mitochondrial transfer: bioenergetic crosstalk between cells. Curr Opin Genet Dev. 38:97-101. PMID: 27235808
Bhattacharya J, Westphalen K. (2016). Macrophage-epithelial interactions in pulmonary alveoli. Semin Immunopathol 38:461-9. PMID: 27170185