Chao Lu, PhD
Assistant Professor of Genetics & Development CUMC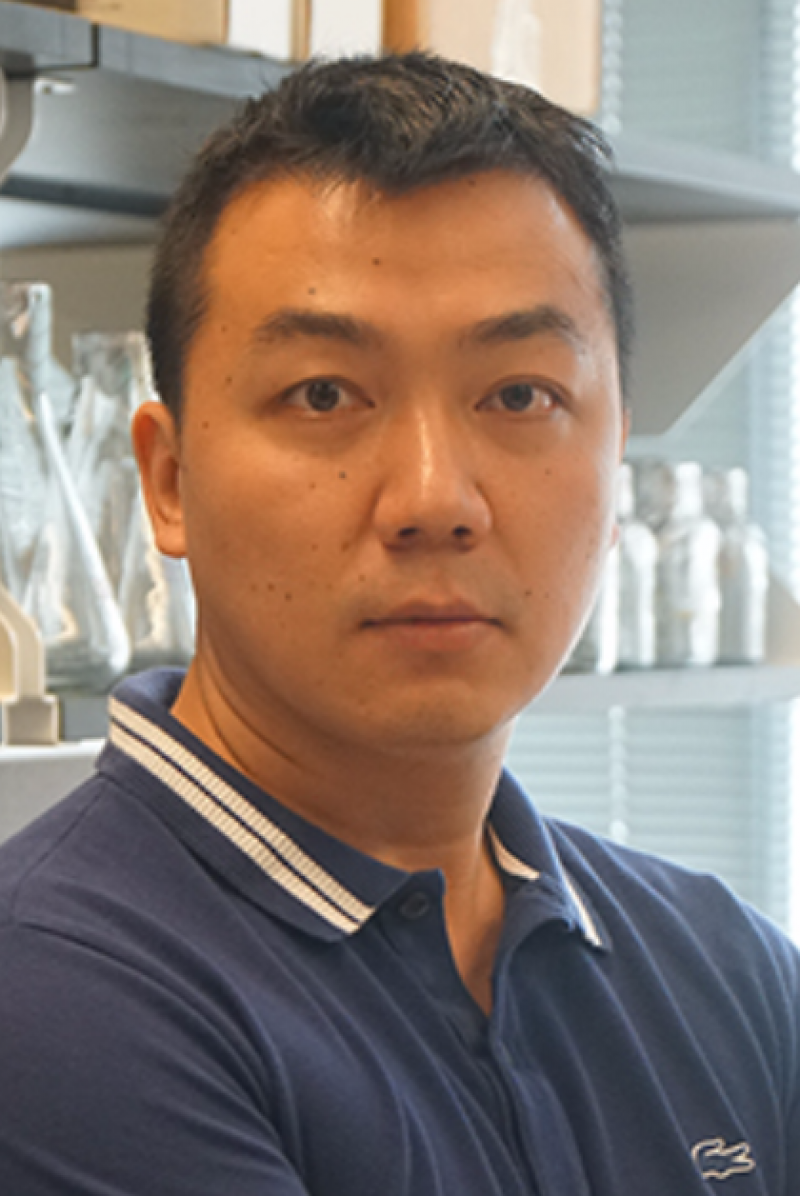 Overview
Dr. Chao Lu received his Ph.D. from University of Pennsylvania, where he worked in the laboratory of Dr. Craig Thompson. He then joined the laboratory of Dr. C. David Allis at the Rockefeller University. In 2018, he was appointed Assistant Professor in the Department of Genetics and Development and the Herbert Irving Comprehensive Cancer Center at Columbia University Irving Medical Center.
Dr. Lu's laboratory is interested in understanding basic mechanisms governing chromatin organization and access during normal and cancer development. Eukaryotic cells develop sophisticated mechanisms to package and access their genetic information, and recent studies uncover that proteins involved in genome regulation are frequently altered in human developmental disorders and cancers. These findings raise the questions of whether and how aberrant chromatin landscape facilitates human disease development. Our previous work have largely focused on hotspot, gain-of-function mutations in chromatin modulators and regulators, including IDH1/2 and histone H3, that are frequently identified in a number of adult and pediatric cancer types. Collectively we have delineated the biochemical mechanisms by which these mutations alter global chromatin landscape. We also demonstrated that chromatin mutations are pro-oncogenic through blockade of cellular differentiation. These findings provide compelling evidence for a causal role of chromatin dysregulation in oncogenesis, and propose a novel pathway of cancer initiation through accumulation of hyper-proliferative and differentiation-refractory tissue progenitor cells driven by epigenome abnormality.
Building on the conceptual framework that precise chromatin organization is critical for the homeostatic balance between tissue development/repair and tumorigenesis, we aim to use a combination of genetic, (epi)genomic, developmental and cancer biology approaches to dissect molecular connections between chromatin abnormality and (mis)regulation of gene expression in cancer and other human diseases. We believe that by generating a sufficient body of knowledge around the basic mechanisms governing genome regulation, novel paths to epigenetic therapy can be illuminated.
Academic Appointments
Assistant Professor of Genetics & Development CUMC
Credentials & Experience
Education & Training
BS, 2007 Life Sciences, National University of Singapore, Faculty of Medicine (Singapore)
PhD, 2013 Cancer Biology, University of Pennsylvania School of Medicine
Fellowship: 2017 Rockefeller University
Honors & Awards
2017 Damon Runyon-Dale F. Frey Award for Breakthrough Scientists
2017 Winner, Blavatnik Regional Award for Young Scientist
2017 Scholar-in-Training Awards, American Association of Cancer Research (AACR)
2016-2020 Pathway to Independence Award, National Cancer Institute (NCI)
2014-2016 Postdoctoral Fellowship Award, Damon Runyon Cancer Research Foundation
2007 Honor's Degree, National University of Singapore
2004 Dean's List, National University of Singapore
Research
Chromatin regulation in normal and cancer development
We are currently interested in three broad research areas:
1) Mechanisms underlying the tissue specificity of cancer-associated chromatin abnormality: In contrast to tissue- and sequence-specific transcription factors, chromatin regulators are ubiquitously expressed and often target hundreds of genes. Paradoxically, cancer-associated mutations in chromatin regulators exhibit a high degree of tissue specificity. We are interested to address why/how does the broad activity of chromatin regulator produce pathway-specific effect. To this end, we are using novel epigenome-editing tools to discern the 'driver' vs. 'passenger' downstream targets following global chromatin perturbation.
2) Response and resistance mechanisms to chromatin-targeted drugs: Chromatin regulators have emerged as popular drug targets in oncology and other human diseases and a number of epigenetic drugs are FDA-approved or in clinical development to treat cancer. However, little is known about the potential mechanisms and biomarkers that predict the response or resistance to these drugs. We plan to employ Crispr/Cas9-mediated genomic screening approaches to systematically study the mechanism of action underlying cancer epigenetic drugs.
3) Novel tools to study chromatin functionality and dynamics: While traditional epigenomic profiling methods (eg. ChIP-seq) have greatly facilitated our understanding of chromatin organization, they provide largely correlative evidence and lack the ability to reveal functional and dynamic aspects of chromatin modifications. We are interested in developing new tools that allow us to study chromatin in high-resolution and in real-time.
For more information, please visit our lab website.
Research Interests
Cancer Biology
Chromatin Biology
Developmental Biology
Genomics and Epigenomics
Selected Publications
1. Papillon-Cavanagh S*, Lu C*, Gayden T, Mikael LG, Bechet D, Karamboulas C, Ailles L, Karamchandani J, Weinreb I, Goldstein D, Lewis PW, Dancu O, Dhaliwal S, Stecho W, Howlett CJ, Mymryk JS, Barrett JW, Nichols AC, Allis CD, Majewski J, Jabado N. Impaired H3K36 methylation defines a subset of head and neck squamous cell carcinomas. Nat Genet 2017 49: 180-185. (* co-first authors)
2. Bayliss J*, Mukherjee P*, Lu C*, Jain SU, Chung C, Martinez D, Sabari B, Margol AS, Panwalkar P, Parolia A, Pekmezci M, McEachin RC, Cieslik M, Tamrazi B, Garcia BA, La Rocca G, Santi M, Lewis PW, Melnik A, Allis CD, Thompson CB, Chinnaiyan AM, Judkins AR, Venneti S. Lowered H3K27me3 and DNA hypomethylation define poorly prognostic pediatric posterior fossa ependymomas. Sci Transl Med 2016 8: 366ra161. (* co-first authors)
3. Lu C, Jain SU, Hoelper D, Bechet D, Molden RC, Ran L, Murphy D, Venneti S, Hameed M, Pawel BR, Wunder J, Dickson BC, Lundgren SM, Jani KS, De Jay N, Papillon-Cavanagh S, Andrulis IL, Sawyer SL, Grynspan D, Turcotte RE, Nadaf J, Fahiminiyah S, Muir TW, Majewski J, Thompson CB, Chi P, Garcia BA, Allis CD, Jabado N, Lewis PW. Histone H3K36 mutations promote sarcomagenesis through altered histone methylation landscape. Science 2016 352: 844-9.
4. Lu C, Venneti S, Akalin A, Fang F, Ward PS, Dematteo RG, Intlekofer AM, Chen C, Ye J, Hameed M, Nafa K, Agaram NP, Cross JR, Khanin R, Mason CE, Healey JH, Lowe SW, Schwartz GK, Melnick A, Thompson CB. Induction of sarcomas by mutant IDH2. Genes Dev 2013 27: 1986-98.
5. Lu C, Ward PS, Kapoor GS, Rohle D, Turcan S, Abdel-Wahab O, Edwards CR, Khanin R, Figueroa ME, Melnick A, Wellen KE, O'Rourke DM, Berger SL, Chan TA, Levine RL, Mellinghoff IK, Thompson CB. IDH mutation impairs histone demethylation and results in a block to cell differentiation. Nature 2012 483: 474-78.
6. Figueroa ME*, Abdel-Wahab O*, Lu C*, Ward PS, Patel J, Shih A, Li Y, Bhagwat N, Vasanthakumar A, Fernandez HF, Tallman MS, Sun Z, Wolniak K, Peeters JK, Liu W, Choe SE, Fantin VR, Paietta E, Löwenberg B, Licht JD, Godley LA, Delwel R, Valk PJ, Thompson CB, Levine RL, Melnick A. Leukemic IDH1 and IDH2 mutations result in a hypermethylation phenotype, disrupt TET2 function, and impair hematopoietic differentiation. Cancer Cell 2010 18: 553-67. (* co-first authors)