Muranski Lab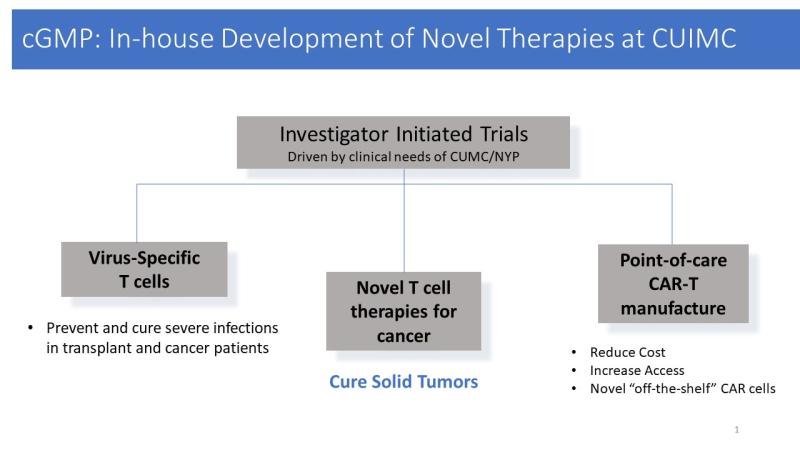 Recent advances in immune-oncology and cell-based immunotherapy have vividly demonstrated the enormous potential of the immune system to control and eradicate even otherwise refractory cancer. Our lab contains basic/translational research unit and the Columbia Cellular Immunotherapy Laboratory (CITL) capable of clinical-grade manufacturing and operating under current Good Manufacturing Practice (cGMP). We focus on basic science of tumor immunology and on creation of novel tumor- and virus specific T cells for use in patients with malignancy or refractory viral infections. The overarching goal of this work is to initiate and execute investigator-initiated early phase clinical trial of adoptive immunotherapy at CUMIC/NYP.
The following research areas are explored:
Basic Tumor Immunology
We focus on realistic murine models of adoptive immunotherapy for large solid tumors, thus mimicking clinical situation of patient with advanced cancer.  We aim to understand how CD4+ T helper cells can contribute to anti-tumor responses. Using a novel TCR transgenic TRP1 model we have discovered that tumor-specific CD4+ T cells can eradicate even advanced rapidly growing murine melanoma tumors. This was particularly striking when CD4+ T cells were in vitro polarized into a Th17 subset. Paradoxically, this anti-tumor effect of Th17 cells was critically dependent on their ability to secrete interferon (IFN) γ in vivo, suggesting multi-potency and late plasticity. Tumor-specific Th17 cells, despite phenotypic features of terminal differentiation, were long-lived, highly active and displayed a core molecular signature reminiscent of early memory CD8+ T cells with stem cell-like properties. Thus, in vitro programming of CD4+ effectors is critical for the in vivo efficacy of those cells upon adoptive transfer.
Translational Tumor Immunology
Based on the animal model experience, we hypothesize that harnessing the power of tumor specific CD4+ T cells might be crucial for improved outcomes of adoptive immunotherapy in patients with cancer. Our research involves novel priming, programming, expansion, and isolation strategies for reliable induction of multi-epitope specific CD4+ T cells targeting several common tumor antigens expressed in solid and hematological malignancies. We use advanced humanized mouse models to test the activity of human T cells in vivo. This work will serve as a pre-clinical foundation for the upcoming clinical trials in patients with cancer and hematological malignancies.
T cell Adoptive Immunotherapy for Patients (cGMP)
Cellular Immunotherapy Laboratory (CITL) at the Columbia University Medical Center (CUMC)/Herbert Irving Comprehensive Cancer Center (HICC) was established in July of 2017 and serves as a foundation for the comprehensive cell therapy program at CUMC/HICC. CITL operates a fully staffed and functional manufacturing facility compliant with the cGMP regulations. The laboratory is capable of process development and production of immune effectors for patients enrolled in clinical studies at our institution.
In addition, CITL supports over twenty industry-sponsored clinical trials involving cell therapy products, including CAR- and TCR-engineered T cells, VST cells and cell-based vaccines.
Open Studies:
 "Phase I Study of Adoptive Immunotherapy of Refractory Viral Infection With ex vivo Expanded Rapidly Generated Virus Specific T (R-MVST) Cells". https://clinicaltrials.gov/ct2/show/NCT05183490
This is the first investigator-initiated trial utilizing anti-viral T cells generated in-house at Columbia. R-MVST cells target cytomegalovirus (CMV), Epstein-Barr virus (EBV), BK polyomavirus and adenovirus (Ad) in bone marrow transplant (BMT) and solid organ transplant recipients.
Pipeline (Under Development):
Polyomavirus-specific T cells for therapy of BK and JC-related disease
Dr. Muranski has previously developed polyoma-virus specific T (PyVST) cells targeting John Cunningham (JC) virus-related Progressive Multifocal Leukoencephalopathy (PML). Patients with PML in the context of hematological malignancy or rituximab use typically face a dismal prognosis with app. 80-90% mortality and a median survival of 3 month from diagnosis. The clinical trial of PyVSTs has recently completed accrual (NCT02694783) with excellent safety record and 7/12 response rate (Lancet Neurol . 2021 Aug;20(8):639-652. PMID: 34302788 PMCID: PMC8395368). Based on this experience, we are developing a new generation of PyVST cells with enhanced potency, targeting related BK and JC Polyomaviruses for use in solid organ transplant recipients and other immunocompromised patients.
TIL-like CD4+ T cell for adoptive immunotherapy of solid and hematological malignancies
Novel cytotoxic CD4+ T cells targeting common and mutated tumor antigens derived from autologous or allogeneic peripheral blood as a source.
Lab Members
Rodica Ciubotariu, MD, PhD

Director of Clinical Operations; cGMP

Rodica Ciubotariu is an experienced Cellular Immunology scientist with initial focus on the immuno-biology of graft rejection with substantial contributions in discovery of indirect recognition pathway, of a new subset of regulatory T cells, and dendritic cells functionality. She was an integral part of the team that successfully created the first cord blood bank for allogeneic transplantation, characterized the CB cells and successfully submitted to FDA the first license application for a cellular therapy product. As the Director for Clinical Operations (Manufacturing and Quality Control) at Cellular Immunotherapy Laboratory at CUIMC, Rodica played a pivotal role in developing, and executing protocols/methods/process validations for cGMP manufacturing and testing of human virus specific T cells, for treatment of viral infections reactivation in immunocompromised patients. Additionally, she has been a FACT inspector for the past 10 years and contributed to FACT Common Standards development for cellular therapies.

Mithil Soni, PhD

Associate Research Scientist

Mithil Soni earned his MS in Biotechnology from University of Houston Clear Lake and his PhD from University of South Carolina. His graduate studies at University of South Carolina investigated role of miRNAs in breast cancer development, progression, and chemotherapy resistance. Specifically, his research focused on the role of microRNA-489 in breast cancer. He demonstrated its prognostic and therapeutic potential for the treatment of tamoxifen and anthracycline resistant breast cancers. After studying tumor biology, he joined Muranski lab to gain knowledge in tumor immunology. Currently, at CCTI, his research focuses on the development of Multi-epitope specific cytotoxic CD4+ T cell for treatment of various cancers and refractory viral infection. He is also exploring novel strategies for the development of T cell-based therapy against SARS-CoV2 and related coronavirus to treat refractory COVID-19 infections in immunocompromised patients.

Prabesh Khatiwada, PhD

Prabesh Khatiwada Joined CCTI as a Postdoctoral Scientist in Dr. Muranski lab in October 2021. His research is focused on studying how certain cytokines and epigenetic modifications can modulate the CD4+ T cell-mediated immunity against viral and neoantigen targets. Prabesh completed his BTech in Genetic Engineering and Biotechnology from Shajalal University, Bangladesh in 2013 and his Ph.D. in Biology from the University of Toledo. His Doctoral research was focused on studying the mechanism and functions of TM4SF3 and Twist1 in Castration-Resistant Prostate Cancer.

Hei T. Chan, RN

Research Nurse, Immune Effector and Cell Therapy Program Lead

Hei T. Chan attended University at Buffalo for my BSN, staying in Buffalo. He started his career in Blood and Marrow Transplant at Roswell Park and later in BMT inpatient and outpatient at CUIMC. Later he worked on building the commercial Chimeric Antigen Receptor T Cell program at Memorial Sloan Kettering. Hei T. Chan returned to Columbia University Medical Center in 2019 to work with Dr. Muranski on his investigator-initiated trials and cellular therapy trials. He enjoys being able to provide patient access to novel treatments.

Agata Jurewicz, MS

Quality Assurance Specialist, CITL cGMP

Jian B. Pan

Senior Technician, CITL cGMP